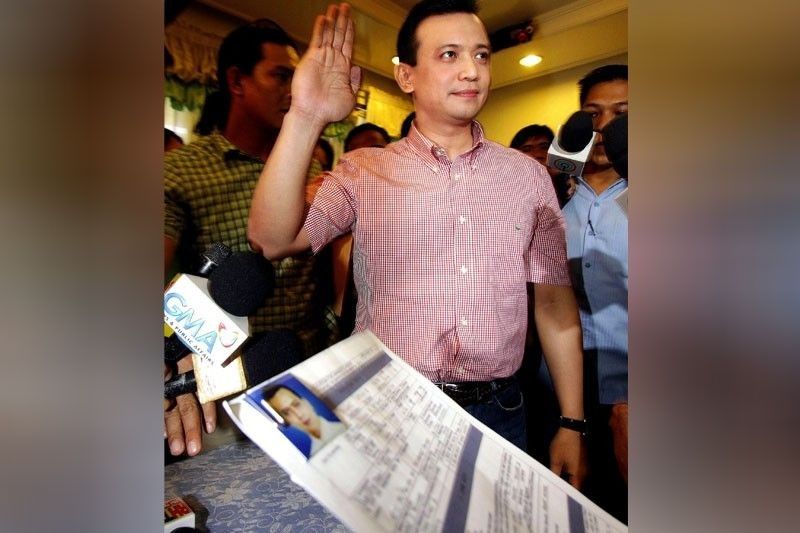 Photo which appeared on the Jan. 6, 2011 front page of The Philippine STAR shows Sen. Antonio Trillanes IV taking an oath as he submits his application for amnesty at Camp Aguinaldo.
Boy Santos
Makati court: Trillanes applied for amnesty, admitted guilt
Judge says missing application form not proof Trillanes did not apply
MANILA, Philippines — Makati Regional Trial Court Branch 148 Judge Andres Soriano took more than a week to decide whether Sen. Antonio Trillanes IV complied with amnesty requirements.
President Rodrigo Duterte's Proclamation 572 said that Trillanes' amnesty is "void from the beginning" since he did not comply with the requirements. The Department of Justice then moved to ask Makati RTC Branches 148 and 150—where the senator had been facing charges over his participation in two failed mutinees were lodged—to issue a warrant against the senator.
On October 22, Soriano issued the much-awaited ruling where he held that the senator indeed filed his amnesty application and admitted guilt—requirements for applying for amnesty.
"[T]he Court finds and so holds that Trillanes did file his amnesty application in the prescribed form in which he also admitted guilt for his participation in the Oakwood Mutiny, among others, and in which he further recanted all previous statements that he may have made contrary to said admission," the ruling read.
Trillanes filed application
Soriano said that "the prosecution failed to sufficiently establish its claim that Trillanes did not file an official application form for amnesty."
Prosecution argued that Lt. Col. Thea Joan Andrade of the Department of National Defense said that there were no records of Trillanes' amnesty application, which meant that the senator did not apply for amnesty.
But Soriano held: "The non-submission herein does not indicate that he did not apply because it is the DND Ad Hoc Committee which was tasked to receive and process the applications and determine whether or not the applicants applied for amnesty."
Trillanes admitted guilt
State prosecutors argued that Trillanes did not admit guilt since he was quoted in a news report as saying that he "did not admit to the charge of coup d'etat or anything na i-finile sa amin kasi we believe na hindi iyon ang nararapat na i-charge sa amin."
But the Court said Trillanes' statement "should have been the subject of consideration by the DND Ad Hoc Amnesty Committee when it processed and deliberated on the amnesty application of Trillanes."
The Court noted that no opposition was raised from the DND Ad Hoc Amnesty Committee, the Secretary of National Defense and even the Office of the President.
"The matter cannot be resurrected herein," the ruling read.
Makati RTC Branch 150
Soriano arrived at a different conclusion with Makati RTC Branch 150 Judge Elmo Alameda—who also looked into whether Trillanes complied with requirements for applying for amnesty—who, last September 25, issued a warrant against Trillanes.
The judge, however, held that it did not fund any basis to "believe that Proclamation No. 572 has breached any constitutional guaranty or that it has encroached on the constitutional power of either the judicial and executive branch."
The senator has a pending case before the Supreme Court where he assailed the constitutionality of Proclamation 572.
Here is a copy of Soriano's ruling: