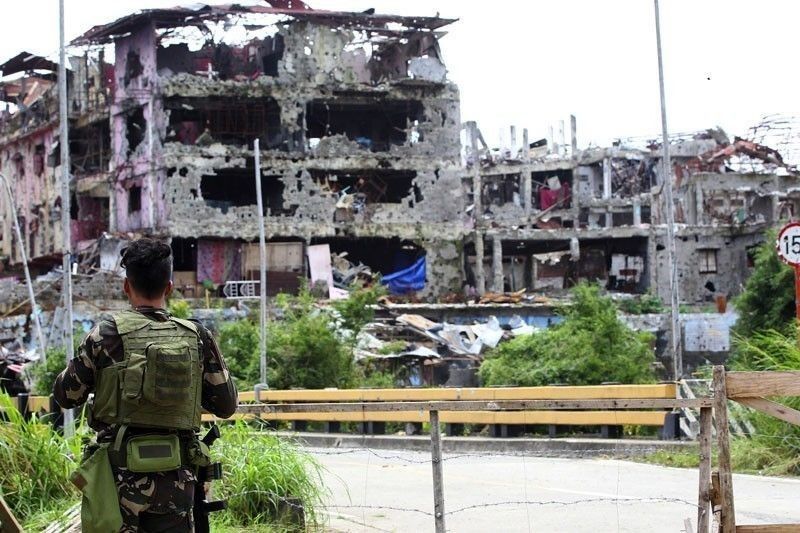 Suara Bangsamoro said more than 27,000 displaced Marawi residents are still living in temporary shelters.
The STAR/KJ Rosales, file
Displaced residents suffering from slow Marawi rehab, group says
(Philstar.com) - October 16, 2018 - 7:46pm
MANILA, Philippines — Foreign investors and businesses are being favored over homeless residents in the government's slow-moving rehabilitation of Marawi City, a year after President Rodrigo Duterte declared it "liberated" from terrorists, a Bangsamoro activist group said on Tuesday.
In a statement, Suara Bangsamoro said "more than 27,000 displaced Marawi residents" remain in temporary shelters and are being barred from returning to their homes due to "clearing operations and delays in groundbreaking ceremonies."
"On the other hand, foreign and local business enterprises interests are prioritized in the rehabilitation and accommodating various schemes to favor those who will invest in the reconstruction of Marawi City into a military and economic zone," it added.
Marawi siege
This day last year, Duterte declared the end of the five-month siege in Marawi City, which started in May 23, 2017 when soldiers hunting down Abu Sayyaf leader Isnilon Hapilon were met with reinforcements from another terrorist group, the Maute.
The clash turned into five months of fighting that left the city's commercial district in ruins.
The attack prompted Duterte to place Mindanao under martial law, which was extended until the end of this year by Congress.
Suara Bangsamoro, which opposes martial law in Mindanao, said residents in 27 barangays are in temporary shelters and suffering "lack" of basic services and "dwindling" relief goods from the government.
Inflation making matters worse
Accelerating inflation adds to the problem, the group said, explaining that residents "with no steady income" now find it difficult to even buy food.
While nationwide inflation accelerated to 6.7 percent in September, consumer prices rose faster at 9 percent during the month at the Autonomous Region in Muslim Mindanao, where Marawi is located.
"Suara Bangsamoro is one with the displaced Meranaw residents in holding the government accountable for most of the destruction of Marawi City due to its incessant aerial bombardment as a response to the Maute group siege," the group said.
The plight of Marawi residents highlights the extent of the damage in Marawi, where Duterte's P62-billion reconstruction plan has faced delays, triggering public discontent in the region where Duterte traditionally holds wide support.
The government plans to borrow up to P40 billion by floating bonds to local investors to fund part of the rehabilitation costs, but there is no exact schedule yet on when this would push through.
Meanwhile, reports earlier said Chinese contractors were among those being considered in the rehabilitation project.
Rights violations under martial law
Aside from delays in reconstruction, Suara Bangsamoro also condemned alleged human rights violations committed by the military under martial law, including supposedly 1,000 Maranaws who were killed and "tortured" by mere suspicion of being Maute members.
Multisectoral groups have filed a complaint against Duterte for alleged human rights violations in Marawi before the International Criminal Court last September, Suara Bangsamoro said.
"We enjoin the rest of the Moro people and the rest of Filipino people to continue to expose the human rights violations brought about by President Dutertes declaration of Martial Law in Mindanao and fight his fascist and tyrannical rule," it said.