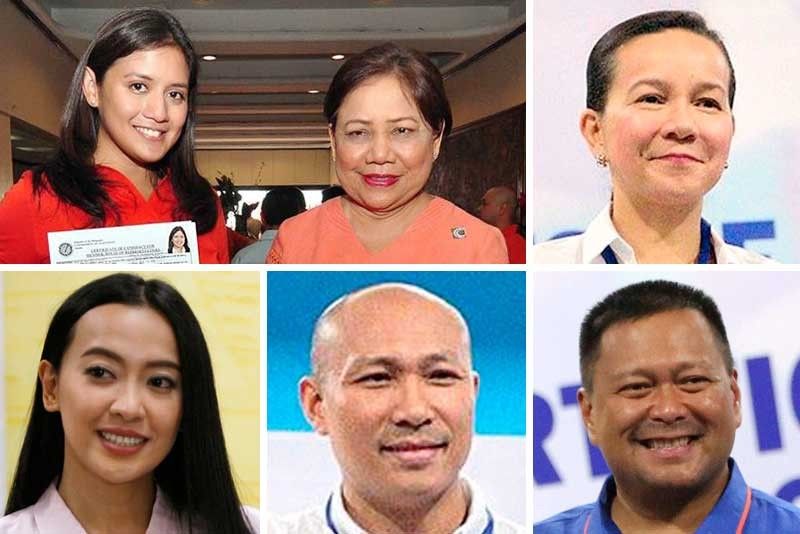 Clockwise from top left: Camille (congresswoman) and Cynthia Villar (senator), Grace Poe (senator), JV Ejercito (senator), Gary Alejano (senator), Mocha Uson (partylist)
Senators, Cabinet men file candidacies
MANILA, Philippines — Re-electionist politicians and some administration officials were among the dozens of aspirants who filed their certificates of candidacy (COCs) yesterday.
The atmosphere was festive at the Commission on Elections main office in Intramuros, as well as in other Comelec offices nationwide as aspiring politicians filed their COCs while party-list groups submitted their certificates of nomination and acceptance (CONA).
A mixture of first timers, incumbent officials and comebacking senators comprised the 26 aspirants who filed their COCs yesterday.
Comelec data show 63 COC filers for senators since Oct. 11. A total of 40 party-list groups filed CONAs yesterday, bringing the total number of CONA filers since Oct. 11 to 71.
First to file yesterday was Sen. Cynthia Villar under the Nacionalista Party, who arrived with her husband former speaker Manny Villar.
In an interview after filing her COC, Villar said she intends to continue her advocacy for more livelihood programs, especially for the poor.
"In the past years, I have built more than 1,900 livelihood projects all over the Philippines. So it is an advocacy for me, not a campaign line," she noted.
Sen. Grace Poe also filed her COC for her reelection bid, accompanied by her mother veteran actress Susan Roces.
Poe, 50, admitted she had thought twice before deciding to seek re-election, citing her anguish over her failed bid for the presidency in the 2016 elections.
"You remember the heartbreak but when you think about it, it gave me the chance to reach out and help more people as we went around the country," she said.
Poe is running as an independent but is an adopted candidate of the Nationalist People's Coalition.
Sen. Joseph Victor Ejercito also filed his COC for reelection and said he would be using his father's surname as his nickname in the official ballot. "One thing is sure, I will always be the son of my father," Ejercito said, referring to his father Manila Mayor and former president Joseph Estrada. Ejercito, running under NPC, was accompanied by his mother, San Juan Mayor Guia Gomez, and wife Hyacinth when he filed his COC at the Comelec office in Manila.
Ejercito said he is banking on his track record at the Senate where he steered the approval of various landmark measures, including the Universal Health Care, Department of Housing bill and Free College Education Law.
Former senator Mar Roxas, for his part, hinted at a Senate comeback. "If you think I can help, I'm ready. I'm offering myself again to all of you and I also ask for your help because I cannot do this alone," Roxas said in a video posted on Facebook.
In the video message, which lasted for four minutes and 31 seconds, Roxas said for the past weeks he had taken the toughest examination – the examination of conscience.
He said despite his imperfection and shortcomings, he believes he had given his best to serve the country and its people.
Roxas said the Filipinos are not in the situation they had been promised, noting that many are experiencing hunger and are losing hope.
"And so here we are, I don't have any quit in me and I will not quit on our country," Roxas said. He was listed as among the senatorial candidates of the Liberal Party for 2019.
Roxas lost to President Duterte in the May 2016 elections. He served as senator from 2004 to 2010. Former senator Lito Lapid, 62, is also aiming for another Senate stint under NPC. He was a senator from 2004 to 2016.
Duterte's bet
In the afternoon, Special Assistant to the President Bong Go arrived accompanied by President Duterte himself as well as by other Cabinet secretaries to file his COC for senator. Supporters gathered outside the Comelec dancing and chanting his name.
"After months of contemplating and conferring with people that the President and I trust today I have finally come to a decision. I am running for public office," Go said.
"Like my mentor, I would like to serve the people. Like the President, I would like to put the nation and the people first," he pointed out. "We will continue to strengthen the fight against corruption, against crime and criminality, and against illegal drugs," he said.
Before heading to the Comelec to file his candidacy, Go proceeded to the San Miguel church in Malacañang on a motorcycle to pray.
After a few minutes, a teary eyed Go emerged from the church to face reporters.
"I am thankful that the Lord enlightened me to decide on how I can better help (our countrymen)," Go said.
Another former administration official, Mocha Uson of the Presidential Communication Operations Office (PCOO), is seeking a sectoral partly-list seat.
Together with fellow nominee lawyer Teodoro Pastrana, the controversial celebrity went to the Comelec main office yesterday to file her CONA for AA Kasosyo party-list.
She said she decided to participate in the party-list elections to stop communist and terrorist groups from using the system to get funding from the government.
Information technology expert Edmundo Vicente Casino, 60, is throwing his hat in the political arena by seeking a Senate seat under the Kapisanan ng Demokratikong Pilipino party.
Casino was a member of the Comelec Advisory Council (CAC), representing the Computer Society of the Philippines. The council is mandated by law to advise the poll body on the automated election system.
He told reporters that he if wins as senator, he would seek justice for those given the anti-dengue Dengvaxia vaccine, as well as push for economic reforms and easing out of Smartmatic from the country's elections.
Maguindanao Rep. Zajid Mangudadatu, 44, also filed his COC for senator under the administration PDP-Laban.
Mangudadatu said President Duterte convinced him to run for senator, as it has been a long time since the Senate has had a Muslim member.
"My advocacy is to unite the Filipino people. We don't have to fight. Let us break the barriers between the Muslims and Christians," he said.
Replying to a question from the media, Mangudadatu said he supports the Bangsamoro Organic Law.
"I'm in favor of BOL ... We expect it to normalize the situation in ARMM (Autonomous Region in Muslim Mindanao) so that the region can become progressive. This is the priority of the government now," he added.
Filers also include lawyer Jude Sabio, 51, who sued Duterte before the International Criminal Court (ICC) for his bloody campaign against illegal drugs.
Sabio's COC was filed by a representative.
Re-electionists show up
Some members of the House of Representatives also filed their COCs yesterday, including reelectionists Reps. Edcel Lagman of Albay, Robert Ace Barbers of Surigao del Norte, Johnny Pimentel of Surigao del Sur, Alexandria "Queenie" Gonzales of Mandaluyong, Mikee Romero, Enrico Pineda and Marlon Bautista of party-list 1-Pacman.
Reps. Tom Villarin of Akbayan filed his COC accompanied by his party-mate opposition Sen. Risa Hontiveros and former congresswoman Etta Rosales, and Rep. Carlos Zarate of Bayan Muna.
Rep. Ferjenel Biron of Iloilo also filed his COC but for governor of his home province. Teddy Baguilat of Ifugao province, now on his third and last term as congressman, filed his COC also as governor of his home province.
Rep. Gary Alejano of party-list Magdalo, meanwhile, filed his COC for senator. With Alejano were his wife Minnie and opposition ally Sen. Antonio Trillanes IV. – With Helen Flores, Paolo Romero, Delon Porcalla, Jose Rodel Clapano, Alexis Romero