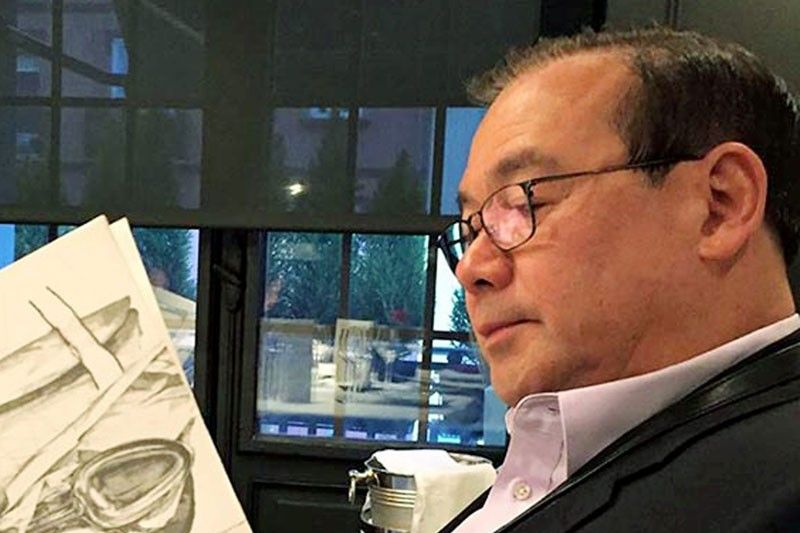 photo from the Facebook account of Philippine Permanent Representative to the UN Teodoro 'Teddyboy' Locsin Jr., who has accepted Duterte's offer to be the next foreign affairs chief.
Teddyboy Locsin is new DFA chief; Faeldon takes over BuCor
Helen Flores
(The Philippine Star) - October 13, 2018 - 12:00am
MANILA, Philippines — Philippine Permanent Representative to the United Nations Teodoro "Teddyboy" Locsin Jr. confirmed yesterday he will replace Foreign Affairs Secretary Alan Peter Cayetano, who will run as Taguig City representative in next year's elections.
Candidates began registering on Thursday for the midterm elections scheduled for May 13, 2019.
More Cabinet members are expected to quit and run for elective positions.
"I was asked, I said yes," Locsin said on Twitter, referring to President Duterte's offer for him to be the next foreign affairs chief.
Duterte appointed Locsin as the country's envoy to the UN in September 2016 at a time when the country had an uneasy relationship with the international organization over the administration's war on drugs.
"I didn't say no when asked as I didn't when he told me I was UN ambassador," Locsin, a lawyer and former journalist, said.
"I will be secretary of foreign affairs which includes the UN; I will have a direct hand until the architecture of sovereign independence in all matters of state that my team started to erect is remitted. Talent that doesn't exist outside DFA (Department of Foreign Affairs) will complete it," he also said on Twitter.
"Still UN work is like sharpening a blade every day," the diplomat said.
Locsin was Makati City representative from 2001 to 2010. He served as speechwriter and press secretary of the late president Corazon Aquino and was a publisher and editor-in-chief of Today newspaper from 1993 to 2005.
Cayetano, Duterte's running mate in the May 2016 polls, joined Duterte at the Association of Southeast Asian Nations Leaders Gathering in Bali, Indonesia this week.
It was his last overseas travel as foreign secretary as he will file his certificate of candidacy next week.
As he prepared to leave, Cayetano yesterday called on officials and employees of the DFA to give their full support to Locsin.
"I think he could do a better job than I did but he needs your support," Cayetano said in his message after leading the flag retreat ceremony at the DFA-Office of Consular Affairs ASEANA in Parañaque City.
"It's tailor made for him. I've seen him in action and I'm looking forward to great things he'll be able to do for the country and for the OFWs," he added, referring to overseas Filipino workers.
Cayetano also thanked the DFA personnel for making the reforms at the agency possible, specifically the "fast, efficient, accessible and secured passport services."
Under Cayetano's leadership, the DFA implemented the e-payment system, the Passport on Wheels program and the OFW portal that was able to assist thousands of applicants since the projects were launched in January.
Meanwhile, former foreign affairs secretary Albert del Rosario also welcomed Locsin's appointment."As a lawyer, journalist, businessman, politician and diplomat, Amb. Teddyboy Locsin Jr. is known to be highly intelligent, articulate and independent-minded," Del Rosario said in a statement yesterday.
"There is no doubt that – with his multi-disciplined skills to be combined with personal conviction towards advancing our national interest at all times – Amb. Locsin will be able to more effectively move forward our nation's defined foreign policy pillars encompassing the promotion of our national security, enhancement of our economic diplomacy and the promotion of the welfare of our Filipinos overseas."
Philippine National Police chief Ronald dela Rosa filed his certificate of candidacy for senator at the Commission on Elections yesterday, leaving the Bureau of Corrections as director general.
Justice Secretary Menardo Guevarra said Dela Rosa will be replaced by retired Marine captain Nicanor Faeldon, who is currently the deputy administrator for operations of the Office of Civil Defense and former Bureau of Customs (BOC) official.
Faeldon resigned from the BOC in August 2017 when he was dragged into the P6.4-billion shabu shipment.
There are rumors, however, that Faeldon is planning to run as Mindoro governor.
The OCD has yet to be furnished with Faeldon's new assignment and officials could only shake their heads upon hearing the news.
"Being a newcomer at the OCD, he has yet to prove his worth and now he is being given a new assignment as BuCor director, a highly sensitive post," one of the Camp Aguinaldo officials, who asked not to be named, said.
Another official expressed hope that Faeldon will not commit the same "blunder" at the BuCor, referring to the P6.4-billion shabu shipment that remains unresolved with regard to the masterminds even after various investigations.
The officials said Faeldon's new appointment would show that he is really one of the "trusted" men of the President.
Nearly 320 seats in the two-chamber legislature and more than 17,000 local government positions, from 81 provincial governors to about 1,600 municipal councilors, will be contested nationwide.
The performance of candidates identified with or who used to be officials of the administration in the midterm elections is usually perceived as a vote for or against the current government.
Good choice?
Senate President Vicente Sotto III and Senators JV Ejercito and Loren Legarda hailed the appointment of Locsin as foreign affairs secretary.
"One of the best appointments ever. Excellent choice. The Philippines cannot be bullied with him as DFA chief," Sotto said.
Sotto, chairman of the Commission on Appointments, said he expects Locsin to breeze through the bicameral body once his nomination to the DFA is taken up.
"Teddyboy Locsin, although a fighter, I know, will always square his actions and circumscribe his passions within due bounds," Sotto added.
Ejercito said the DFA would certainly benefit from his long experience in public service.
"As our country navigates a world facing trade wars, the resurgence of protectionism, violent extremism, transnational crimes and territorial disputes, I am confident that he can ably represent the interests of the Filipino people before the international community," Ejercito said.
"The global challenges that we face are indeed formidable but so is our incoming foreign affairs chief," he said, adding that Locsin's appointment was exceptional.
Legarda, chair of the Senate committee on foreign relations, congratulated Locsin, saying he is fit for the job, "honed by his long years of experience in public service, both as a journalist and a public official."
"A lawyer by profession and worked with various Philippine presidents, Teddy has vast knowledge of national and local issues surrounding the country and how the dynamics of world politics affect our nation," Legarda said in a statement.
"His stint as Philippine permanent representative to the United Nations seemed to have foreshadowed his appointment as the country's top diplomat. I am certain he will not waver in protecting our people and our nation's interests," she added.
Legarda said she would work with Locsin in advancing the Philippines' diplomatic relations with other nations and upholding the four pillars of Philippine foreign policy. – With Evelyn Macairan, Jaime Laude, Paolo Romero, Marvin Sy