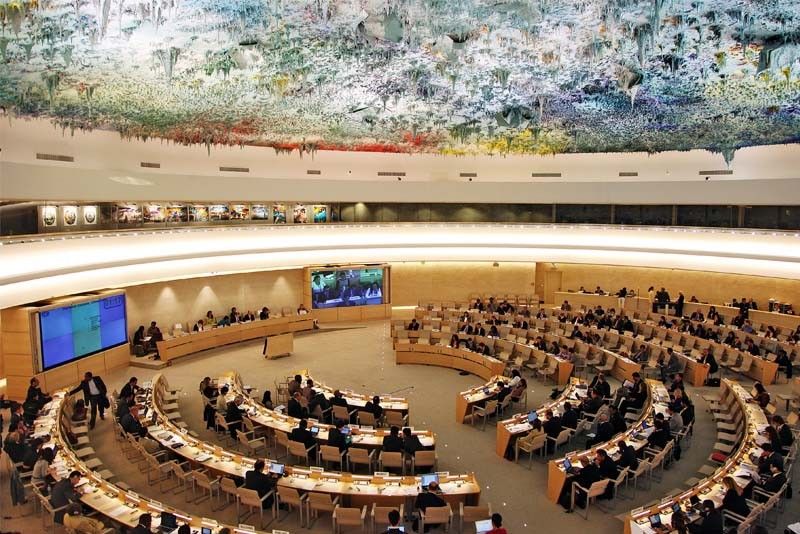 Seat of the United Nations Human Rights Council in Geneva.
UN Brief Photo
International rights groups: 'Philippines unfit for seat on UN Human Rights Council'
MANILA, Philippines – Human Rights Watch, an influential New York-based NGO, has written a letter to the United Nations asking its member states to keep the Philippines and three other countries off the Human Rights Council.
"UN member countries should show their outrage at the Philippines and Eritrea by leaving two spots on the ballot sheet blank and keeping them off the council," Louis Charbonneau, UN director at Human Rights Watch, said in a statement Thursday.
"Philippines President Rodrigo Duterte's abusive 'war on drugs' has been a killing frenzy that has left thousands dead," he said.
The UN General Assembly is set to vote on October 12, 2018 to fill one-third of the seats on the 47-member Human Rights Council for the 2019 to 2021 term.
HRW conducts research and studies on human rights crises all over the world and engages members of the UN General Assembly, the Security Council, the Human Rights Council, the Office of the High Commissioner for Human Rights (OHCHR).
READ: Duterte cautioned on tiff with UN rights chief
HRW also highlighted the human rights violations of Eritrea, Bahrain and Cameroon saying these countries also do not deserve to get seats in the council.
"The Philippines is undergoing a human rights crisis that may amount to crimes against humanity. Since Duterte took office in July 2016, more than 12,000 suspected drug dealers and users have been gunned down in what they call "legitimate police operations," HRW said.
"The killings continue daily and have spread to cities and provinces outside the capital, Manila. The Duterte administration has sought to quell all dissent and criticism of the "drug war" by jailing, threatening, and harassing critics. No police officer has been convicted for any of these deaths," it added.
President Duterte has repeatedly lambasted the United Nations for criticizing the drug war and numerous extrajudicial killings.
READ: Duterte tells UN rights expert: Go to hell
More than 40 national, regional, international civil society organizations wrote to UN member states on Sept 18, 2018 asking them "to refrain from voting for candidates that blatantly fail to fulfil the Council membership standards."
"Some of these candidates show a pattern of non-cooperation with the UN human rights system and attacks against UN Special Procedure Mandate-Holders that is incompatible with Council membership, the groups said in their letter.
"Furthermore, some of this year's candidates have engaged in acts of intimidation and reprisals against human rights defenders and civil society organizations, who play a key role in the Council's work," they added.
Countries need a simple majority, or 97 vote, to get elected to the council.
Some of the groups who signed the letter include, Human Rights Watch, International Federation for Human Rights, Reporters Without Borders, International Commission of Jurists.