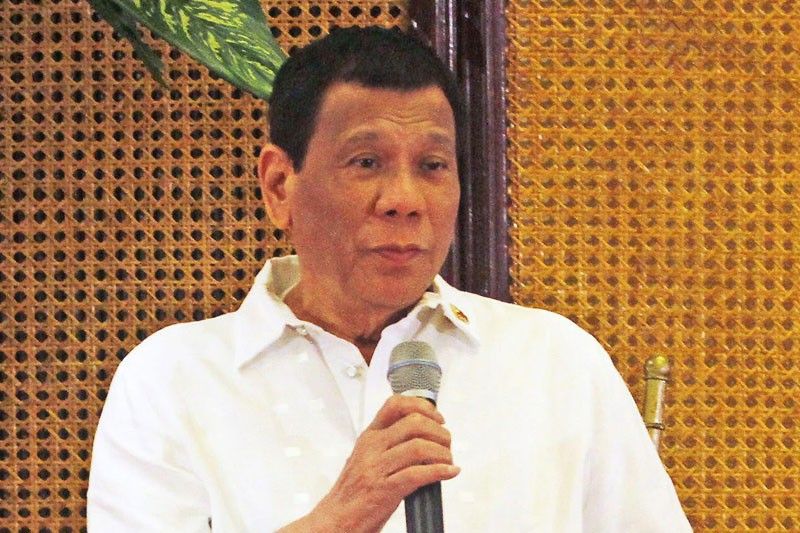 Fresh from a weekend in Hong Kong, President Duterte sits after standing for at least half an hour fielding media questions at Malacañang yesterday. Joven Cagande
Joven Cagande
Duterte negative for cancer, has 'battery syndrome'
MANILA, Philippines — President Duterte has admitted he has polyps and joked that he has "battery syndrome," as he assured the nation that he is healthy and cancer-free after tests on his Barrett's disease came out negative.
"Hindi pa ako (I'm not yet) cancerous. Do not be afraid to go near me," the President said during the induction of the new batch of officers of the Malacañang Press Corps last night at the Palace.
Duterte waived confidentiality on his recent medical procedures following speculations about his state of health.
"Lumabas na (The result is out)... If you mean I was found positive of cancer? No, it's not the colon; it's my Barrett… It's badly eroded because I was told to stop drinking years ago," he said, as he admitted going back to drinking brandy after years of stopping the habit.
The President even joked about his health and likened it to a battery.
"'Yang health natin, parang baterya 'yan, may positive at saka negative (Our health is like a battery, there is positive and negative)," he said, referring to the test results.
Duterte's admission and confirmation followed the same accounts of his top aide and government officials.
"The President had said he has polyps, he has growth in his intestines, but it's nothing. It's benign. It's a polyp but not cancer, and he was in high spirits. He was very happy yesterday, cracking a lot of jokes," Senate Majority Leader Juan Miguel Zubiri told reporters.
Zubiri and Sens. Loren Legarda, Chiz Escudero, Cynthia Villar, Sonny Angara, Richard Gordon, Sherwin Gatchalian and JV Ejercito met with Duterte at Malacañang Monday night to discuss legislative matters, then had dinner together.
"The President is as strong as an ox, we saw it yesterday, he was in good spirits," Zubiri said.
"He's healthy. He's OK. He's cancer-free," Special Assistant to the President Christopher Go said in a chance interview before the presentation of signed laws on occupational safety and health hazards and on personal property security act at Malacañang yesterday.
Duterte made the declaration about a week after he admitted getting a second batch of medical tests related to his Barrett's disease that has caused serious concerns about his health.
In an earlier interview, Go said Duterte is in tip-top condition and will likely finish his term.
Amid the frenzy caused by his health issues, Duterte also disclosed to members of his Cabinet in a meeting held Monday night that the tests turned out "negative."
"We had a Cabinet meeting that lasted until 11 p.m., he was fine, he was good. He disclosed to us that the result of the test on his intestine was negative for cancer," Secretary Eduardo Año said during the Department of the Interior and Local Government's launch of Anti-Red Tape and Ease of Doing Business Forum 2018 held at Crowne Plaza in Ortigas.
He said Duterte volunteered to the members of the Cabinet the information about the result of his medical test.
"In the middle of the meeting, (the President) said, 'By the way, the test is negative' and we all applauded and told him, 'Congratulations, Mr. President!" Año said, adding that the President did so as he felt everyone really wanted to know about it.
When asked to elaborate, Año said he was not a doctor or one who has sufficient knowledge about medical issues.
He believes, however, that the President is in good health.
Duterte admitted last week that he had to spend one hour at the Cardinal Santos Medical Center in San Juan to undergo repeat tests of his endoscopy and colonoscopy, as advised by doctors. He also said he did not yet know the status of his health and that if he has cancer, then so be it.
During a Philippine Military Academy Alumni Association event last week, Duterte said he would forgo any treatment if it would turn out that he has stage 3 cancer.
Some sectors demanded Duterte make public the true condition of his health, a concern of all Filipinos as he is the highest official of the land. – With Paolo Romero, Cecille Suerte Felipe
Related video: