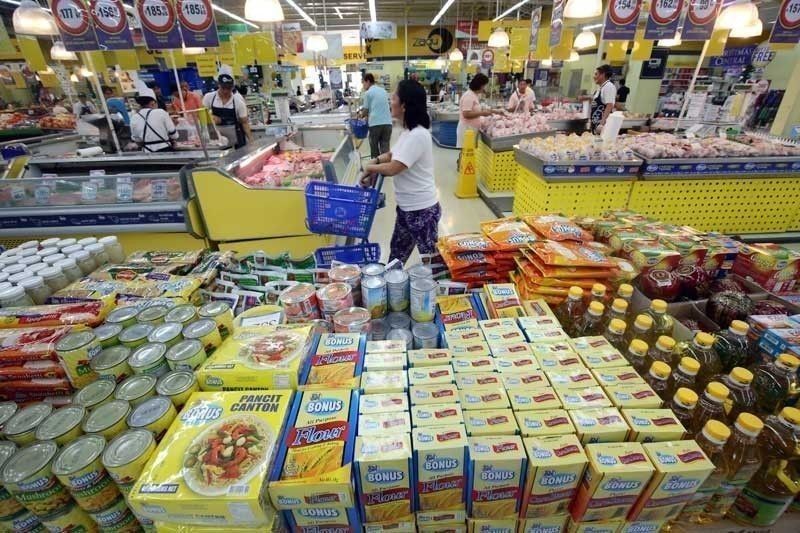 The September figure was faster than the 6.4 percent in August and three percent in September 2017. However, the rate was lower than the median market expectation of 6.8 percent and within the 6.3 to 7.1 percent forecast of the Bangko Sentral ng Pilipinas.
KrizJohn Rosales
Inflation rises to 6.7% in September 2018
MANILA, Philippines — Consumer prices continued their upswing, reaching a fresh nine-year high of 6.7 percent in September, the Philippine Statistics Authority (PSA) reported yesterday.
The September figure was faster than the 6.4 percent in August and three percent in September 2017. However, the rate was lower than the median market expectation of 6.8 percent and within the 6.3 to 7.1 percent forecast of the Bangko Sentral ng Pilipinas.
Steep increase in food prices due to supply disruptions in the aftermath of Typhoon Ompong stoked inflation in September, PSA said.
But there are indications of easing prices, the country's economic managers said in a joint statement.
They said the slight easing of non-food inflation to four percent in September from 4.1 percent in August as well as the easing of headline inflation in Metro Manila are signs that overall inflation would taper off by yearend.
"These clear signs of easing boost our confidence that inflation will taper off by yearend and go back to our target range by early next year," read the joint statement issued by the departments of finance, budget and management, and National Economic and Development Authority (NEDA). "But we must couple this optimism with quick and focused actions in order to sustain gains made so far in keeping inflation in check."
They said Typhoon Ompong's devastation in Ilocos, Cagayan and Cordillera Administrative Region caused massive supply disruptions, putting greater pressure on food prices. Damage to agriculture, including facilities and infrastructure, amounted to P26.8 billion.
"This has kept the price of the country's staple grain elevated despite the arrival of some imported rice and the improvement in the rice stocks of the National Food Authority," they said.
"The declaration of a state of calamity we have proposed in these regions through the President's Proclamation No. 593, series of 2018, should provide some needed relief," the economic team added.
The heavily weighted food and non-alcoholic beverages index further accelerated to 9.7 percent in September against the 8.2 percent in August and 3.4 percent in September 2017.
Sharp increases were also seen in alcoholic beverages and tobacco; housing, water, electricity and fuel; furnishing and household equipment; and restaurant and miscellaneous goods and services.
Headline inflation in the National Capital Region (NCR) eased to 6.3 percent in September from seven percent last month.
In "areas outside NCR" (AONCR), inflation was higher at 6.8 percent in September as against 6.2 percent in August and 2.6 percent in September 2017.
Higher annual upticks were recorded in the indices of all the commodity groups, except for communication and education. Several state colleges and universities have already implemented the free tuition law.
Prices highest in Bicol
Among regions in AONCR, Bicol or Region 5 posted the highest inflation at 10.1 percent while the lowest inflation figure was in Central Luzon (Region 3) at 4.5 percent.
PSA chief Lisa Grace Bersales said Central Luzon has a manageable inflation because of greater mobility of goods in the region.
"Most regions affected by typhoons and (issues on) availability of agricultural and food products are the ones that are highly impacted by higher prices. I would like to think that Central Luzon has this really good inflation report because they are our rice-producing region not too much affected by typhoon and also near NCR. It's the mobility of goods that would help a lot (in managing inflation)," she said yesterday.
Meanwhile, economic managers said external factors – such as rising crude costs – were at play and had greatly affected prices despite government efforts to stabilize them by boosting supply.
They also reiterated the need for the speedy passage of the rice tariffication bill to boost supply and bring down prices of the staple.
Republic Act 8178 or the Agricultural Tariffication Act had already been approved on third and final reading in the House of Representatives, but is still pending in the Senate.
The DOF, DBM and NEDA also called on the restructuring of the National Food Authority to address its conflicting mandate.
The economic team also urged the public to stay vigilant against profiteers and to report those who take advantage of the situation, to help the DTI in its monitoring activities.
"Despite risks and uncertainties in the global economy, the Philippines' macroeconomic fundamentals remain robust and resilient enough to weather external shocks," they said.
"And our work for the people never ends: we continue to stay on course in realizing our medium- and long-term development goals for the country," the economic team said.
Oil concerns linger
In their statement, the country's economic managers acknowledged that rising global oil prices would continue to have an impact on prices in the coming months.
"Global fuel prices remain a concern in the near-term given the gloomy outlook on oil supply and an increasing demand for petroleum products during the winter," the economic team said.
"Thus, we urge a quick response to address this upside risk, including demand-side management strategies," they added.
One way to reduce the country's dependence on expensive fossil fuel, they said, is to support the Department of Energy (DOE)'s renewable energy initiatives.
They also cited the DOE's e-Power Mo program, which seeks to modernize public utility vehicles of the Department of Transportation, as one initiative deserving of greater support.
To cushion the impact of rising oil prices on the poor, economic managers said the DOE is also expanding its partnership with various oil companies for the provision of fuel discounts.
Such subsidy program is different from the one being planned by the DOE and the Department of Trade and Industry, which seeks to grant fuel subsidies to canned sardines and other food manufacturers.
In Legazpi City, Albay Rep. Joey Salceda said the Bicol region, the fourth poorest region wracked by two-digit inflation, should be given priority in government assistance.
"These are horrible times and a disaster worst than Ompong," said Salceda in his Facebook post.
"So, we must focus the priority of our intervention to the poor families in Bicol," said Salceda. He the NFA's "criminal mismanagement" of rice supply was largely to blame for the region's woes. Bicol did not suffer much from typhoons this year compared to other regions.
He added that when he made projections last Sept. 11 that inflation in Bicol could go down to 7.5 percent, he was unaware that Ompong damage would reach P17 billion.
"More so, there was no NFA rice last September so it rose to 16 percent. I don't know where the 300,000 bags loaded from Tabaco City port go," he said.
Salceda urged government agencies to set in place hunger mitigation measures for the region.
He said the NFA should release greater volume of cheap imported rice at P27 per kilogram for regular milled and P32 for well-milled rice.
Fem Imperial, Albay provincial board member, said Albay residents were also affected by the increase in the price of sand per truck quarried at the slopes of Mayon Volcano, which rose from P500 to P2,000. – With Celso Amo