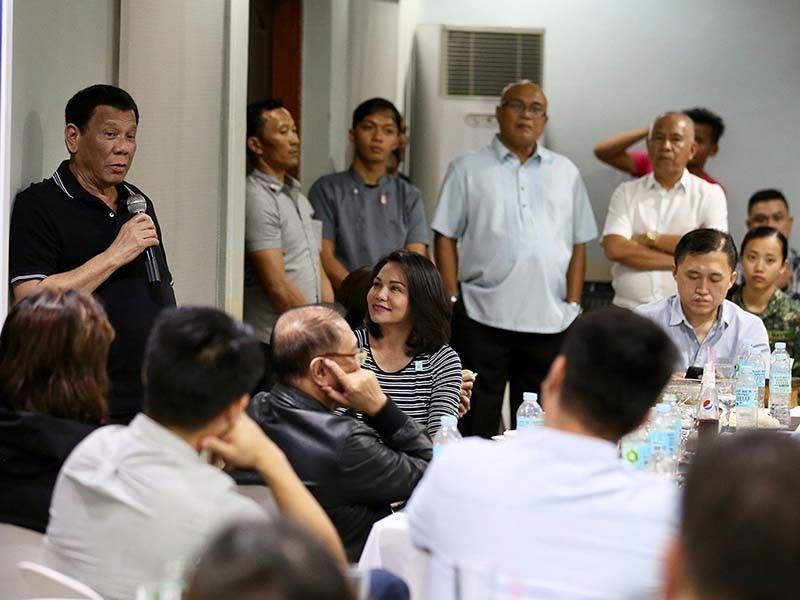 President Rodrigo Roa Duterte talks to his supporters during a gathering at VJ's Sports Bar and Ihaw-Ihaw Restaurant, Butuan City on September 29, 2018.
Presidential photo/Richard Madelo
Palace: No inconsistency in Duterte, AFP statement on LP involvement with reds
MANILA, Philippines — Malacañang insisted Tuesday that some Liberal Party members may be colluding with communists to overthrow President Rodrigo Duterte even if armed forces chief Gen. Carlito Galvez Jr. had denied that the opposition is part of the so-called "Red October" ouster plot.
Presidential spokesman Harry Roque said there is no inconsistency in the statements of Duterte and Galvez, whom he said did not discount the possibility that individual members of LP are conspiring with communists.
"It could be true that there is no formal memorandum of agreement between the party itself and the CPP-NPA (Communist Party of the Philippines - New People's Army). It does not prevent leading personalities with the Liberal Party from having such collusion," Roque said in a press briefing.
"There's absolutely no inconsistencies with this statement," he added.
Roque said the Duterte administration remains convinced that such collusion exists, citing opposition Sen. Antonio Trillanes IV's previous statements that he wants the president out of office.
"No one will admit that (collusion). But there is (intelligence) information in this regard, and as far as we are concerned, we are considering all these information as valid information and we are ready to face them," the presidential spokesman said.
"He (Trillanes) has repeatedly called for the ouster of the president, so there's no inconsistency. He has told, he has actually verbalized time and again he should step down. He should removed from office, he should be sent to jail," he added.
Asked if Duterte would identify the LP members involved in the ouster plot, Roque said: "I don't know if he's willing to name names, maybe you should ask him."
Roque reiterated that Duterte continues to enjoy the support of Filipinos despite the reported destabilization plots.
"We don't need, we don't recognize any viable threat against the administration because the people are solidly behind the president," he added.
The presidential spokesman also shrugged off claims that the destabilization talks are being used to prod Duterte to impose martial law nationwide.
"He is just performing his duty. Martial law was needed in Mindanao. He does not need martial law in Luzon and Visayas," Roque said, referring to the military rule imposed in Mindanao since last year because of the Marawi siege.
Pressed if the administration would seek the arrest of those who are seeking to oust the president, Roque said the government would not make such move "as long as they don't constitute a clear and present danger."