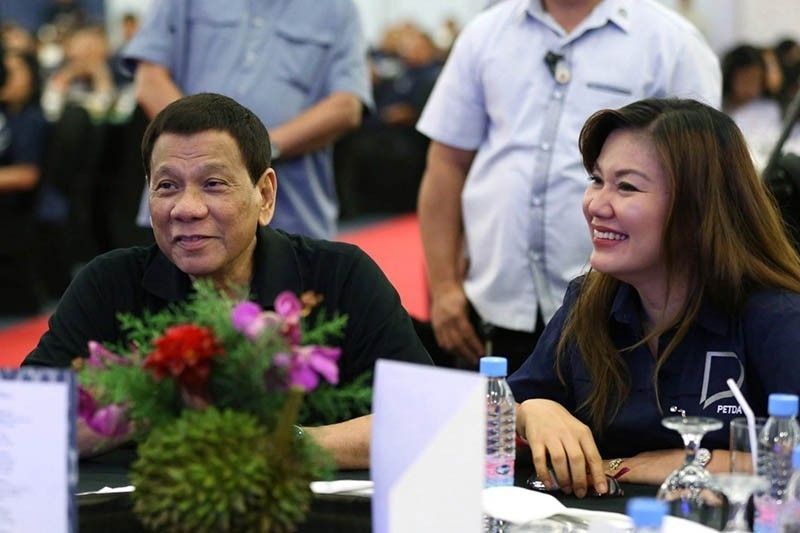 If the President is ill, then she would have been by his side in all his appointments or engagements in various parts of the country.
Presidential Photo/Karl Norman Alonzo
Duterte a health buff, says Honeylet
DAVAO CITY, Philippines — There is no reason to worry about President Duterte's health as he often has himself checked to make sure everything is fine with him while dealing with the rigors of office.
"Nothing is wrong with him. He's a health buff. He often has himself checked up because of his gastro condition. He is very industrious, more industrious than I am," Duterte's partner Cielito "Honeylet" Avanceña told ABS-CBN.
If the President is ill, then she would have been by his side in all his appointments or engagements in various parts of the country.
"Just let him be himself. He is fine. The Lord will sustain him because He was the one who put him there," she added.
But since she is not seen tagging along with the President in his sorties, it means that he is OK and medically fit to carry out his tasks as the country's chief executive, Avanceña pointed out.
Critics have been picking on the health of the President, especially since he has been seen lately to have darkened skin on his face, which many claimed manifests illness.
Southern Philippines Medical Center executive director Leopoldo Vega said there is nothing wrong with the facial discoloration.
"The dark coloration comes with aging. There are people who, when they get older, their skin also gets dark," Vega explained.
If the President is sick then he could not be traveling around the country or even abroad, he added.
Duterte recently traveled to Israel and Jordan. He was also seen going around the country following the onslaught of Typhoon Ompong that caused massive landslides in Benguet province and Naga City in Cebu, which both claimed several lives.
Avanceña, a nurse by profession, denied allegations that the President is not medically fit and that the fears about his health condition have no basis.
Several sectors have been demanding that Duterte come out with a medical bulletin regarding his health.
However, Malacañang earlier insisted the President is not ill and is not hospitalized for anything and that there is no need to come up with a medical bulletin on his health status.
In a number of speeches in the past, Duterte has admitted to dealing with ailments related to a motorcycle accident and smoking cigarettes but insisted that he remains healthy. He also admitted to have lately undergone colonoscopy and endoscopy procedures.
Former president and Speaker Gloria Macapagal-Arroyo said there is no need for Duterte to reveal his medical records.
"I think he's been quite transparent (about his health)," she told reporters in Nueva Ecija after receiving a briefing on the government's flood control program for the provinces of Nueva Ecija, Pampanga and Bulacan.
"The last thing he needs is a comment from the peanut gallery. Before, when I was facing destabilization, it was President Duterte who helped me. He knows what to do, so I wouldn't want to add to the unsolicited advice to him," Arroyo added.
Duterte earlier talked about the "Red October" plan to remove him from office – supposedly a conspiracy among opposition groups, the local communist movement, and party-list Magdalo of Sen. Antonio Trillanes IV and Rep. Gary Alejano. Top military officials have echoed this claim.