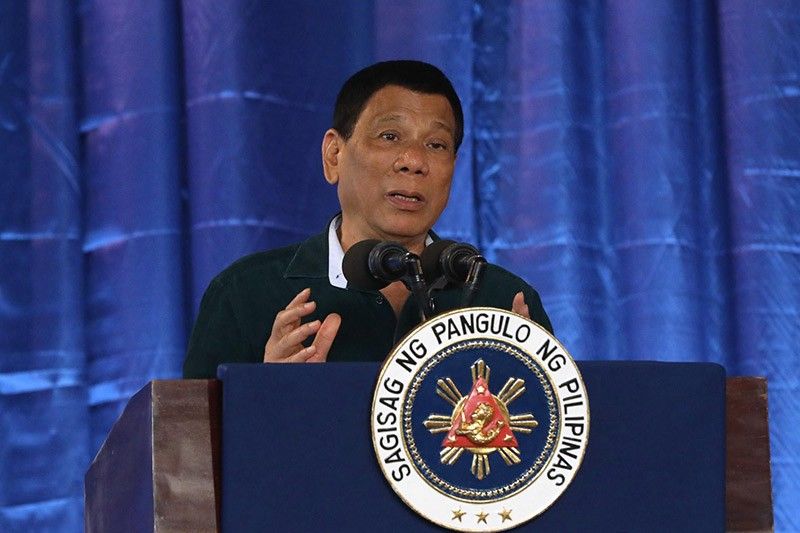 President Rodrigo Duterte gestures as he reiterates that he has a sworn duty to protect the Filipinos as he delivers his speech during the 37th Principals Training and Development Program and National Board Conference at SMX Convention Center in Davao City on May 4, 2018.
Toto Lozano/Presidential Photo
Palace says 'Red October' ouster plot vs Duterte won't succeed
MANILA, Philippines — Ouster plots against President Duterte would not succeed, Malacañang said Monday as it assailed what it described as "power-hungry" destabilizers out to grab power from a duly elected leader.
Presidential spokesman Harry Roque said Duterte continues to enjoy "overwhelming support" from Filipinos despite criticisms against his policies, including his controversial war on illegal drugs.
"We have no doubt that there are power hungry individuals in the opposition who would like to resort to extra-constitutional means in putting down the government of President Duterte and we have no doubts that the Magdalo group are addicted to coup d'etats," Roque said, referring to a group of rebel soldiers who staged an uprising against former President Gloria Macapagal-Arroyo.
"However, what I will say is that we are confident that we enjoy overwhelming support from the people and therefore what these groups would want to see, the ouster of President Duterte would not happen," he added.
READ: Movement Against Tyranny hits AFP's 'outlandish claims' of conspiracy
Earlier, the military claimed that communist rebels are planning to destabilize the Duterte administration next month as part of international celebrations for communism and Marxism.
Armed Forces deputy chief for operations Brig. Gen. Antonio Parlade claimed that the "Red October" plot remains even if a plan to oust Duterte by September 21 failed to materialize.
Parlade claimed that opposition group Tindig Pilipinas withdrew from the unsuccessful plan after discovering that communist leaders were behind it.
The military official issued the statement days after Duterte claimed that communist rebels and the political opposition are conspiring to oust him.
Roque said the Palace has no doubt that Parlade's statements were based on intelligence information.
"We have no doubt that the CPP-NPA (Communist Party of the Philippines - New People's Army) has been out to overthrow the government since they were founded," Roque said.
"When you won by the margin that the President had in the elections and you have this kind of support as shown in surveys, they will have a hard time ousting the president."
READ: AFP: 'Red October' oust-Duterte plot still on
Roque also claimed that many members of the opposition are "greedy for power" and could no longer wait for the next elections. He said a people power revolt would not work "when the people elected the President to a fixed term of office."
"You know, I also supported People Power. But we supported People Power in 1986 because the one who was ousted no longer has a mandate," Roque said, referring to the popular revolt that ousted the late President Ferdinand Marcos.
Roque reminded members of the opposition that Duterte defeated their candidate Manuel "Mar" Roxas II by six million votes in 2016.
"Huwag na silang managinip ng People Power para matanggal si presidente sa kanyang position (They should stop dreaming that they can oust the president through People Power)," he added.
"Wait for the election. Run. That's how democracy works."
Roque said the Filipino people would be the "offended party" if ouster plots against the administration succeed.