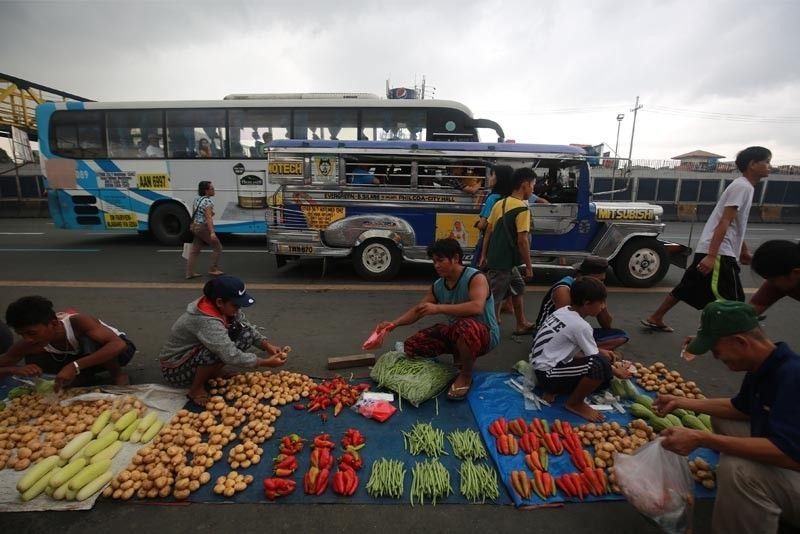 The Chief Executive discussed the issue of inflation Friday evening, deviating from his usual talk on the need to eradicate illegal drugs, maintain peace and order and fight corruption to boost the country's progress.
Michael Varcas/File
Duterte blames oil prices for high inflation
(The Philippine Star) - September 23, 2018 - 12:00am
MANILA, Philippines — The rising prices of fuel, which reached as high as P57 per liter this week, is to blame for soaring inflation, according to President Duterte.
The Chief Executive discussed the issue of inflation Friday evening, deviating from his usual talk on the need to eradicate illegal drugs, maintain peace and order and fight corruption to boost the country's progress.
"What's driving inflation now? Simply it's the prices of oil," he said during his speech at the Asia Pacific Association of Gastroenterology (APAGE) 3rd Inflammatory Bowel Disease Clinical Forum in Cebu City last Friday.
"It used to be 43. Now it's 100 per barrel. It's more than 100 per barrel now. And I mean, you go home, you use the car and everything, your aircon, it's oil. Light, it's oil. Everything is oil," he said, referring to the price of oil in the global market.
He has been whining about the Philippines' lack of the natural source for fuel saying: "God did not give it to us. He gave it to Indonesia, lots of it to Malaysia and Brunei. What's our sin? What…Why God made it that way, I really do not know."
Last month, inflation hit 6.4 percent, surpassing the 5.9-percent rate predicted by the Department of Finance and polls from Bloomberg and Reuters.
"You will look around anywhere here. This microphone, this book, this glass of water, your suit, is connected with oil. Because they are made of machines and equipment," he said, explaining that these need fuel to operate and would add up to the prices of goods and commodities. "And that is one of the reasons, it's not an excuse. I admit there is inflation. But it's really – the number one culprit is price of oil."
In the same speech, Duterte reiterated his administration's fight against corruption and to maintain peace and order.
"For as long as there is no law and order, and there is corruption in the government, this country will never rise," he said.
Early this month, Duterte blamed the move of the United States to impose higher interest rates as contributing to the steep inflation in the country.
"When America raised the interest, all prices went up," he said upon arrival from his trip to Jordan and Israel earlier this month.
He also pointed to US President Donald Trump's imposing higher tariffs during his engagement with the Filipino community in Jordan.
Food airlift
The Philippine Air Force (PAF) has stepped in to help the Department of Agriculture (DA) transport basic food items from Mindanao to Metro Manila.
Agriculture Secretary Emmanuel Piñol said at least two PAF C-130 Hercules cargo transport planes, which are used to transport war materiel and soldiers to the battle grounds, are now engaged in airlifting vegetables, fruits and other commodities from General Santos City and Davao City to Manila.
The use of the C-130s in airlifting fruits and vegetables is part of the Philippine Food Skyway Program of the DA, which aims to facilitate the transport of basic food items from remote production areas to the urban centers.
Piñol said the aircraft were committed by Defense Secretary Delfin Lorenzana and will also be used to airlift food supplies to Cagayan Valley and Ilocos next week.
DA has opened a farmers' outlet where fruits and vegetables are sold at lower prices. About 30 metric tons of fresh vegetables at almost half the price compared to those sold in Metro Manila markets are available.
Among these are carrots at P95 per kilo and cabbage at P70 per kilo. Other commodities are also sold like refined sugar at P49 per kilo, fruits and fish products.
"This development proves that profiteers and middlemen are responsible for the manipulation of prices of vegetables and other food items in the market," Piñol said.
The DA also initiated a business-matching session among homeowners' cooperatives, market vendors' associations and supermarkets and the farmers.
"The business matching is expected to establish a direct market linkage between the farmers and the direct buyers to cut out profiteers who have been manipulating prices," Piñol said.
Starting next week, at least six more refrigerated containers filled with vegetables will be shipped in from Mindanao every week.
Bangko Sentral ng Pilipinas Deputy Governor Diwa Guinigundo said yesterday the rush of remittances from overseas Filipino workers (OFWs) during the Christmas season could help ease inflation in the last quarter of the year.
He told a news forum in Quezon City that at Christmas, remittances surge, and when this happens the peso-dollar rate will improve.
The peso closed at P54.0160 on Friday.
Guinigundo said an improved exchange rate would help slow down inflation, which stood at 6.4 percent last August.
The BSP expects remittances to increase by four percent this year, or about $29 billion to P30 billion compared to last year's $28 billion. – With Louise Maureen Simeon, Emmanuel Tupas