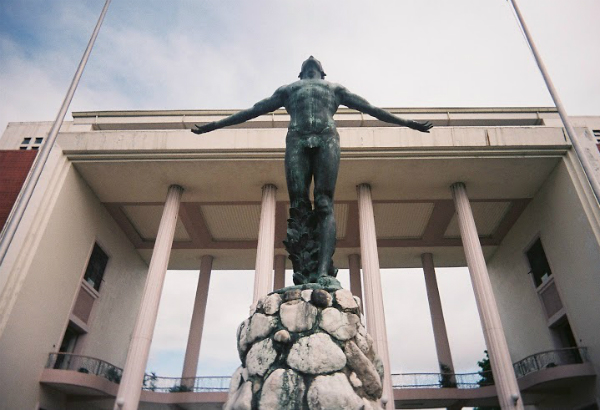 An agreement signed in 1989 requires prior notification for police and military activities in UP campuses.
Philstar.com/File
UP president seeks PNP explanation for cops on campus
(Philstar.com) - September 14, 2018 - 2:21pm
MANILA, Philippines — University of the Philippines president Danilo Concepcion has written the Philippine National Police to express concern and seek an explanation for reports of police officers in the Diliman campus earlier this week.
According to a UP press release, witnesses had reported police officers going to the residence of Student Regent Ivy Joy Taroma to look for her. The police did not disclose their reasons for doing so.
"They later proceeded to Palma Hall, presumably in continuation of their search. Pictures of the visit surfaced on social media, provoking protests from student leaders, including Regent Taroma herself," UP said.
1989 Abueva-Ramos Agreement
Under a 1989 agreement between then UP President Jose Abueva and then Defense Secretary Fidel Ramos, military and police activities in any UP campus or regional unit require prior notification of the university president, chancellor or dean.
The same agreement holds that military, police and militia personnel cannot enter any UP campus "except in cases of hot pursuit and similar occasions of emergency" or when assistance is requested by university officials.
Uniformed personnel are allowed to pass through "in ordinary transit."
Under the same agreement, the police can request assistance in law enforcement within the campus, which has its own police and security personnel.
Concepcion, in a letter, to Director General Oscar Albayalde said "the UP community is deeply alarmed by this intrusion and the possible reasons for its undertaking" and asked if he or local police superintendents "were aware of, and authorized, this visit" and what it was for.
He also reminded Albayalde of the agreement between UP and the police and military.
"Such sudden and uncoordinated intrusions tend to raise concerns about the repression of civil liberties and human rights, and I hope that you will respond to allay those concerns and assure us that these incidents will not recur under your administration," the UP president also said.
AFP 'spies' caught in Diliman in 2015
This is not the first time that the presence of police and military personnel in a UP campus has caused a stir. In October 2015, UP security personnel apprehended six men for allegedly suspicious activities in the Diliman campus.
One of the men, later identified as 1st Lt. Fidorf Cimatu of the Philippine Army's Intelligence Security Group, said they were conducting an operation there.
The Armed Forces of the Philippines acknowledged that it had sent personnel to the Diliman campus.
"The AFP humbly apologizes for the incident and assures the public and the UP that any inconvenience that arose out of this incident is not intentional," the military said then in a message to media.
"They were there on a legitimate national security operation. University students and members of the UP faculty were not the subject of that operation as alleged by some quarters," the military also said.
UP, often said to be a microcosm of Philippine society, has a history of activism on campus and national issues.