Robredo, Liberal Party refute Duterte's ouster claim
September 9, 2018 | 4:42pm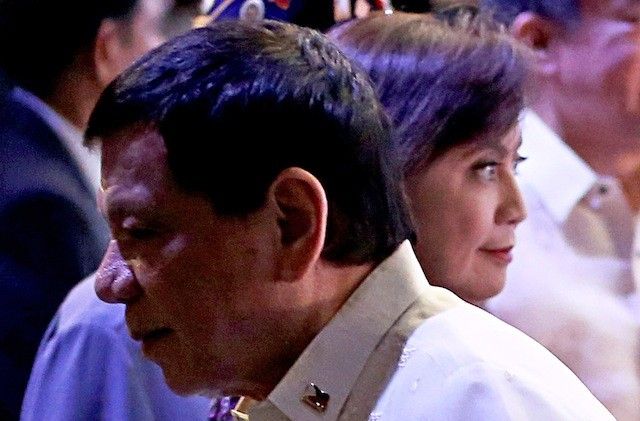 MANILA, Philippines — Vice President Leni Robredo and the opposition Liberal Party, which she chairs, on Sunday once again denied that they are plotting an ouster move against President Rodrigo Duterte.
In a statement, Robredo said the LP is not working nor in alliance with the group of Sen. Antonio "Sonny" Trillanes IV and the Communist Party of the Philippines to topple the current administration.
"[W]ala kaming koneksyon sa Communist Party of the Philiippines, ni nag-usap, wala man lang kahit anong klaseng pag-uusap. Alam naman natin iyong parang role ng Communist Party of the Philippines dito... sa lipunan, sila nag-e-exist sila indepedently of any political party. Maraming paniniwala na hindi pareho, (We don't have a connection with the Communist Party of the Philippines, even any communication or negotiation. We know the role of the Communist Party of the Philippines here, in our society, they exist independently of any political party. They have several beliefs that are not similar with us)," Robredo said in Filipino on Sunday during her weekly radio show, BISErbisyong LENI, on RMN-DZXL 558.
Robredo was reacting to Duterte's claims that the three groups are planning to destabilize his administration.
READ: Duterte warns of move to oust him by October
Duterte's claims came after LP showed support to Trillanes following the president's decision to declare the senator's amnesty, granted by the previous administration, void.
Robredo lamented how the Duterte administration always targeted the LP as its "whipping boy" and always being used as an excuse "to deflect the blame for its incompetencies."
"Eh 'di ba alam naman nila na halos wala nang natira sa partido? Lahat na lumipat sa kanila eh. Kaya kapag sinabi nilang Liberal Party, sino iyong tinutukoy? Kasi ngayon, iyong Liberal Party mabibilang mo na lang sa kamay mo 'di ba. (Don't they know that we're only a few in the party now? Everyone already transferred to them. So if they say Liberal Party, who are they referring to? Because right now, you can only count the members of Liberal Party by hand)," Robredo said.
"[K]apag pinag-usapan iyong Liberal Party—parang ano din ito, parang pagsisisi din kay Trump sa ekonomiya. Lahat na pagkukulang ng pamahalaan, isisisi sa Liberal Party. Tingin natin hindi naman tama iyon (If we talk about Liberal Party—it's like blaming Trump for the economy. All that the government is lacking they blame to the Liberal party. We should see that that's not right,)" she added.
LP President Sen. Francis "Kiko" Pangilinan echoed the party chair's comment and said the destabilization is the government's own doing and not the opposition's.
"The opposition does not have to do anything. On its own, either by its incompetence or corruption, the government is doing a good job of destabilizing itself," he said.
Pangilinan said that all that Malacañang has to do is listen to its own allies who, like the opposition, are calling for the resignation of Department of Agriculture and National Food Authority officials for causing the rice crisis.
He said Budget Secretary Ben Diokno, Reps. Joey Salceda (2nd District, Albay) Karlo Nograles (1st District, Davao City), Sen. Cynthia Villar and House minority leader Danny Suarez as among the officials allied to the president who were calling for the resignation of those responsible for the rice crisis and economic woes.
"Are they destabilizers too?" Pangilinan asked.
"If the president doesn't want to listen to the opposition, that's fine but his own allies are sounding the alarm bells. Malacañang should heed the clamor of its own allies and act decisively to solve the rice crisis," he said.
Pangilinan stressed that "the accusation of destabilization is downright false."
"It is ridiculous. Dissent is not destabilization. Every time scandals and controversies hound this administration, whether it be corruption issues or issues of incompetent governance, it blames the opposition," Pangilinan said.
"For everyone's sake, instead of throwing baseless accusations at LP and the opposition, the government should listen to the cry of the people and focus on rising prices of goods and lack of jobs that would sufficiently provide for the average Filipino family," he added. — Rosette Adel
As It Happens
LATEST UPDATE: February 20, 2020 - 9:02am
Get the latest updates on alleged ouster plots floated by the Duterte administration.
February 20, 2020 - 9:02am
Vice President Leni Robredo clarifies that she is not among those who are supposedly calling for the ouster of President Rodrigo Duterte.
"Hayagan ko pong sinasabi: Hindi ako bahagi ng anumang panawagang bumaba sa puwesto si Pangulong Duterte," Robredo said in a statement.
(I am openly saying: I am not part of any call for President Duterte to step down.)
Robredo said she is only calling on government officials to do their jobs as public servants.
The vice president, however, stressed that the freedom to assemble and freedom of speech are constitutional rights amid a reported mobilization in February 22.
June 11, 2019 - 8:41am
Sen. Antonio Trillanes debunks ouster claims and says he is ready to present evidence to disprove claims that the "Bikoy videos" were orchestrated by the Liberal Party.
"First and foremost, the objective is to debunk his claim that the opposition or his critics have concocted these allegations using him against the Duterte family and that we paid him money so I brought with me some of the evidence. Also, more importantly, I'll be a showing video later on at a press conference about Mister Bikoy freely ranting about his allegations," Trillanes says in an interview over ANC's "Early Edition."
"There is no ouster plot. All of these things are just an afterthought when he was already in the custody of the police."
"NO OUSTER PLOT." Sen. Antonio Trillanes said he is ready to present evidence, including bank records provided by companions of Peter Joemel Advincula in an alleged drug syndicate, to debunk claims that the "Bikoy videos" were orchestrated by the Liberal Party. #ANCEarlyEdition pic.twitter.com/ax67k0ISen

— ABS-CBN News Channel (@ANCALERTS) June 11, 2019
June 6, 2019 - 9:45am
Lingayen-Dagupan Archbishop Socrates Villegas denies allegations by "Bikoy" that he was part of a supposed plot to unseat President Rodrigo Duterte and install Vice President Leni Robredo as the country's chief executive.
"On the day and time, December 12, 2018 in the evening, that I allegedly met with some plotters to overthrow the government, I was in the parish church of Orani in Bataan to deliver the homily at the first Mass of a friend newly ordained priest," the priest says in a statement.
"As a mortal being like the rest of us, I have no capacity to be in two places at the same time."
Peter Joemel Advincula, the man claiming to be "Bikoy," identified Villegas, whom he said was present at a meeting on Dec. 12, 2018 at the Jesuit Residence of the ADMU in Quezon City.
May 8, 2019 - 12:12pm
Presidential spokesperson Salvador Panelo says President Rodrigo Duterte has received intelligence report showing conspiracy among groups to discredit the administration for the purpose of the May 13 polls.
Panelo shows diagram on the alleged conspiracy against the Duterte admin @PhilippineStar @PhilstarNews pic.twitter.com/b0N4OasPVC

— Alexis B. Romero (@alexisbromero) May 8, 2019
The groups allegedly include the Liberal Party, the Magdalo group, media organizations, among others, as presented in the matrix.
May 6, 2019 - 8:22pm
Sedition is an archaic law used to silence political critics, former Rep. Erin Tañada (Quezon) says in reaction to the indictment of a website administrator for allegedly sharing anonymous videos alleging the Dutertes are involved in illegal drugs.
"To put it simply, sedition punishes political criticism. In the Philippines, it is a relic of our colonial past. Jose Rizal himself was charged with sedition by Spanish authorities before he was executed. It was also one of the favorite tools used by the Marcos dictatorship to silence critics. It's an age-old strategy that leaders who cannot be honest and transparent to the people always choose," Tañada says in a statement.
He notes that the government seems to have moved quickly to investigate the posting of the videos while progress in other cases has been slow.
Senatorial candidate Erin Tañada criticized the government for prioritizing the prosecution of its critics after the arrest of a person accused of sharing videos critical of the administration.
"Pag maliit na tao ang napatay, taon ang lumilipas pero walang nangyayari. 'Yung nagbanta sa buhay ng mga obispo at pari hindi pa rin ma-identify. Yung mga akusado sa Ampatuan massacre hanggang ngayon nasa korte pa. Pero pag binatikos mo si Presidente Duterte at pamilya niya, isang buwan lang may arestado na," he says.
(When it is a regular person who is killed, years pass and nothing happens. Those who sent death threats to the bishops and priests are still not identified. The accused in the Ampatuan massacre are still in trial. Bu when you criticize President Duterte and his family, someone is arrested within a month.)