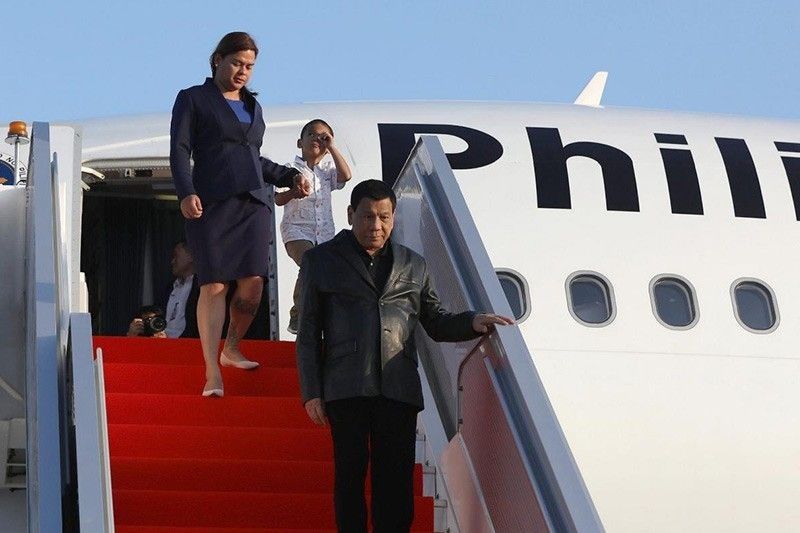 In his departure speech, Duterte expressed his administration's desire to have a "stable and secure" situation not just in the Middle East but all over the world.
Toto Lozano/Presidential Photo
Duterte kicks off Israel visit
Alexis Romero
(The Philippine Star) - September 3, 2018 - 12:00am
JERUSALEM – President Duterte yesterday kicked off his historic visit here in a move that seeks to affirm his "friends to all, enemies to none" policy.
The visit – the first by a Philippine president – will include a meeting with Israeli leaders and attendance at the inauguration of a Holocaust memorial site.
In his departure speech, Duterte expressed his administration's desire to have a "stable and secure" situation not just in the Middle East but all over the world.
The trip comes as the Middle East continues to be gripped with tension over a long-standing conflict between Israel and Palestine that has turned the region into a flash point.
Israel has welcomed the United States' recent decision to end its funding to the United Nations Relief and Works Agency, which helps Palestinian refugees.
"We consider this visit extremely important. We consider it a historic visit and we hope to transform this historic relationship and this enduring friendship into a more vibrant and stronger partnership," Philippine Ambassador to Israel Nathaniel Imperial told state-run Radio Television Malacañang.
"We consider this a new phase of our relationship with Israel. This is an important landmark visit. No Philippine president before ever dared visit this country. But now things have changed. We have a very close relationship with Israel and its people," he added.
The Department of Foreign Affairs (DFA) has said Duterte's landmark visit to Israel won't hurt the Philippines ties with Arab countries that do not recognize the Jewish state.
"We are aware of certain sensitivities... I believe we have reached a stage of maturity in our relations that they understand each one of them," DFA Undersecretary Ernesto Abella said in a recent press briefing.
"We have multilateral relations, and as we pointed out, we are friends to all and enemies to none... It should not serve as any obstacle with our ongoing bilateral relationships with each of these nations," he added.
The Philippines is the only Asian country to support a United Nations resolution that created Israel. Its vote broke the tie at the UN that paved the way for the establishment of the state of Israel.
Israel was formed after the UN adopted a resolution dividing Palestine into Jewish and Arab states in 1947.
The UN resolution also placed Jerusalem, an important religious site for Jews, Christians and Muslims, under international control and administered by the UN.
The UN resolution was opposed by Palestinians who regarded it as an attempt to drive them away from the area.
Duterte started his four-day visit yesterday by meeting with 1,400 members of the Filipino community to update them on the developments in the Philippines. Israel hosts about 28,000 overseas Filipino workers.
Duterte vowed to ensure the safety of the Filipinos working in the region.
"I shall renew my pledge to do my utmost to bring the change we desire in our country, in ourselves as a people. I will ask them to continue to be our partners for growth, progress and change," he said.
"In these official visits, I shall continue to be guided by my mandate to uphold and protect the national interests of the Philippines," he added.
On Monday, Duterte will meet with Israeli Prime Minister Benjamin Netanyahu to discuss ways to boost cooperation in labor, tourism, trade, agriculture, counterterrorism, security and law enforcement.
Duterte is also expected to witness the signing of bilateral agreements on the employment of Filipino caregivers, scientific cooperation and investments. About 13 to 15 private sector deals will also be inked during the visit.
"We have a great opportunity to really maximize the potential of this relationship, which in some aspects is still quite underdeveloped," Imperial said.
Previous reports said Duterte would push for an arms deal with Israel but officials have yet to confirm it.
Imperial noted that Israel is one of the countries providing defense equipment to the Philippines because of a logistics agreement.
"We are also trying to diversify our sources of supply of defense equipment. And this is important if we are to pursue an independent foreign policy," the envoy said.
After Duterte's meeting with Netanyahu, Duterte will visit the Yad Vashem Holocaust Memorial Center. He would join a ceremony inaugurating a monument to the Filipino rescue of Jews during the holocaust.
The Philippines provided sanctuary to 1,300 Jewish refugees who were fleeing the holocaust, the systematic murder of about six million Jews by Nazi Germany during World War II.
In 2009, the Philippine embassy and the Israeli government dedicated a monument in the city of Rishon Lezion, called the Open Doors monument, to commemorate the humanitarian assistance provided by the Philippines to Jewish refugees.
Two years ago, Duterte sparked outrage after he compared his war on illegal drugs with the holocaust.
The tough-talking leader said Nazi leader Adolf Hitler had massacred three million Jews and he was happy to slaughter three million drug addicts. Duterte has apologized for the remark and has insisted that he did not intend to desecrate the memory of the holocaust victims.
Duterte will meet with Israeli President Reuven Rivlin on Tuesday and will depart for Jordan the following day.
Executive Secretary Salvador Medialdea, Foreign Affairs Secretary Alan Peter Cayetano, Labor Secretary Silvestre Bello III, Defense Secretary Delfin Lorenzana, Trade Secretary Ramon Lopez, Environment Secretary Roy Cimatu, Transportation Arthur Tugade, Energy Secretary Alfonso Cusi and National Security Adviser Secretary Hermogenes Esperon are joining the trip.
Presidential spokesman Harry Roque, Special Assistant to the President Christopher Go, Presidential Adviser for Political Affairs Secretary Francis Tolentino, Sen. Richard Gordon, Interior Secretary Eduard Año, Philippine Coast Guard Commandant Elson Hermogino, Quezon City Rep. Feliciano Belmonte and Camarines Sur Rep. LRay Villafuerte are also joining the trip.
Sara joins trip
Meanwhile, presidential daughter and Davao City Mayor Sara Duterte-Carpio made good her promise to join her father in his official trips abroad to prevent a repeat of the kissing incident that marred the President's trip to Seoul, South Korea.
Based on initial information provided by Malacañang's Protocol Office, the mayor will be bringing along her youngest child, Marko Digong, and her younger brother Sebastian to Israel.
During his visit to Seoul in June, the President kissed an overseas Filipino worker on the lips in front of the Filipino community. Duterte drew flak for kissing the married woman.
Mocha Uson, controversial blogger and assistant secretary of the Presidential Communications Operations Office, defended Duterte by posting an old video showing admirers kissing senator Benigno Aquino Jr. on the cheek before he was assassinated at the airport on Aug. 21, 1983. – With Christina Mendez, Edith Regalado