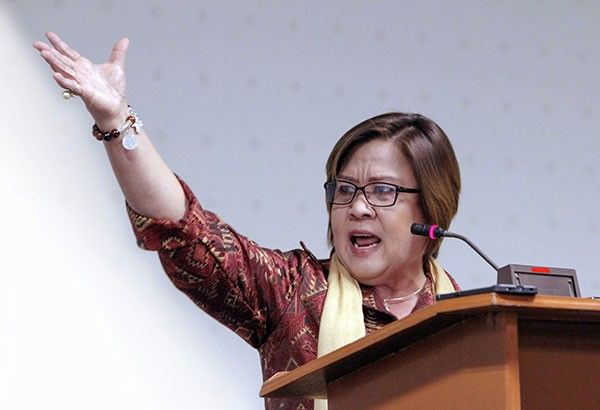 Sen. Leila de Lima was one of several people Zeid gave a shout out to in his farewell address from Geneva as true leaders in the fight against discrimination and inequalities "willing to forfeit everything – including their lives – in defense of human rights."
Jeremy Pintolo/File
UN rights chief cites De Lima as 'exemplary leader'
Jose Katigbak
(The Philippine Star) - September 2, 2018 - 12:00am
WASHINGTON – Outgoing UN High Commissioner for human rights Zeid Raad al-Hussein said "Sen. Leila de Lima in the Philippines who has now been arbitrarily imprisoned without trial for 18 months" was an exemplary leader.
De Lima was one of several people Zeid gave a shout out to in his farewell address from Geneva as true leaders in the fight against discrimination and inequalities "willing to forfeit everything – including their lives – in defense of human rights."
These names are just a sample of the real store of moral courage and leadership that exists among us today, he said.
They are not widely known internationally, Zeid said, but are familiar to those in the human rights community, unlike the self-promoters – the elected xenophobes and charlatans such as the Trumps, the Orbans, the Salvinis of the world "eager to inflate their image by harming migrants and refugees."
US President Donald Trump, Hungarian Prime Minister Viktor Orban and Italian deputy Matteo Salvini are at the forefront of the drive to halt illegal immigration.
Zeid made no mention in his speech of President Duterte, with whom he has a running feud.
In March Zeid said Duterte's slurs against UN human rights activists suggest he needs to see a psychiatrist. In turn, the Filipino leader called Zeid an empty-headed "son of a whore."
Meanwhile, Sen. Risa Hontiveros appealed to Duterte to stop coming out with rape jokes and to his supporters to stop laughing whenever he does "because no woman finds this funny at all."
"It is the vilest form of violence against women. I ask President Rodrigo Duterte: is this how men admire women?" Hontiveros said.
Duterte, during a speech in Mandaue City in Cebu, joked about the rise in rape cases in Davao City, saying this was due to the numerous beautiful women in the city he ruled for 23 years.
But Commission on Human Rights (CHR) spokesperson Jacqueline de Guia cautioned Duterte and other officials against using women's outward appearance to justify rape.
"We ask the government, especially the highest office of the land, to stop making remarks that perpetuate violence and discrimination against women," De Guia said. "Rape is a crime regardless of geographical location or cultural background. It must never be trivialized or uttered in jest, especially by officials who have the obligation to uphold, protect and forward women's rights."
The same reaction was given by the Philippine Commission on Women, which called on Filipinos to act and do their part in putting an end to rape and the rape culture by taking it seriously, speaking up against abuse and holding perpetrators accountable.
"Teach both girls and boys the value of mutual respect and dignity. Together, let us build a society where women no longer get blamed for rape and where women's fundamental rights are respected and protected," the PCW said in a statement. – With Marvin Sy, Janvic Mateo