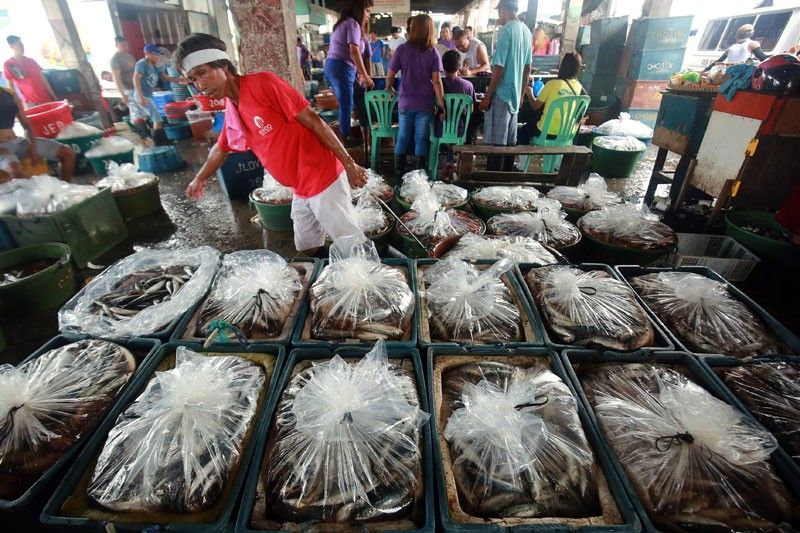 A worker checks vats of galunggong at the Navotas Fishport yesterday.
Michael Varcas
DOH warns vs formalin-tainted imported galunggong
MANILA, Philippines — Health Secretary Francisco Duque III yesterday warned the public against the consumption of imported galunggong (round scad) from China that are allegedly tainted with formalin.
In a press conference, Duque said formalin is used for preservation of cadavers, among others, and should not be used to keep food products "supposedly fresh."
He noted that consuming food laced with formalin could lead to various ailments, including cancer. As little as 30 milliliters of formalin can produce adverse effects.
"This is used for preservation of cadavers, of tissues, of certain animals, of certain organs for educational purposes and not for consumption," Duque added.
The health chief cautioned that exposure to 30 milliliters of formalin can cause various illnesses.
Duque made the statement in reaction to the report of fisherfolk group Pambansang Lakas ng Kilusang Mamamalakaya ng Pilipinas (Pamalakaya) that China was using the toxic chemical to preserve their fish harvests.
Pamalakaya earlier warned consumers that about 17,000 metric tons of the fish have been imported from China.
Pamalakaya chairman Fernando Hicap lamented the government's "apparent lack of concern" for the health of the public.
"It is already a fact that a majority of imported frozen marine products especially coming from China are tainted with formalin, a chemical primarily used to preserve cadavers. Just imagine if this chemical will be infused into the food that we eat," he said.
Pamalakaya also refuted the claim of Agriculture Secretary Emmanuel Piñol and Bureau of Fisheries and Aquatic Resources director Eduardo Gongona that importation would stabilize inflation, noting that "the price of fish in the market is still controlled by private concessionaires and traders."
Meanwhile, Sen. Sherwin Gatchalian is pushing for the creation of a multi-agency task force that would be responsible for mitigating the effects of rising inflation in the country.
Gatchalian, chairman of the Senate committee on economic affairs, said the Department of Finance should create the task force to address inflation.
"It can be a multi-sectoral and multi-departmental task force so that we can come up with a holistic approach to curbing inflation," Gatchalian said during a hearing of his committee on the inflationary impact of the Tax Reformation for Acceleration and Inclusion law.
During the hearing, the Bangko Sentral ng Pilipinas revealed that the four major drivers for inflation last month were rising food prices because of the weather; higher excise taxes on sweetened beverages and fuel, and the scheduled increase in excise tax of tobacco products; higher electricity generation charges and increase in water rates; and the approved provisional P1 jeepney minimum fare increase in the National Capital Region and Regions 3 and 4.
It was also revealed during the hearing that there were delays in the implementation of various social mitigation measures, including the 10 percent discount on rice sold by the National Food Authority, the Unconditional Cash Transfer program and the Pantawid Pasadaprogram.
The NFA has admitted that it has yet to implement the 10 percent discount because no funding has been given by the Department of Budget and Management. – With Ding Cervantes, Paolo Romero