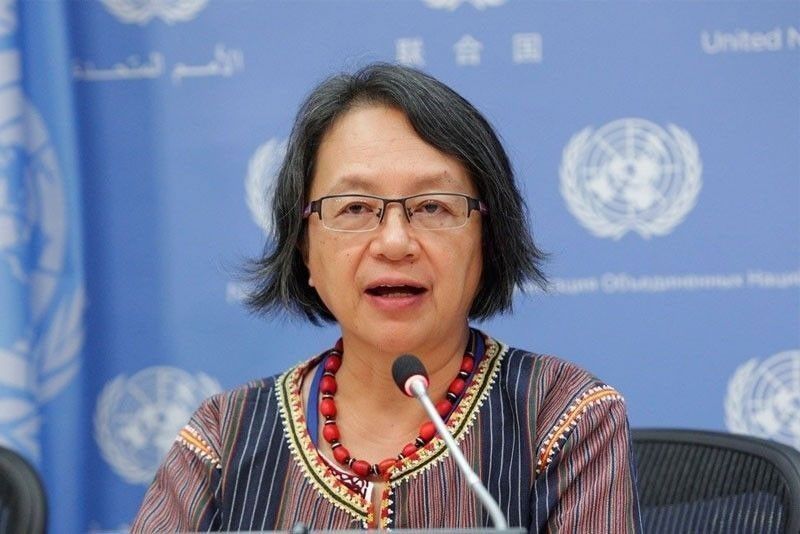 UN experts: Remove more names from Philippines 'terror list'
WASHINGTON – United Nations human rights experts have welcomed a Manila court ruling that removes Victoria Tauli-Corpus, a UN special rapporteur, from a list of names alleged to be terrorists and members of the New People's Army and the Communist Party of the Philippines but said serious concerns remain.
"While we welcome this decision, we are still deeply concerned about the continued naming of many others, including human rights defenders, in the petition, as this tags them as terrorists," said the UN experts in press statements Monday from Geneva and Bangkok released on Monday.
The decision was issued by the regional trial court of Manila three weeks ago in relation to a petition filed last February by the Department of Justice.
In the petition, Tauli-Corpuz, the UN special rapporteur on the rights of indigenous peoples was included in the so-called terrorist list with more than 600 others.
The inclusion of Tauli-Corpuz was considered as an act of retaliation for public comments she had made about the Philippines in her mandate as special rapporteur.
Human rights groups have urged the Duterte administration to respect not only the court order, but to remove all human rights defenders from the "terrorist" list and, more generally, to create an environment that would allow them to continue their legitimate work of defending rights without reprisal or fear.
The UN special rapporteur on the situation of human rights defenders, Michel Forst, said: "The inclusion of human rights defenders, amongst them indigenous peoples, on the government list amounts to intimidation and harassment of people who are peacefully defending their rights."
"Removing a few high-profile names from the list will not make us stop drawing attention to the situation of the others, whose physical safety and integrity are still under immense pressure," he added.
Dainius Puras, chair of the Coordination Committee of Special Procedures, said the fact that a UN mandate holder was the subject of such an "unacceptable attack is very serious cause for concern."
Over the years, member states of the Human Rights Council have nominated independent experts to assess the situation of human rights around the world.
"These member states therefore have a corresponding responsibility to secure and respect the authority and legitimacy of the UN experts, and ensure that they can fulfil their mandates in a safe and unimpeded manner, without any intimidation," he emphasized.