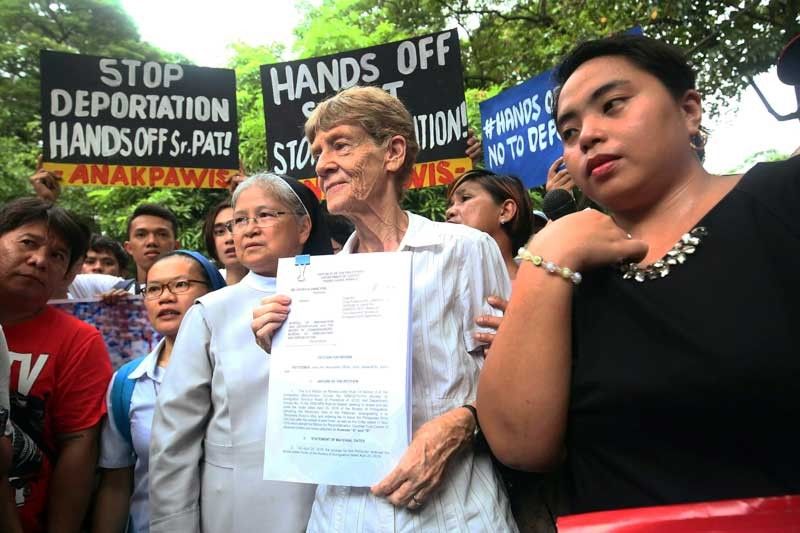 In this file photo from May 2018, Fox files a petition for review appealing the revocation of her missionary visa before the Department of Justice in Manila.
Miguel De Guzman
Sister Fox asks Immigration to reconsider deportation order
MANILA, Philippines — Lawyers for Australian missionary Patricia Fox, whom President Rodrigo Duterte ordered the Immigration bureau to investigate and eventually deport, on Monday urged the bureau to overturn the decision to expel her and to bar her return.
In her motion for consideration, Fox, through her lawyers, noted that the Bureau of Immigration gave weight to Duterte's pronouncement, labelling her an "undesirable alien for being undesirable."
"With due respect, that is wrong," Fox's appeal reads.
"To sanction that argument would be to state that decisions should be based on the public pronouncement of the president irrespective of merits of the case and the arguments of the parties," Fox said.
On July 19, Immigration ordered Fox deported after its board of commissioners found the elderly nun had violated the "limitations and conditions of Commonwealth Act 613, Section 9 (g) missionary visa and undesirable under Article 2711, Section 69."
They said: "To allow respondent Fox to participate in political rallies or activities would open floodgates for other aliens unbridled right to criticize government by joining rallies to the detriment of public peace and order."
The Immigration bureau also said that Duterte's words against the Australian nun were the president exercising his "plenary power to expel or deport an alien for being undesirable."
The bureau said that this is a power granted to the president of the Philippines by the Administrative Code of 1987.
But Fox said that this shows that the bureau has "clearly...already prejudged the case and based its decision on the public pronouncement of the president for which reason it swallowed hook, line and sinker so to speak."
"The honorable office apparently did not act on its own independent consideration of the law and facts of the controversy as it simply based its decision on the public statement of the president," Fox added.
Immigration spokesperson Dana Sandoval last week said that the Immigration gave more weight to Fox's alleged engagement in "partisan politics" in ordering her deportation.
The spokesperspon added that the "decision [was] more on involvement of partisan activities. [President Duterte's involvement] was only in part [of the decision]."
In June, the Justice department reversed a BI decision to forfeit Fox's missionary visa.
Justice Secretary Menardo Guevarra said that "the BI cannot simply create new procedures or new grounds to withdraw a visa already granted to a foreigner."
"There are specific grounds for visa cancellation, such as fraud or misrepresentation. The BI adopted a procedure styled as forfeiture that did not address any of these grounds at all," he said.
That led to the BI subjecting Fox to a deportation case instead.