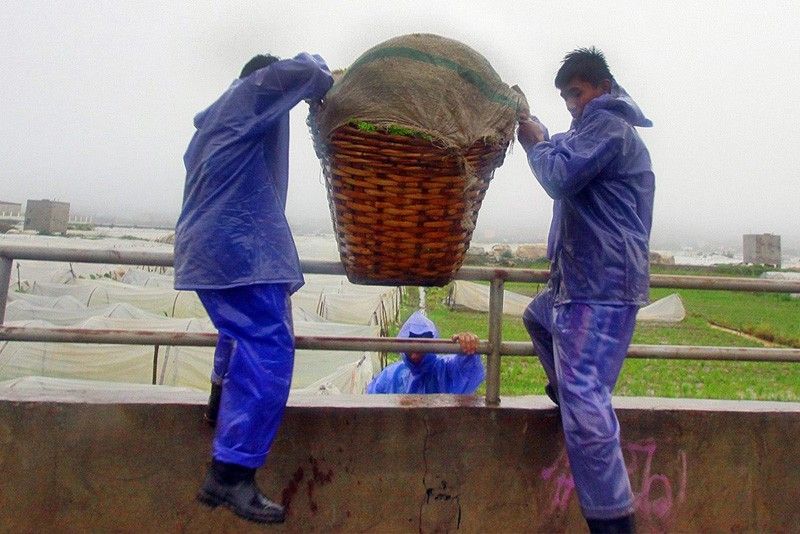 Farmers in La Trinidad, Benguet salvage their crops amid heavy rains yesterday.
Andy Zapata Jr.
Philippines highlights plan for disaster resilience at UN forum
MANILA, Philippines — The Philippines highlighted the government's national development plan for disaster resilience and the shift from disaster response to disaster risk reduction in policies and programs at a UN forum recently.
"The Philippines has significantly shifted from disaster response to disaster risk reduction in government policies and programs, especially in the areas of hazard mapping, early warning systems and disaster preparedness," said Kira Christianne Azucena, Deputy Permanent Representative to the UN, in her statement during the High Level Political Forum (HLPF) on Sustainable Development.
These policies and programs include the creation of the National Resilience Council, tasked to establish resilient cities in the country, and the collaboration with the World Bank on the first-ever natural disaster insurance system program worth $206 million that provides coverage against losses from major typhoons and earthquakes.
The Philippines is also in close coordination with its Association of Southeast Asian Nations partners on a disaster-risk financing strategy in the region, and has sponsored the recently adopted UN Economic and Social Council (ECOSOC) resolution that draws from principles included in the Sendai Framework for Disaster Risk Reduction 2015 to 2030, 2030 Agenda for Sustainable Development and the UN General Assembly resolution on international cooperation on humanitarian assistance in the field of natural disasters and other relevant instruments.
"The Philippines, with partners, is actively involved in developing whole-of-government, multi-stakeholder data roadmaps that will generate and monitor data for the 230 unique indicators and 169 targets of the 17 Sustainable Development Goals," Azucena said.
The HLPF is the main UN platform on sustainable development and it has a central role in the follow-up and review of the Sustainable Development Goals at the global level.
HLPF meets annually under the auspices of the ECOSOC for eight days that includes a three-day ministerial segment and every four years at the level of heads of state and government under the auspices of the General Assembly for two days.