Philippines free to enter into arms purchase with Russia, Roque says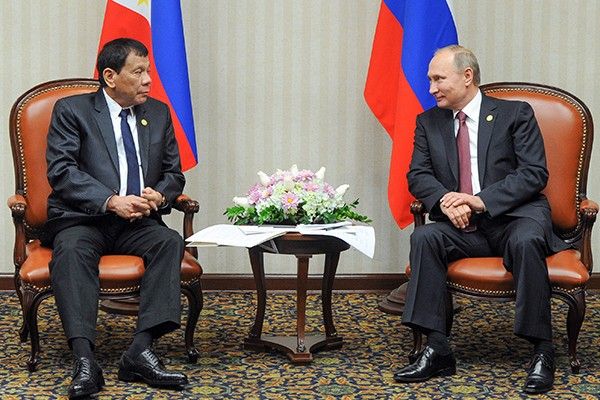 MANILA, Philippines — The Philippines is a sovereign state and can enter into contracts as it pleases, the Palace said on Thursday, amid concerns that its planned purchase of Russian military hardware could strain relations with its long-time ally the US.
Presidential spokesperson Harry Roque said in a press briefing that the government would study the planned purchase of grenade launchers from a blacklisted Russian firm.
Roque, who used to teach law at the University of the Philippines, said that the US could not enforce its legislation on a sovereign country and on a transaction occurring on a foreign soil.
"I don't know how US law would be applicable to a transaction that will be done outside of the United States," he told reporters.
The US, however, could hit the Philippines with financial sanctions which could hurt the economy and local companies.
In an exclusive report, Reuters quoted an anonymous Philippine general familiar with the deal who said that the country agreed to buy 750 RPG-7B rocket-propelled grenade launchers worth P400 million from Russia's state-owned Rosoboronexport.
The general said the transfer had yet to be completed.
US sanctions, designed to punish Russia for its annexation of the Ukrainian territory Crimea, its support for Syria's government and its meddling in the previous American elections, were imposed last year against any country who would trade with Russia's defense companies.
Roque said that the Philippines had absolute immunity on its actions related to its exercise of national defense although he said that the deal would undergo a review.
"We have immunity, and we are free to enter into contracts as we please, and we are not bound by any domestic law especially if the transaction will not occur on US soil," he said.
The Reuters report said that the US State Department declined to comment on possible sanctions.
Under President Rodrigo Duterte, the Philippines has tried to forge closer ties with nontraditional partners such as China and Russia, a move that could complicate its relationship with the US, a treaty ally.
China and Russia donated military hardware in the past such as rifles and trucks.
The Philippines has also encountered problems in acquiring military hardware from some Western nations over concerns about how they would be used.