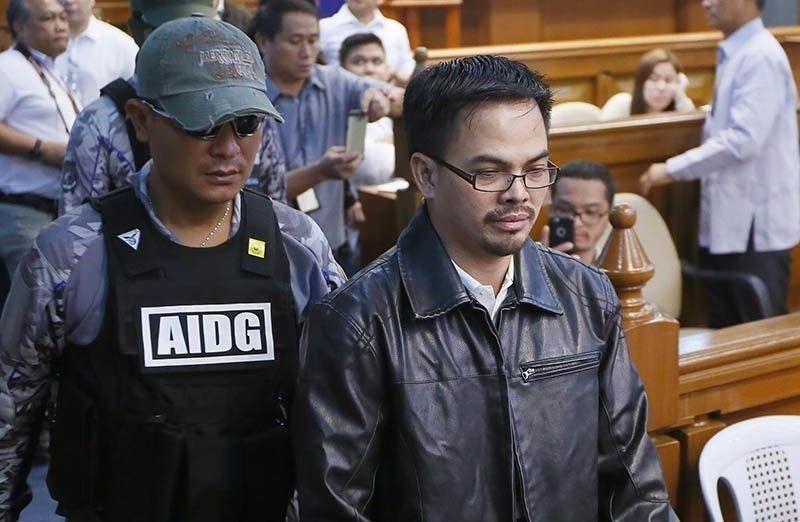 In this Nov. 23, 2016 photo, alleged Filipino drug lord Rolando "Kerwin" Espinosa Jr., center, is escorted back to his seat to testify on his involvement in the illegal drug trade in the country at the resumption of the Senate probe into alleged extrajudicial killings in President Rodrigo Duterte's drug war.
AP/Bullit Marquez
DOJ indicts Kerwin Espinosa, Peter Co; Peter Lim case pending
MANILA, Philippines — The Department of Justice has found probable cause to charge confessed drug dealer Kerwin Espinosa, inmate Peter Co and three others of violations of the Comprehensive Dangerous Drugs Act of 2002.
The new panel of state prosecutors, led by Senior Assistant State Prosecutor Juan Pedro Navera, found "sufficient positive allegations" from the testimony of Marcelo Adorco against Espinosa, Co, Lovely Impal and Ruel Malindagan.
"In its resolution, the prosecution panel composed of Senior Assistant State Prosecutors Juan Pedro Navera, Anna Noreen Devanadera and Prosecution Attorney Herbert Calvin Abugan found sufficient positive allegations of Marcelo Adorco identifying Espinosa, Co, Impal and Malindagan as his cohort to charge them with conspiracy to commit illegal drug trade," the statement from the DOJ reads.
READ: DOJ clears Kerwin Espinosa, Peter Lim of drug raps
The resolution on the drug case against Cebu-based businessman Peter Lim has yet to be released, the DOJ added. The department said that the panel granted Lim's request for a separate preliminary investigation. Navera, in a press conference, said: "As soon as it is ready, we will release it."
The resolution was approved by Acting Prosecutor General Richard Fadullon.
It can be recalled that the Philippine National Police-Criminal Investigation and Detective Group against the above-named accused was earlier dismissed by a different set of prosecutors due to "weak evidence."
They pointed out that there were "inconsistencies" in the testimony of Adorco.
In the new preliminary investigation conducted, Navera said that other pieces of evidence were presented to the panel, such as the stenographic notes of the Senate committee on justice and public order where Espinosa confessed to being a distributor of drugs in Regions 7 and 8.
"There were interlocking confessions not just of Adorco, but with other respondents as well, so if there are interlocking admissions under the law on evidence we can find probable cause," Navera added.
The state prosecutor added that the trial court is best left to look into the "inconsistencies" in Adorco's testimony during the trial.
Meanwhile, the case against Max Miro, Nestor "Jun" Pepito and Rowen Reyes Secretaria were dismissed as criminal liabilities are extinguished with deaths.
The accused were charged before the Makati City Regional Trial Court.