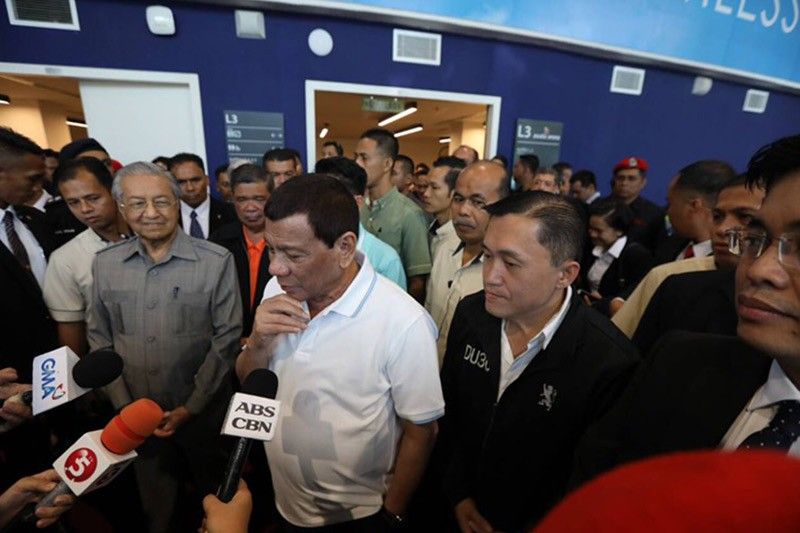 President Duterte speaks to reporters after Sen. Manny Pacquiao's win over boxing opponent Lucas Matthysse. Duterte said Pacquiao's victory inspired him to meet with new Malaysian Prime Minister Mahathir bin Mohamad.
Presidential Photo
Duterte wants Pacquiao to retire from boxing
(philstar.com) - July 15, 2018 - 2:27pm
MANILA, Philippines — While impressed by Sen. Manny Pacquiao's knockout win, President Rodrigo Duterte wants the senator to retire from boxing.
"I said he's 39. Not because he cannot win, or lose, but I'd like to see my friend rest on his laurel... at this time and enjoy life. He has so much money already. No problem. He can enjoy life," Duterte told reporters in Malaysia.
Duterte said he was inspired to meet with Malaysian Prime Minister Mahathir bin Mohamad because of Pacquiao's victory.
"I'm very happy. No regrets that I came earlier to watch the fight. It's a good one and its the first time that I traveled outside of the Philipines just to see him fight. Other fights were held in the United States," the president said.
Mahathir says Pacquiao-Matthysse bout 'historical'
Mahathir said the Pacquiao-Matthysse fight was a "historical day" for Malaysia.
"This is a big big historical day for Malaysia where we have one Filipino champion fighting in Malaysia (and) witnessed by the leaders of both countries," the Malaysian leader said.
"That's why the leaders of both countries have boxing diplomacy. We don't punch each other," he added. — Alexis Romero