SWS: Duterte's satisfaction rating plunges across all areas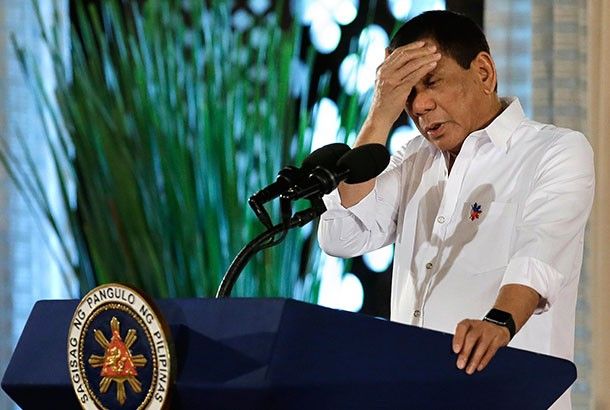 MANILA, Philippines — President Rodrigo Duterte's satisfaction rating plunged by 11 points during the second quarter of the year, marking a new personal low for the chief executive, according to a survey firm.
The Second Quarter 2018 Social Weather Survey of the Social Weater Stations found that that satisfaction rating of Duterte dived by five points, from 70 percent in March to 65 percent in June.
The dissatisfaction rating of the chief executive, meanwhile, increased from 14 percent in the first quarter to 20 percent during the previous polling period.
This resulted in a "good" net satisfaction rating of 45 percent for Duterte, down by 11 points from the first quarter's "very good" 56 percent.
"This 11-point decline is down by one grade from the very good +56 (70% satisfied, 14% dissatisfied) in March 2018. It surpassed the previous personal low of good +48 in September 2017," SWS said.
SWS classifies ratings of 70 or above as excellent, 50 to 69 as very good, 30 to 49 as good, 10 to 29 as moderate, 9 to -9 as neutral, -10 to -29 as poor, -30 to -49 as bad, -50 to -69 as very bad and -70 or below as execrable.
Duterte on poll results: 'I don't care'
Duterte shrugged off the results of the survey and even expressed readiness to step down from his post.
"I do not care. Make it 15. Wala na ako dyan (It does not matter to me anymore). It does not interest me at all," the president told reporters in Pampanga on Tuesday.
"I just coast along. Just travelling...and with the new suggestion since I'm not popular anymore, Congress might decide to find a popular one. You want a popular president? Fine. Good," he added.
SWS said that Duterte's 11-point decline was due to decreases in satisfaction ratings in all surveyed geographical areas.
In Metro Manila, his net satisfaction rating fell by 20 points, from a very good 54 percent (72 percent satisfied, 18 percent dissatisfied) in March to 34 percent last quarter (59 percent satisfied, 25 percent dissatisfied).
He also registered a large 18-point decline in the Visayas, from a very good 65 percent (75 percent satisfied, 9 percent dissatisfied) in March to 47 percent (67 percent satisfied, 20 percent dissatisfied) in June.
Duterte saw the lowest declines in his satisfaction ratings in Balance Luzon and in his bailiwick Mindanao, where he recorded six-point decreases.
In Luzon, his net satisfaction rating went down from 39 percent (58 percent satisfied, 19 percent dissatisfied) in March to 33 percent (57 percent satisfied, 24 percent dissatisfied) in June.
His support in Mindanao remains solid although his net satisfaction rating dipped from 82 percent in the first quarter to 76 percent last quarter.
Presidential spokesperson Harry Roque is yet to respond to the request of Philstar.com for comment.
The president's net satisfaction rating was down by 18 points among urban areas, from a very good 56 percent in March to 38 percent in June.
In rural Philippines, his rating remained very good at 52 percent in June from 56 percent in March.
By class, Duterte's significant decline among class D or the common masses was offset by his gains in net satisfaction rating among classes ABC and E.
The chief executive's net ratings among men and women also decreased to 46 percent and 45 percent, respectively. This satisfaction rating is down by 12 points among men and 9 points among women.
His net satisfaction ratings are also down among all age groups except Filipinos from the 18-24 bracket.
His net satisfaction rating among 25-34 year olds is done by 26 points, from 69 percent in March to 43 percent in June.
Among 55 years old or older, his rating declined from 54 percent in March to 44 percent last quarter. It also fell among 45 to 54 year olds, from 56 percent to 47 percent.
It also dipped by six points among 35 to 44 year-old Filipinos from 52 percent to 46 percent.
Duterte's rating, however, improved among young people or those from 18 to 24 years old. His net satisfaction rating climbed from 48 percent to 50 percent.
The chief executive's net satisfaction rating was also down among people from different education backgrounds, but his declines were more severe among elementary and high school graduates.
The survey was conducted from June 27-30 using face-to-face interviews of 1,200 adults. Three hundred each came from Metro Manila, Balance Luzon, the Visayas and Mindanao.
The poll had a sampling error of margin of +/- 3 percent for national percentages and +/- 6 percent for area percentages. - With Alexis Romero