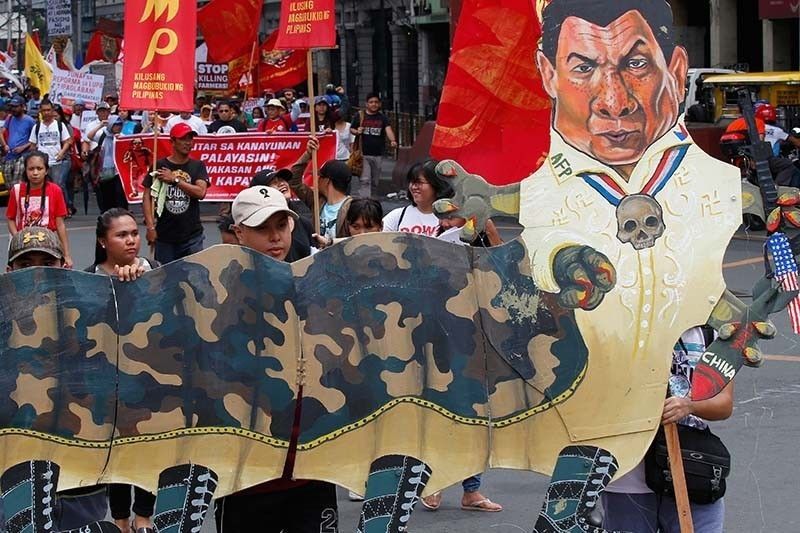 Protesters march for a rally towards the Presidential Palace with an effigy depicting President Rodrigo Duterte as an armyworm to demand genuine land reform and to protest the killings of about two dozen farmers in less than two years under his administration Friday, June 8, 2018 in Manila, Philippines.
AP/Bullit Marquez
AFP confirms CPP's plot to oust Duterte
(philstar.com) - July 3, 2018 - 10:09am
MANILA, Philippines — The Armed Forces of the Philippines have confirmed that threats of communist rebels to oust President Rodrigo Duterte are real based on documents obtained from surrendered members of the New Peoples' Army.
Just a few weeks ago, the military dismissed the warning of Communist Party of the Philippines founding chair Joma Sison that efforts to oust the president are underway.
AFP spokesperson Col. Edgard Arevalo earlier said that communist rebels never got close to overthrowing the duly constituted authorities.
This week, Arevalo confirmed that communist rebels have a plan to oust Duterte by October.
"They have that particular plan and they have hatched that during the period we were conducting peace negotiations. Their deadline based on the information is October of 2018," Arevalo said.
Arevalo, however, said they have no information about presidential spokesperson Harry Roque's claim that the Catholic Church is conniving with the CPP-NPA to overthrow the Duterte administration.
The military spokesman also did not answer when asked whether the opposition or critics of the administration were involved in efforts to oust Duterte.
On the other hand, Arevalo clarified that the military remains on alert following such reports.
"We cannot take chances ano po, if it's a threat not only to the liberties of our people but also the life of the president, we in the Defense department has to take that se­riously," Arevalo said.
Sison earlier said that the National Democratic Front, the political arm of the CPP, could no longer hold peace talks with the Duterte administration.
"So long as he heads the [government of the Philippines], the Filipino people, especially the oppressed and exploited, cannot expect any benefit from negotiating with the Duterte regime," Sison said.
The CPP founding chair made the statement following stalled peace negotiations between the Philippine government and the communist rebels. — Patricia Lourdes Viray