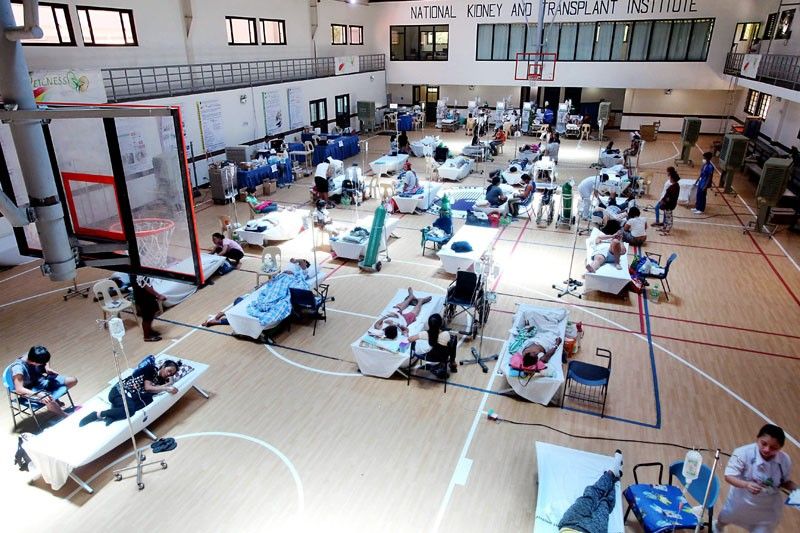 Leptospirosis patients receive treatment at the gymnasium of the National Kidney and Transplant Institute in Quezon City yesterday. The basketball court was turned into a ward to accommodate the growing number of leptospirosis patients.
Boy Santos
Leptospirosis deaths hit 99 — DOH
MANILA, Philippines — The Department of Health (DOH) has recorded a total of 99 deaths out of 1,030 leptospirosis cases in various government hospitals nationwide from Jan. 1 to June 9, Health Secretary Francisco Duque III said yesterday, as cases of the flood-borne disease continue to soar nationwide.
Among the fatalities, according to Duque, were nine patients taken to the National Kidney and Transplant Institute (NKTI) in Quezon City, including those admitted on June 22-27.
NKTI director Rose Marie Liquete said they have transformed the hospital gym into an improvised ward and formed a special lane to accommodate the growing number of leptospirosis patients.
Liquete said they have observed a surge in cases of leptospirosis after flash floods hit Metro Manila last June 22.
"From June 22 to 27, we have recorded eight leptospirosis deaths," Liquete said, while noting that they have treated 61 leptospirosis cases as of June 9.
Those who died, according to Liquete, were already suffering from complications when brought to the hospital.
At present, 47 leptospirosis patients have been admitted to the NKTI, including one confined at the intensive care unit, Liquete said, adding that 19 patients are also undergoing dialysis.
Yesterday afternoon, Duque visited the NKTI to check the condition of the 22 leptospirosis patients currently staying at the improvised ward.
Duque urged the public to seek immediate treatment when they have fever or any other symptoms of leptospirosis after wading in flood water.
"Leptospirosis can be easily treated if the patient is not suffering yet from any complications, so early treatment is very important," he said.
The DOH is closely monitoring the regions with high cases of leptospirosis to determine if there is a need to declare an outbreak of the deadly infection, according to the health chief.
Duque identified Western Visayas, Caraga, Zamboanga peninsula, National Capital Region and Davao as the five regions with high leptospirosis cases.
"The 41-percent increase in leptospirosis cases compared to the same period last year is a cause for alarm, but we don't see as much of a problem because our hospitals are capable of managing the cases," Duque said.
Duque attributed the surge in leptospirosis cases nationwide to flooding due to weeks of rain as well as the amount of uncollected garbage.