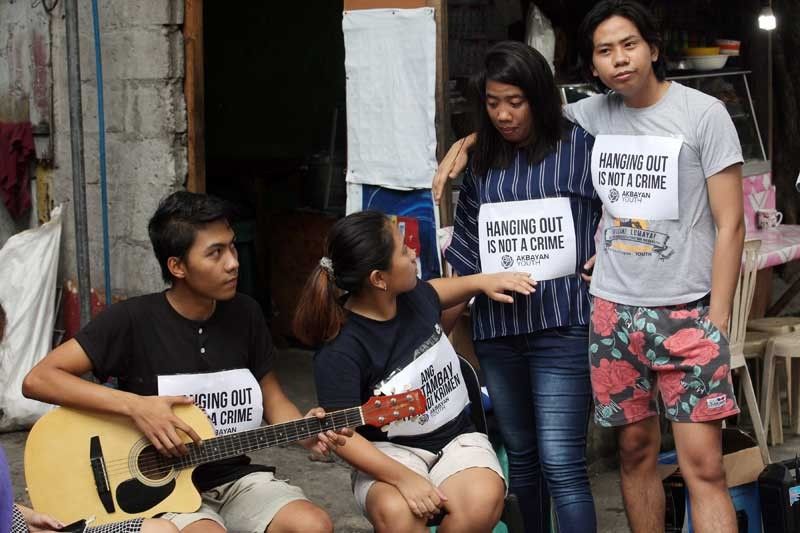 Members of the Akbayan Youth group bear signs denouncing the crackdown against tambays in Quezon City yesterday.
Michael Varcas
Anti-tambay crackdown nets 7,291 in Metro Manila
MANILA, Philippines — A total of 7,291 tambays or vagrants have been arrested in Metro Manila in the first week of the implementation of the Oplan RODY or the Rid the Streets of Drunkards and Youths campaign.
The campaign aims to rid the streets of tambays, discourage drinking in public and men roaming around without shirts.
The figure was posted from 5 a.m. of June 13 to 5 a.m. yesterday, according to Chief Supt. Guillermo Eleazar, director of the National Capital Region Police Office (NCRPO).
The Eastern Police District (EPD) registered the highest number of arrested persons with 2,237; followed by the Southern Police District (SPD) with 2,046; Quezon City Police District with 1,146; Northern Police District with 1,011, and Manila Police District with 851.
The figure recorded by the EPD included 474 individuals apprehended in the past 24 hours in its jurisdiction such as Pasig City with 109; Mandaluyong, 134; Marikina, 199 and San Juan, 32.
In the metropolis' southern front, only four men were arrested for drinking in public in Pateros and no one was held for loitering or walking half-naked on the street.
"Either the police are not performing well or the residents are aware of the 'anti-tambay' campaign of the government," SPD director Chief Supt. Tomas Apolinario said.
The city government of Parañaque posted 154 arrests; Las Piñas, 109; Taguig, 86; Muntinlupa, 52; Pasay, 45 and Makati 36.
Meanwhile, an unidentified person was shot dead after he allegedly shot policemen during the RODY operation in Almanza Uno, Las Piñas City yesterday morning.
The man reportedly opened fire at the police vehicle, triggering a firefight that led to his death.
Albayalde hits critics
Philippine National Police (PNP) chief Director General Oscar Albayalde yesterday denounced critics of the administration for allegedly conditioning the minds of the public that rights are being violated in the intensified campaign against loiterers.
Albayalde said critics of the crackdown on street idlers or tambays should stop branding the program as being anti-poor or that they are trampling on people's rights.
He said he has yet to receive a complaint of human rights abuse from people who were taken into custody by police since President Duterte ordered a crackdown on loiterers.
"Let's stop telling people and stop conditioning the minds of people that these are all violations of human rights because not a single person as of this time has complained that their rights were violated," Albayalde said at a press briefing in Camp Crame.
He lamented that there have been sweeping generalizations and misinformed opinion about their crime prevention measures, which are being implemented even before Duterte issued the order.
"As a policy, let me assure you that the PNP remains keenly responsive to the requirement of respect for human rights in law enforcement," he said.
Albayalde said allegations of human rights abuses in the implementation of ordinances did not come from people who were arrested or from poor communities, but from other sectors of society.
Bagong Alyansang Makabayan secretary-general Renato Reyes said the country is looking like a police state, where persons are being rounded up on the streets without cause.
Albayalde said police officers who have committed human rights abuses have been penalized.
Citing their records, Albayalde said 674 police officers were sanctioned for violations of human rights since July 2016.
Of the number, 19 were dismissed from the service while the rest were slapped with other penalties ranging from demotion to suspension without pay.
Thirty-three are officials, including two police superintendents, and the rest are police non-commissioned officers.
172 nabbed in Bulacan
Meanwhile, 172 individuals, including 74 minors, were apprehended in 14 towns in Bulacan yesterday as part of the campaign against loitering.
The arrests, mostly due to violating curfew hours and drinking in public, were carried out in the towns of Bulakan, Bustos, Calumpit, Malolos, Marilao, Meycauayan, Obando, Pandi, Paombong, Plaridel, Pulilan, San Miguel and San Jose del Monte, according to Senior Supt. Chito Bersaluna, Bulacan police director. ?Of the figure, he said 76 persons were turned over to barangay officials, 58 to their guardians, 26 were given warnings and 12 remained at the police station for further investigation.
In Pangasinan, a suspect in previous robbery and rape cases was shot in an alleged encounter with police officers who were conducting Oplan RODY in Mangaldan town yesterday morning.
Alfredo Terre alias Antek, 45, of Barangay Salay, was reportedly armed with a .22 caliber revolver when policemen approached him in Barangay Navaluan.
Terre reportedly fled and fired shots at the officers, triggering a firefight that resulted in his death. – With Cecille Suerte Felipe, Robertzon Ramirez, Marvin Sy, Eva Visperas