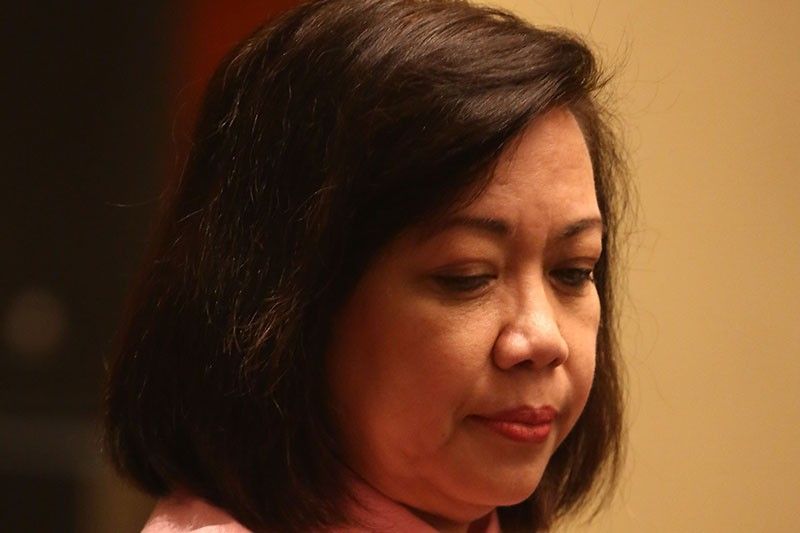 Court insiders said that the Supreme Court will rule on former Chief Justice Maria Lourdes Sereno's appeal on June 19. Should her motion for reconsideration be thrown out by the SC, the decision will attain finality.
The STAR/Miguel de Guzman, File photo
Calida: Ruling on quo warranto correct, must be affirmed with finality
MANILA, Philippines — The Supreme Court's ruling that granted the quo warranto petition against former Chief Justice Maria Lourdes Sereno must be affirmed, as Sereno "must be ousted" for failing to submit her wealth declaration documents, Solicitor General Jose Calida said.
Calida filed a 78-page comment on Sereno's motion for reconsideration asking the SC to reverse its decision that resulted in her removal from the SC.
The government's chief legal counsel stressed that Sereno "was not able to prove that she possessed integrity when she failed to submit her SALNs to the JBC. It stands to reason that she must be ousted, as Court did oust her, from the position of Chief Justice."
Calida argued that Sereno's appeal should be dismissed as it put forth arguments already discussed in court in its decision, and should be held as "pro forma" motion that only "delay or impede the smooth administration of justice."
The former chief justice's claim that she was not heard by an impartial tribunal was a "speculation and surmise," said Calida.
Sereno filed six separate motions for inhibition against six of her colleagues: Associate Justices Teresita De Castro, Diosdado Peralta, Lucas Bersamin, Francis Jardeleza, Noel Tijam and Samuel Martires. Her appeal was denied for lack of basis.
The high court ordered Sereno to explain why she should not be sanctioned for "casting ill aspersions" to the court, referring to her statements that her colleagues—who stood as judges in her case—held prejudice against her.
Calida added: "It must be said that to the credit of the Court, it applied the law without fear or favor. It took steely resolve for its Members to stand above the fray."
When he filed the quo warranto petition on March 5, Calida said that his action is an "act of kindness" for Sereno, as she would then be judged by her peers at the SC, instead of politicians that will handle an impeachment case.
READ: In appeal of ouster, Sereno warns of 'far-reaching consequences' of SC ruling
'Sereno does not possess proven integrity'
Calida's legal challenge on the validity of Sereno's appointment is grounded on her failure to submit her wealth declaration documents. According to the government's chief legal counsel, this proves that Sereno does not possess integrity to hold the position of a chief justice.
Sereno argued that filing of SALNs is not related to determine the constitutional requirement of proven integrity.
But the solicitor general stressed that integrity "speaks of a person's fulfilment of and compliance with appropriate codes of conduct, such as those set forth in the Constitution and statues passed by Congress."
Calida added that Sereno's failure to annually file her SALNs means that "her integrity is questionable."
The SC's landmark ruling granting Calida's petition—that resulted in Sereno's ouster—is also facing appeal for dismissal from Sens. Leila de Lima and Antonio Trillanes IV, and the Integrated Bar of the Philippines.
It is unclear if the SC will take into consideration arguments raised by the two parties, as the court earlier junked the senators' petition for intervention, while it merely "noted" the IBP's appeal.
READ: IBP: Supreme Court must reverse ruling on quo warranto
The IBP, in their motion, stressed: "With due respect, the Honorable Court's narrowly drawn ruling shows the use of the law to pursue a desired result, that is, the ouster of the chief justice. This erodes, if not demolishes, the Rule of Law for which all members of the bar are sworn to uphold."
Presidential spokesperson Harry Roque, however, chided the IBP for it does not have a legal standing in the case. The palace spokesman added his colleagues should "be the first ones to encourage the people to respect and not to question the decision of the highest court."
Court insiders said that the SC will rule on Sereno's appeal on June 19. Should her motion for reconsideration be thrown out by the SC, the decision will attain finality.