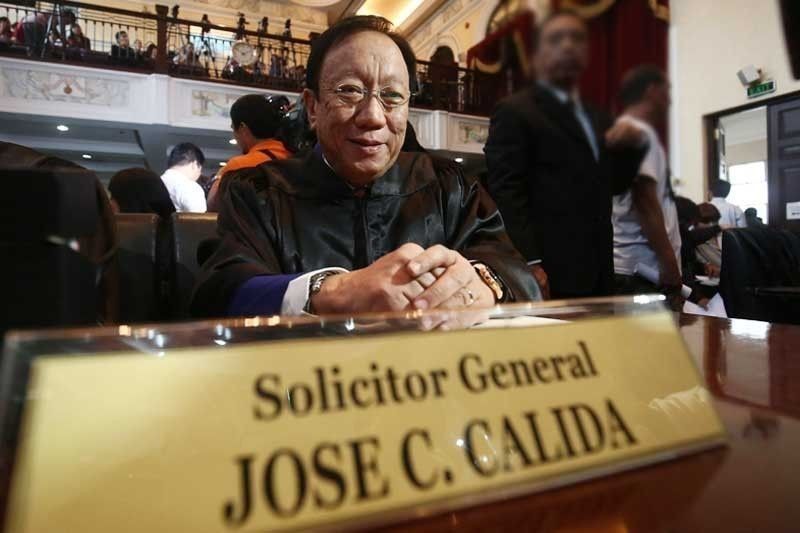 "It's under fact-finding investigation. They (field investigators) are still gathering documents," Ombudsman Conchita Carpio-Morales said.
Miguel de Guzman/File
Ombudsman confirms Calida probe
MANILA, Philippines — Ombudsman Conchita Carpio-Morales has confirmed that her office is investigating Solicitor General Jose Calida Jr. in connection with the multimillion-peso contracts with government agencies bagged by his family's security firm.
In an interview aired on CNN Philippines on Monday, Morales confirmed that her office is conducting a fact-finding investigation on Calida in connection with his continued holding of majority shares in his family's security firm, Vigilant Investigative and Security Agency Inc. (VISAI), even after his appointment as solicitor general in July 2016.
"It's under fact-finding investigation. They (field investigators) are still gathering documents," Morales said.
It is during the fact-finding stage that field investigators decide if there is probable cause to file a formal complaint against the respondent, which will then undergo a preliminary investigation by the ombudsman central office.
Morales was initially tight-lipped on the possible liabilities of Calida, saying she did not want to pre-empt the investigation.
"As I said, the case is pending fact-finding investigation. I don't like to pre-empt the result of the fact-finding investigation... Whatever I might say now, he might say I'm taking revenge," Morales said during the interview with CNN.
But in a succeeding interview with ABS-CBN News aired Tuesday night, Morales hinted that Calida may be held liable for possible conflict of interest.
Morales explained that as chief government lawyer, Calida may have duties in government offices which have business transactions with VISAI.
"It means your client is NEDA (National Economic and Development Authority) because you have a security agency, and at the same time, NEDA is also your client because you are representing it in the judiciary or in any case lodged against it. So, that (conflict of interest) is one of the aspects the investigators are looking into," Morales said in a news report aired on ABS-CBN.
The ombudsman investigation stemmed from a complaint filed last month by Marie Acosta-Nisperos, a vocal supporter of ousted chief justice Maria Lourdes Sereno.
In her complaint, Nisperos said Calida violated Republic Act 6713, or the Code of Conduct and Ethical Standards for Public Officials and Employees, when he failed to divest his 60 percent capital stocks with VISAI, where his wife and three children own 10 percent each.
Under Section 9 of RA 6713, "when a conflict of interest arises," a government official or employee must "resign from his position in any private business enterprise within 30 days from his assumption of office and/or divest himself of his shareholdings or interest within 60 days from such assumption."
Nisperos said that Calida continues to hold majority shares with VISAI even when the firm is doing business with at least four government agencies – NEDA, National Anti-Poverty Commission, the Philippine Amusement and Gaming Corp. and the National Parks Development Corp.
Nisperos said the contracts were awarded from August 2016 to January 2018, when Calida was already appointed solicitor general.