How other countries see the South China Sea dispute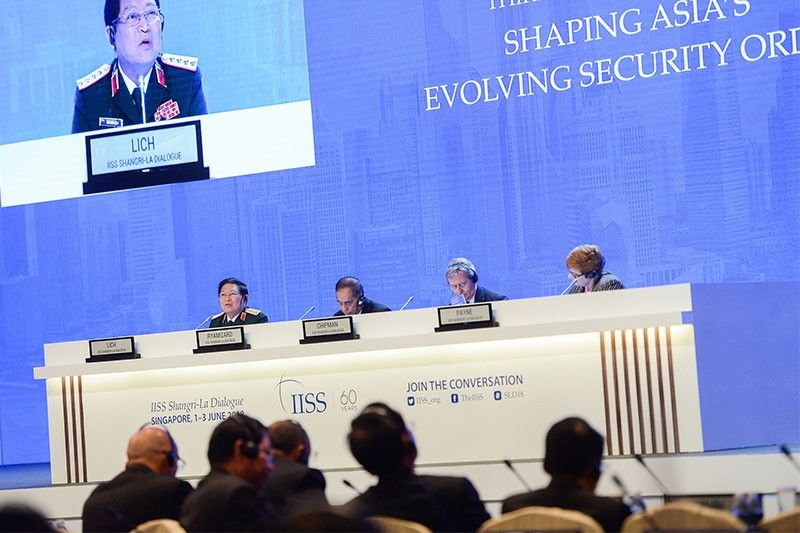 MANILA, Philippines — Defense ministers of different countries expressed their nations' commitments to rules-based order amid China's expanding militarization in the South China Sea during a regional security summit over the weekend.
Indian Prime Minister Narendra Modi and Defense ministers of the United States, South Korea, Japan, Canada, Vietnam, Indonesia, Australia, Qatar, the Philippines, Germany, France, the United Kingdom and Singapore gave talks during the 2018 Shangri-La Dialogue in Singapore from June 1 to 3.
Majority of the speakers in the security and defense summit mentioned the South China Sea dispute in their remarks.
India
Modi delivered the keynote speech focusing on India's strategy in the Indo Pacific region. In his speech, he noted that the Malacca Strait and the South China Sea connect India to the Pacific and most of its major partners including ASEAN, Japan, South Korea, China and the Americas.
Without mentioning China, the Indian leader called for a common rules-based order for the region that would equally apply to all nations.
"Such an order must believe in sovereignty and territorial integrity, as well as equality of all nations, irrespective of size and strength. These rules and norms should be based on the consent of all, not on the power of the few. This must be based on faith in dialogue, and not dependence on force. It also means that when nations make international commitments, they must uphold them."
United States
US Defense Secretary Jim Mattis warned that there would be consequences to China ignoring the international community. The Pentagon also pointed out the Chinese President Xi Jinping failed to uphold his promise back in 2015 that Beijing will not militarize the Spratly Islands.
Mattis said that militarizing the disputed features in the South China Sea would not enhance China's standing in the world.
"And you have to wonder why military actions that are politically injurious would be engaged in by a nation. What is the value to having carried out military operations?

Number One, we all know nobody is ready to invade those features. Certainly, we could have had the dispute resolution go on in a peaceful way. To simply muscle the way in using weapons to do what international tribunals do not endorse is not a way to make long-term collaboration the rule of the road in a region that's as important to China's future and we respect that, as it is to every other nation's future out here.

So, there are consequences that will continue to come home to roost, so to speak, with China if they do not find the way to work more collaboratively with all of the nations who have interest."
Vietnam
Gen. Ngo Xuan Lich, Vietnamese Minister of National Defense, also used strong language in calling out Beijing's militarization of artificial islands in the contested waterway.
Vietnam recently asked China to remove its military equipment in the South China Sea following the PLA Air Force's landing of a bomber aircraft on Woody Island in the Paracel Islands, which are also being claimed by Hanoi.
Under no circumstances could we excuse militarization by deploying weapons and military hardware over disputed areas against regional commitments. Instead, all sides need to show their responsibility in building order at sea, so that the East Sea truly becomes a sea of peace, cooperation and friendship.
Australia
Australian Minister of Defense Marise Payne said that changes to the rules-based order must be agreed upon through open discussion. Australia called on all countries to clarify and resolve their territorial claims in the South China Sea based on international law.
She stressed that adopting a "might-is-right" approach in the maritime dispute is against the interests of all nations.
"So recasting of the rules needs to be a transparent and collective effort, open to international scrutiny – especially, but not only, if it affects the global commons.

Nations must also have the right to be free from coercion or criticism when they lawfully and reasonably communicate concerns about the behaviour of others. This extends to the reasonable expectation that rules, not the exercise of power, govern our actions.

For example, Australia's position on South China Sea territorial disputes is well known and well established."
France
French Minister of the Armed Forces Florence Parly expressed support for a code of conduct in the South China Sea that would be legally binding, comprehensive, effective and consistent with international law.
France had also conducted freedom of navigation operations in the South China Sea last year, along with the United Kingdom and Germany.
"Meanwhile, we should be very clear that the fait accompli is not a fait accepted. I mentioned British helicopters and ships joining our task group when it sails through the South China Sea. No less than five French ships sailed in this region in 2017. Europeans have started to mobilize more widely in support of this endeavour."
United Kingdom
UK Secretary of State for Defense Gavin Williamson noted that threats to rules-based order are also threats to the world's prosperity and security.
These threats may be violent extremism, North Korea's proliferation of nuclear weapons or "increasingly aggressive states" that infringe "regional access, freedoms and security through coercion and malign influence."
"We believe nations should follow agreed rules but this is being ignored by some and what this does is it undermines peace and prosperity of all nations.

Why is why we must work together to uphold the rules order that benefits us all — being resolute, pushing back against dangers and shoring up our international system."
Singapore
Dr Ng Eng Hen, Singaporean Minister for Defense, noted how claimant states took unilateral actions in the disputed features in the South China Sea to protect their interests, including China and the Philippines after the 2016 ruling of the Hague-based international tribunal.
He stressed that the forthcoming code of conduct (COC) on the South China Sea would likely shape "Globalisation 2.0."
"A substantive and effective COC which addresses key concerns of claimant states as that of user states will do much to boost confidence and promote stability."
Related video: