Duterte declares Boracay an agrarian reform area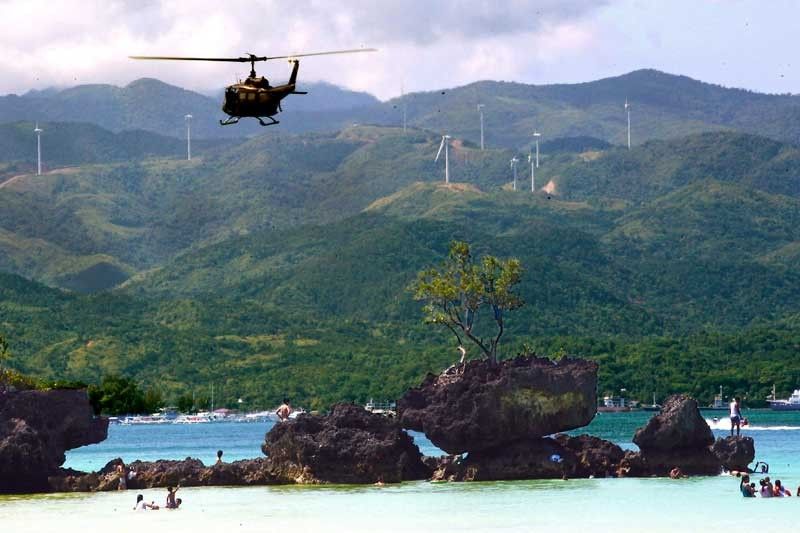 MANILA, Philippines — Commercial establishments in Boracay will have to make do with whatever the government provides to do business on the island, President Duterte said yesterday in declaring the top tourist destination a land reform area.
"Let me announce that I am declaring land reform in the entire island of Boracay… The entire island will be declared as a land reform area. I will give it full… give it to the people," Duterte said in a speech at the Bureau of Customs in Manila.
Duterte said he does not want to see any developer lay the groundwork for subdivisions in Boracay.
He said any existing commercial and business establishments in the island are at risk.
The President tossed the responsibility to Congress whether it will create a law that designates a portion of world famous island resort for commercial development.
Duterte ordered the holiday destination off-limits to tourists in April, saying the tiny island has to be rehabilitated after becoming a "cesspool" tainted by untreated sewage dumped directly into the sea.
Duterte warned developers not to build subdivisions or commercial buildings on the island.
He said the island of Boracay is still considered as a forestland and agricultural area.
"So if you are building a house there somewhere, I am sorry, we will just have to make some adjustments," Duterte said.
He said declaring the island resort as a commercial land area would create more problems.
"I have no commitments… you go to Congress if you want to declare commercial because once I declare (Boracay as) commercial area …it will start a ruckus there," Duterte said.
"I do not want to meddle. But Congress, may I suggest to them, most respectfully, you can cut, but the rest of the island, I will be declaring it as land reform (area). So there will be no subdivisions there. None," he added.
Duterte maintained he wants the indigenous peoples to reap and enjoy the benefits of living in the area.
"I will give it to the natives. After that, we can talk. In the meantime, that is my policy, I am trying to enunciate," he said.
When he mulled on closing Boracay early this year, Duterte invoked public safety, public interest and public health.
He also urged the courts "not to interfere by issuing a temporary restraining order" on the six-month closure.
Duterte had also created a special inter-agency task force to implement rehabilitation efforts in area.
Cost of rehab
The Department of Budget and Management (DBM) said the rehabilitation of Boracay would cost an estimated P1.36 billion.
Budget Secretary Benjamin Diokno said Task Force Boracay has proposed a total budget of P1.36 billion for the various rehabilitation efforts during the six-month closure of Boracay Island.
"In an inter-agency meeting held last May 18, 2018 in Haven Suite, Boracay, Aklan, Task Force Boracay presented a total estimate for the budgetary requirements of the various rehabilitation efforts being undertaken by its member agencies in the six-month closure period of the island," Diokno said.
He said the amount is expected to cover the cost of providing social safety nets, ensuring health and sanitation, decongesting the island, enforcing rule of law, engaging stakeholders and crafting and implementing a medium-term rehabilitation and recovery program.
Pending the consolidated budget request from Task Force Boracay, Diokno said the budgetary requirements of the island's rehabilitation could be sourced from the respective budgets of the different government agencies involved.
He said funds could also be sourced from the Contingent Fund or the Calamity Fund.
Should rehabilitation efforts spill over to next year, agencies may also propose additional budget in their 2019 Tier-2 budget proposals, Diokno added.
He said the spillover is to be expected as projects will not stop even with the reopening of the tourist destination.
"I'm confident that once Boracay reopens in a few months, that it will be a more attractive destination for our tourists. Of course, our work will not stop there. A long-term plan is needed to ensure the entirety of the island is not only beautiful, but structurally sound and environmentally sustainable," Diokno said.
Aside from rehabilitation initiatives, Diokno bared a number of major infrastructure projects are also being undertaken in the area.
He said about P490 million has been released to the Department of Public Works and Highways to fast-track implementation of the Boracay Circumferential Road augmentation project in Aklan.
This is in addition to the P50-million allocation for the project under the 2018 General Appropriations Act.
The Tourism Infrastructure and Enterprise Zone Authority (TIEZA) is also planning to spend around P8 million to P10 million to rehabilitate the island's waste water management system by constructing temporary outfalls, opening drainage systems and declogging critical areas, the DBM said. – With Mary Grace Padin
Related video: