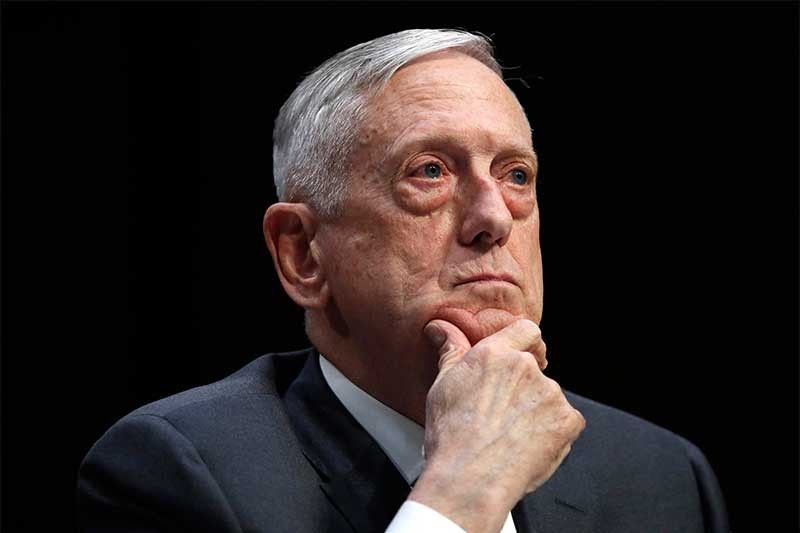 In this April 26, 2018, file photo, Defense Secretary Jim Mattis listens to a question during a hearing on Capitol Hill in Washington. Mattis says the US will continue to confront China's militarization of manmade islands in the South China Sea, arguing that Beijing hasn't abided by its promise not to put weapons on the Spratly Islands.
AP/Jacquelyn Martin, File
US to continue operations in South China Sea despite China's dissent — Pentagon chief
MANILA, Philippines — Washington will continue to conduct freedom of navigation operations (FONOPs) and confront China's increasing militarization in the South China Sea, US Defense Secretary Jim Mattis said.
Mattis noted that the US has always been transparent on its operations in the contested waters and that there's only "one country" that has expressed opposition against the FONOPs.
"On the FONOPs, they're freedom of navigation operations. And you'll notice there's only one country that seems to take active steps to rebuff them or state their resentment of them," Mattis told reporters aboard a US military plane.
The Pentagon chief further noted that Washington is not hiding its operations in the South China Sea as it has always been announced through public affairs statements.
Mattis reiterated that Chinese President Xi Jinping has reneged on his promise not to militarize the Spratly Islands.
"We have seen—the last month, they have done exactly that, moving weaponry in that was never there before," Mattis said.
Beijing has deployed new missile systems and jamming equipment on its "big three" islands in the Spratlys. The Chinese Air Force also recently landed a nuclear-capable bomber aircraft on its outpost in the Paracel Islands.
Washington will continue to confront nations behaving out of step with international law, Mattis said, referring to Beijing.
"That's the way we do business in the world. But we are also going to confront what we believe is out of step with international law, out of step with international tribunals that have spoken on the issue, and part of this is we maintain a very transparent military activity out in the Pacific," the Pentagon chief said.
Mattis stressed that US partners and allies are "very open" with Washington's FONOPs in the region.
"So, when they do things that are opaque to the rest of us, then we cannot cooperate in areas that we would otherwise cooperate in," he said.
Last week, the Pentagon withdrew its invitation for China to participate in the 2018 Rim of the Pacific Exercises, the world's largest multinational naval exercise.
The Pentagon said that the decision to disinvite China was an "initial response" to the latter's militarization of the South China Sea.
"We have strong evidence that China has deployed anti-ship missiles, surface-to-air missile systems, and electronic jammers to contested features in the Spratly Islands region of the South China Sea," the Pentagon said in a statement.
Related video:
As It Happens
LATEST UPDATE: June 12, 2018 - 10:25am
June 12, 2018 - 10:14am
China Ambassador to the Philippines Zhao Jianhua says President Rodrigo Duterte has expressed concern on reported Chinese seizures of fish caught by Filipino fishermen in Panatag (Scarborough) Shoal.
Zhao adds that Chinese Coast Guard personnel involved in taking of the catch of Filipino fishermen will be punished. — The STAR/Alexis Romero
May 30, 2018 - 10:00am
US Defense Secretary Jim Mattis says Washington will continue with its freedom of navigation operations amid China's increasing militarization in the South China Sea.
May 22, 2018 - 10:44am
Vice President Leni Robredo expresses grave concern over news of China's landing and takeoff exercises using long-range bombers in the West Philippine Sea, a portion of the South China Sea within the Philippine territory.
She urges the Department of Foreign Affairs to file a diplomatic protest to China. She raises that if the Philippine government itself fails to stand for the country's territorial integrity, then to whom can the people pin their hopes on.
"Banta sa seguridad ng Pilipinas at ng buong rehiyon ang patuloy na pagdami ng mga kagamitang militar at walang tigil na pagtayo ng mga istraktura sa mga islang ito. Nakasaad sa ating Saligang Batas na ipinagbabawal ang presensiya ng anumang sandatang nuklear sa kahit na saang lugar sa Pilipinas.
She says the government must pursue all diplomatic channels but adds that Philippine interests should not be compromised in the process.
"Isulong natin ang lahat ng diplomatikong paraan para panatilihing maayos ang ating pakikitungo sa ating mga karatig bansa, ngunit hindi nararapat na hahantong ito sa pagkompromiso ng ating bayan. Isa sa mga pangunahing tungkulin ng pamahalaan at ng bawat isa sa atin na ipaglaban ang seguridad ng ating bayan laban sa kahit na anong banta."
May 21, 2018 - 8:46am
The Philippine government stresses that it is taking diplomatic actions to protect the country's claims following China's landing of a bomber on Woody Island in the South China Sea.
"While appropriate language, whether expressions of condemnation or concern, over certain developments are clearly conveyed through diplomatic channels, it is not our policy to publicize every action taken by the Philippine Government whenever there are reported developments taking place in the West Philippine Sea and the South China Sea," the Department of Foreign Affairs said in a statement released Monday.
DFA on recent developments in the South China Sea: We are taking appropriate diplomatic action necessary to protect our claims and will continue to do so in the future. @PhilstarNews pic.twitter.com/KGrXvgLu9J

— Patricia Lourdes Viray (@patriciaviray) May 21, 2018
On May 18, China's People's Liberation Army Air Force announced that it has landed an H-6K bomber on an outpost in the South China Sea.
Chinese bombers including the H-6K conduct takeoff and landing training on an island reef at a southern sea area pic.twitter.com/ASY9tGhfAU

— People's Daily,China (@PDChina) May 18, 2018
May 15, 2018 - 1:42pm
United States Acting Principal Assistant Secretary of State W. Patrick Murphy meets with his counterparts from the Philippines Foreign Affairs department to discuss the competing claims in South China Sea.
In a tweet, Murphy says it is important to find a regional solution that respects UNCLOS and international law. He adds that militarization undermines dialogue and threatens stability.
Important discussion w/ #Philippines counterparts on competing claims in #SouthChinaSea. Important to find a regional solution that respects #UNCLOS, int'l law. Militarization undermines dialogue, threatens stability. pic.twitter.com/RJ4DUVTKKz

— W. Patrick Murphy (@WPatrickMurphy) May 15, 2018
Most excellent to catch up with @DFAPHL Under Secretary Enrique Manalo. Superb review of events in the region and our bilateral ties. US-#Philippines alliance endures! pic.twitter.com/CVXfrFdUIs

— W. Patrick Murphy (@WPatrickMurphy) May 15, 2018