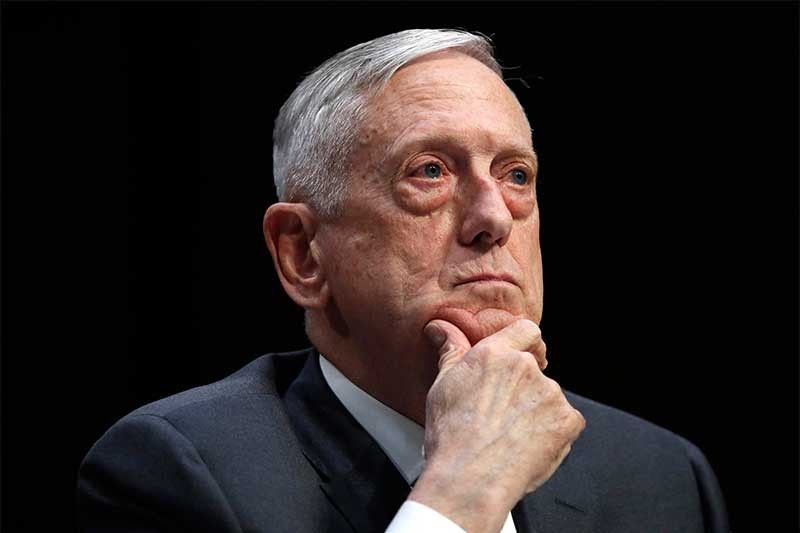 In this April 26, 2018, file photo, Defense Secretary Jim Mattis listens to a question during a hearing on Capitol Hill in Washington. Mattis says the US will continue to confront China's militarization of manmade islands in the South China Sea, arguing that Beijing hasn't abided by its promise not to put weapons on the Spratly Islands.
AP/Jacquelyn Martin, File
US to continue operations in South China Sea despite China's dissent — Pentagon chief
MANILA, Philippines — Washington will continue to conduct freedom of navigation operations (FONOPs) and confront China's increasing militarization in the South China Sea, US Defense Secretary Jim Mattis said.
Mattis noted that the US has always been transparent on its operations in the contested waters and that there's only "one country" that has expressed opposition against the FONOPs.
"On the FONOPs, they're freedom of navigation operations. And you'll notice there's only one country that seems to take active steps to rebuff them or state their resentment of them," Mattis told reporters aboard a US military plane.
The Pentagon chief further noted that Washington is not hiding its operations in the South China Sea as it has always been announced through public affairs statements.
Mattis reiterated that Chinese President Xi Jinping has reneged on his promise not to militarize the Spratly Islands.
"We have seen—the last month, they have done exactly that, moving weaponry in that was never there before," Mattis said.
Beijing has deployed new missile systems and jamming equipment on its "big three" islands in the Spratlys. The Chinese Air Force also recently landed a nuclear-capable bomber aircraft on its outpost in the Paracel Islands.
Washington will continue to confront nations behaving out of step with international law, Mattis said, referring to Beijing.
"That's the way we do business in the world. But we are also going to confront what we believe is out of step with international law, out of step with international tribunals that have spoken on the issue, and part of this is we maintain a very transparent military activity out in the Pacific," the Pentagon chief said.
Mattis stressed that US partners and allies are "very open" with Washington's FONOPs in the region.
"So, when they do things that are opaque to the rest of us, then we cannot cooperate in areas that we would otherwise cooperate in," he said.
Last week, the Pentagon withdrew its invitation for China to participate in the 2018 Rim of the Pacific Exercises, the world's largest multinational naval exercise.
The Pentagon said that the decision to disinvite China was an "initial response" to the latter's militarization of the South China Sea.
"We have strong evidence that China has deployed anti-ship missiles, surface-to-air missile systems, and electronic jammers to contested features in the Spratly Islands region of the South China Sea," the Pentagon said in a statement.
Related video:
As It Happens
LATEST UPDATE: March 21, 2019 - 8:36pm
March 21, 2019 - 8:36pm
President Duterte says concerned Filipinos may file a case against China before the International Criminal Court, adding that he thinks it will not affect Manila ties with Beijing.
"No, I'm sure they don't, the Philippines is a democratic country anybody can bring a suit against anybody." — with Christina Mendez
March 21, 2019 - 5:00pm
Here's a look at the communication sent to the ICC.
March 21, 2019 - 4:28pm
Former Foreign Affairs Secretary Albert del Rosario and former Ombudsman Conchita Carpio Morales filed a communication to the International Criminal Court on March 15 against Chinese President Xi Jinping for crimes against humanity due to damage to the environment in South China Sea, reports say.
March 7, 2019 - 8:15am
Rep. Ariel Casilao (Anapkawis party-list) scores what he calls "rubbernecking" by the Armed Forces of the Philippines in response to reports that Filipino fisherfolk are being harassed near Pag-Asa Island, which is part of Palawan province.
"It was reported in the news on Monday, and two days later, issues are still for validation, amid all the resources and intelligence funding, the Filipino taxpayers are deprived of much-needed and significant information," he says in a press statement.

The AFP's Western Command has said there have been no reports of fishers being harassed in the area amid a report by Kalayaan Mayor Robert del Mundo that Filipinos are being kept from fishing around Sandy Cay.
Defense Secretary Delfin Lorenzana has directed the military to validate the reports but the Department of National Defense has also said in a statement that "it has to be noted that the area referred to by Mayor del Mundo is a traditional fishing ground for the Philippines and other countries, including China and Vietnam."
November 26, 2018 - 10:54am
Supreme Court Associate Justice Antonio Carpio is addressing the Association of Congressional Chiefs of Staff at the House of Representatives to talk about issues related to the South China Sea. He has been making rounds in the forum circuit across the country to talk about the legal repercussions of China's overreaching claims in the maritime region.
Carpio, who is in the running for the chief justice post, argues that China committed its last territorial act against the Philippines in seizing Sandy Cay in the West Philippine Sea.
China is also expanding its legally invalid nine-dash line claim, possibly to encompass Benham Rise, an expansive underwater plateau east of the Philippines' landmass. (Stock photo)