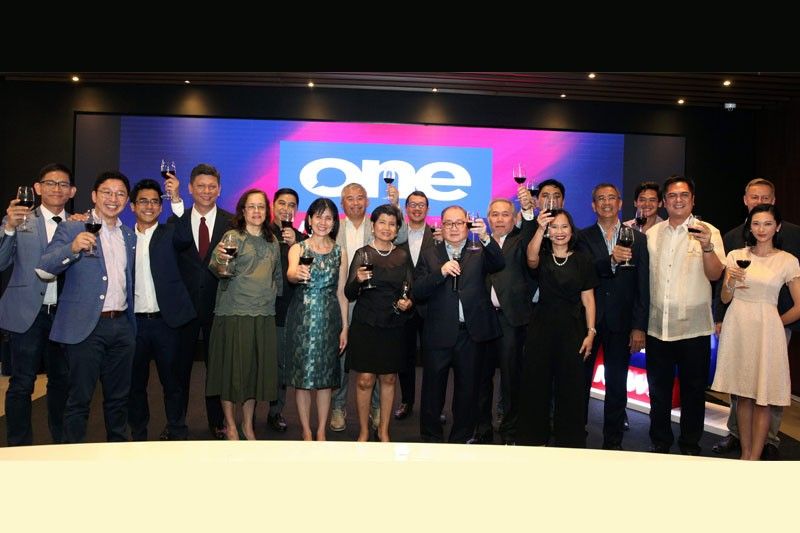 Anchors of Cignal TV celebrate the launch on Monday night of One News channel 8 (250 on HD) together with company executives led by chairman Manuel V. Pangilinan (front, sixth from right) at the TV studio in Mandaluyong. Presidential Communications Office Secretary Martin Andanar (front, second from right) was among the guests.
Joey Viduya
Cignal TV launches One News
MANILA, Philippines — Businessman Manny V. Pangilinan stressed the need for media entities to be vigilant in guarding the truth and the need to protect press freedom as Cignal TV's One News channel was launched at its headquarters in Mandaluyong City on Monday night.
One News channel combines the news network and personalities of The STAR, BusinessWorld, News5 and Bloomberg TV Philippines, the institutions under MediaQuest Holdings – a media conglomerate owned by Beneficial Trust Fund of PLDT.
"I do hope that the quality, kind of news delivery and content will be maintained by all of you," Pangilinan said in his speech before stakeholders and guests who attended the launch of One News on Monday.
"Why are we doing this? It's really for all of us to pursue the truth (against) fake news and so forth… that must be our paramount goal," Pangilinan said.
Citing the theme of Stephen Spielberg's film, "The Post," Pangilinan stressed that in the media business, it is everybody's duty to tell the truth.
"In our business, or in our group… we should always tell the truth, no matter how much it hurts or how much it damages potentially," he said, noting that it was a "eureka" moment for the character of Meryl Streep/Katharine Graham whether to publish excerpts of the "Pentagon Papers" in the Spielberg film.
Pangilinan quoted "The Post," which delves on the importance of freedom of the press as protected by the First Amendment of the US Constitution.
"Our founding fathers want to make sure that freedom of the press is protected, and we want to make sure that this freedom of expression is meant to serve the governed and not the governors," Pangilinan said, referring to the concurring opinion of Justice Hugo Black.
Newspapers are the first rough draft of history.
"That's the kind of profession that you are getting into as a group, and we will support that," Pangilinan added.
Ray Espinosa, president of Mediaquest, and The STAR president and CEO Miguel Belmonte lauded the collaboration of major news organizations in the country.
"This is a great product from the MediaQuest group, it represents the four major pillars of news within our group. Not just within our group, they represent great institutions already, and to put them into one channel, to fashion a great news production is a big feat for (the team) and all its partners," Espinosa said, adding that the dream has become a reality.
Belmonte, also CEO of BusinessWorld, said the project will be a great opportunity for collaboration of the best news teams in the country from all fronts – print and broadcast industries.
"This project is exciting for all of us and it is also very new because being in the newspaper business, broadcast is really a totally different animal for us but we're already committed to be part of it and we are very grateful… to Cignal TV for inviting us to be one of the partners," Belmonte said.
Belmonte lauded the collaboration among Cignal TV, News5, The Philippine STAR, BusinessWorld and Bloomberg.
"I think in terms of capability, we are probably the biggest news gathering entity in the country right now," he added.
"We're looking forward to what 'One News' is going to achieve in the near future. I think what we can achieve together, with all our strengths put together, is something totally new in Philippine media," Belmonte said.
"So we are looking forward to what 'One News' is going to achieve in the near future. I think what we can achieve together, with all our strengths put together, is something totally new in Philippine media," Belmonte said.
"One News is really the news channel for everyone to watch," Belmonte added.
For his part, Espinosa urged everyone under the MVP group to work together to ensure the success of One News, the platform to reach and influence the country's movers and thinkers.
One News will deliver at least six hours of fresh content every day on the local and international fronts with three daily newscasts: Rush Hour (7 a.m.), Businessworld Live (9 a.m.) and the Big Story (8 p.m.).
There will also be a discussion on opinions of news via Agenda (8 a.m.) and The Chiefs (8:30 p.m.)
Lifestyle and magazine shows are: Let's Eat, Wheels, Titans, Go Local, Bright Ideas, Convo and Gear Up.
One News is optimistic that it can deliver significant viewership because it will be made available to two million subscribers of Cignal TV. It will also be available on the OTT platform, CPlay.