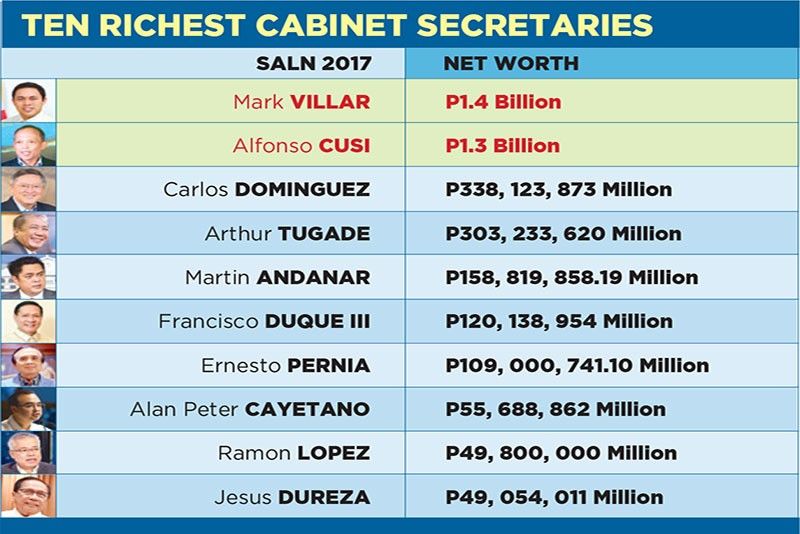 Public Works Secretary Mark Villar declared a net worth of P1,407,459,436, making him the richest of Cabinet members.
Billionaires Villar, Cusi are richest Cabinet men
MANILA, Philippines — The rich had become richer in President Duterte's official family with two Cabinet members certified billionaires, according to their statements of assets, liabilities and net worth (SALN).
Public Works Secretary Mark Villar declared a net worth of P1,407,459,436, making him the richest of Cabinet members.
Villar is one of three children of former senator Manny Villar and Sen. Cynthia Villar whose net worth was reported at P3.611 billion as of December 2017.
Energy Secretary Alfonso Cusi is the second richest with P1,355,632,637 in declared net worth.
Cusi had dislodged Finance Secretary Carlos Dominguez from the second richest. Dominguez had P338,123,873 in 2017, according to his SALN.
A member of a rich clan from Davao City which runs the Marco Polo hotel chain, Dominguez's worth declined from P351,856,283 in 2016.
Cusi, on the other hand, started his career in shipping. He joined the Aboitiz Shipping Co. in 1973 as assistant comptroller. He worked his way up to the top as its senior vice president and director before resigning from the company in 1990.
Before he joined the government during the Arroyo administration in 2001, Cusi already ventured into his own shipping, logistics and distribution businesses.
A summary of the SALN of other cabinet members as submitted last April 30 revealed all the rest are millionaires.
National Anti-Poverty Commission (NAPC) chief Secretary Liza Maza is the "poorest" in the cabinet with P1,186,500 worth declared in her 2017 SALN, Malacañang said over the weekend.
Maza was followed by Education Secretary Leonor Briones (P6,668,136) Science Secretary Fortunato dela Peña with P7,561,000; Information and Communications Technology officer-in-charge Eliseo Rio (P7,631,790.61); Defense Secretary Delfin Lorenzana (P7,657,141.16); and Presidential Legislative Liaison Secretary Adelino Sitoy (P9,662,810.75).
Compared to their SALN's in 2016, records showed Briones' net worth increased by P2.278 million while Lorenzana's net worth jumped by P3.9 million last year. Dela Peña's net worth remained the same.
Newly appointed Justice Secretary Menardo Guevarra reported a net worth of P14,329,495.71, as of April 7.
Labor Secretary Silvestre Bello III's net worth was pegged at P15,750,000 in 2017, which increased by P250,000 in a span of a year while National Security Adviser Secretary Hermogenes Esperon Jr.'s worth increased by P2.94 million in 2016 to P25,245,000 in 2017.
Environment Secretary Roy Cimatu reported a net worth of P26,503,447 in 2017.
Agriculture Secretary Manny Piñol's net worth increased by P1.6 million from P25.6 million in 2016 to P26,968,536.34 in 2017.
Former tourism secretary Wanda Teo reported a net worth of P48,288,216.96. Teo was forced to resign early this month for her involvement in the P60-million advertisements for her two brothers' TV show.
Meanwhile, Presidential Peace Adviser Secretary Jesus Dureza reported P49,054,011 net worth, which is about P9 million higher compared to his net worth recorded at P40 million in 2016.
Trade Secretary Ramon Lopez's net worth showed a slight decline at P49,800,000 in 2017. Lopez's net worth was reported at P50.5 million in 2016.
Foreign Affairs Secretary Alan Peter Cayetano's net worth seemed not to have any movement at P55,688,862 compared to his 2016 SALN at P55 million.
National Economic and Development Authority (NEDA) chief Ernesto Pernia's net worth increased to P109,000,741.10 from P105 million in 2016.
Health Secretary Francisco Duque III's net worth was reported P120,138,954 as of December 2017. Duque's net worth showed an uptrend compared to his net worth recorded at P99.901 million when he was also health secretary under the Arroyo administration in 2007.
Presidential Communications Operations Office Secretary Martin Andanar , who is married to the Aguilar political clan of Las Piñas, reported a net worth of P158,819,858.19 in 2017.
Andanar, who has attributed his wealth to conjugal assets, reported P152 million net worth in 2016.
Transportation Secretary Arthur Tugade's net worth also showed a slight increase from P302 million in 2016 to P303,233,620 in 2017.