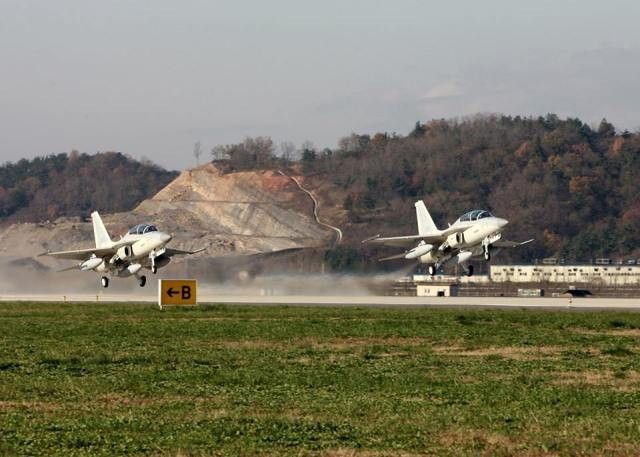 The Philippine Air Force has 12 FA-50 fighter-trainer jets, which were purchased from South Korea.
Philstar.com, File
Philippine Air Force jets can take on China's bombers — analyst
MANILA, Philippines — The Philippine Air Force has the capability to go against China's bomber aircraft in the South China Sea should a conflict ensue, a defense analyst said Monday.
Last week, China's People's Liberation Army Air Force announced that it had landed bombers, including the top-of-the-line H-6K, on Woody Island in the Paracel Islands.
Beijing's H6 is a licensed copy of the Cold War-era Tupolev Tu-16 twin-engine strategic heavy bomber of the Soviet Union.
Jose Antonio Custodio, a military historian and defense analyst, said that China's H-6K bomber would still need extensive fighter escort protection if it will be used in battle. Bombers are generally not deployed without escorts.
"In fact, the FA-50s of the Philippine Air Force have the capability to shoot it down should the Chinese use it within [Philippine] territory," Custodio said on Facebook.
The Air Force currently has 12 FA-50 light fighters from South Korea, which were acquired through the efforts of the Aquino administration.
The FA-50 supersonic aircraft could carry enough munitions payload and could be used in air-to-air and air-to-ground combat.
FA-50s 'a waste of money'
In 2016, President Rodrigo Duterte said that his predecessor's purchase of 12 FA-50 jets was a "waste of money" as they were only being used for ceremonies.
"To the Air Force, do not misconstrue me. I'm a Filipino. I'm a citizen of this country and I have every right to say what I want to say. Sayang ang pera dun (Money was wasted there). You cannot use them for anti-insurgency, which is the problem at the moment. You can only use these for ceremonial fly-by," Duterte said in June 2016.
The fighter jets, however, would later on be deployed to conduct airstrikes against ISIS-inspired Maute terrorists in Marawi City starting in May 2017. In January 2017, two FA-50s were also utilized during a nighttime attack on terrorist hideouts in Butig, Lanao del Sur.
Custodio noted that the procurement of the fighter jets could be attributed to the Air Force officials who pushed for the purchase of the FA-50s.
"Now we know why Duterte said that it was a waste of money. This is because he and his administration have no coherent plans of defending the Philippine Republic from Chinese aggression," Custodio said.
Washington-based think tank Asia Maritime Transparency Initiative warned that the combat radius of China's H-6 aircraft of nearly 1,000 nautical miles could cover the entire South China Sea, including the Philippines.
"Nearly all of the Philippines falls within the radius of the bombers, including Manila and all five Philippine military bases earmarked for development under the U.S.-Philippines Enhanced Defense Cooperation Agreement," the think tank said.
The Philippine government, meanwhile, said that it has taken diplomatic action in response to Beijing's militarization in the South China Sea.
Presidential spokesperson Harry Roque said that Duterte does not see China as a threat to the country's security despite its deployment of weapons and military aircraft on its outposts.
"The president does not see any immediate threat. As I said, we do not consider China to be a threat to our security right now because of our newfound friendship with China," Roque told reporters Monday.