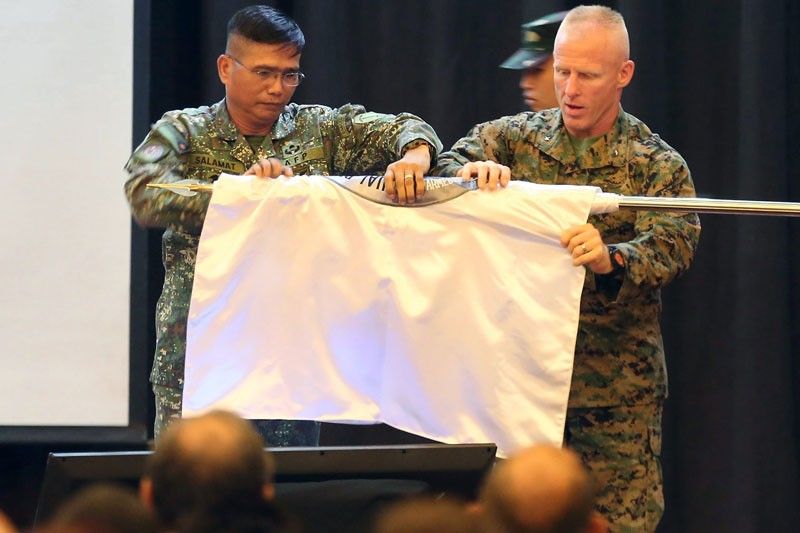 Lt. Gen. Emmanuel Salamat and US Brig. Gen. Thomas Weidley lead the ceremonial furling of the Balikatan flag during the closing ceremony of the Philippine-US military exercises held at Camp Aguinaldo yesterday.
Boy Santos
Philippine-US Balikatan war games end
Jaime Laude
(The Philippine Star) - May 19, 2018 - 12:00am
MANILA, Philippines — The Philippine and US armed forces ended yesterday the 34th Balikatan exercises which officials said resulted in increased inter-operability and improved military skills.
Approximately 8,000 service members from the US military and Armed Forces of the Philippines (AFP) completed the annual joint military exercises that lasted for 12 days.
A senior US embassy official said the Balikatan was the bedrock of Philippine-American alliance.
"This relationship we forged and the trust we built when we worked together form the bedrock of our alliance," US Charge d'Affaires Michael Klecheski told the closing ceremony.
He said the joint exercise honed the critical skills of Filipino and US soldiers to allow both countries' forces to respond more quickly and effectively together to natural or man-made disasters or any other future challenges.
"These training events strengthen the US-Philippines military partnership and ensure a more effective combined joint response in future operations," Klecheski said.
In preselected areas in Northern Luzon, American, Filipino, Australian and Japanese soldiers took part in five projects, including the construction of new school buildings, renovation of existing structures, as well as beautification projects.
They also conducted several health engagements by teaching the local community basic lifesaving skills, disease prevention strategies, as well as physical and dental hygiene.
"Through Balikatan, the forces built upon a long and productive history of joint military exercises that enhance interoperability, strengthen partnerships and improve disaster response and counterterrorism capabilities," Klecheski said.
"As we look to the future, there is no doubt that our two nations will continue to face many complex challenges. The challenges of terrorism are forever rising in new ways and those are the ones that we're working together very effectively to counter," he said.
Klecheski said that while this year's flag of the joint Phl-US Balikatan military exercises has been folded, he is looking forward to next year's joint drill.
"I look forward to all of the other training activities that will be done jointly as we do each year as we continue to work more closely and learn to cooperate even closer," Klecheski said.
AFP chief Gen. Carlito Galvez declared the just concluded annual joint military drills as a huge success and one of the best ever as objectives set have been achieved as planned with no untoward incident incurred by any participants.
He said the execution phase of the programmed activities, including live-fire exercises and amphibious drills, was carried out smoothly and methodically.
"The two-week long exercise best manifested the strong ties between the Philippines and the US as well as the flourishing bond with partner nations such as Australia and Japan. We have committed to train side-by-side "The two-week long exercise best manifested the strong ties between the Philippines and the US as well as the flourishing bond with partner nations such as Australia and Japan. We have committed to train side-by-side in order to advance the security and stability of our nations and our region," Galvez said. – With Helen Flores