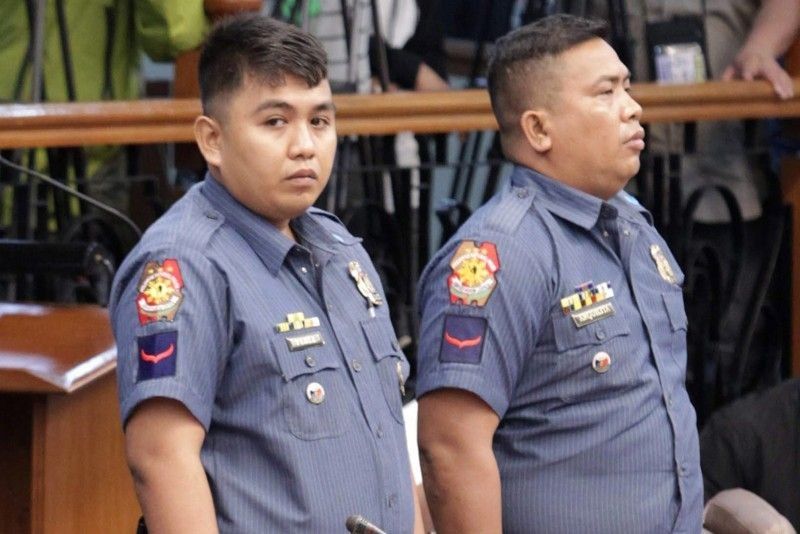 Perez and Arquilita are currently detained at the Bureau of Jail Management and Penology facility in Valenzuela City.
Geremy Pintolo, file
Carl, Kulot double murder case now with Navotas court
MANILA, Philippines — The Department of Justice has re-filed the double murder case of Carl Angelo Arnaiz and Reynaldo "Kulot" de Guzman before a trial court in Navotas.
In a tweet report by The STAR, the case was re-filed because of the Caloocan court's dismissal of the murder case for lack of jurisdiction.
Earlier, state prosecutors filed a motion to withdraw the double murder charge against Police Officers 1 Jeffrey Perez and Ricky Arquilita before the Caloocan Regional Trial Court branch 122.
This was after after a witness testified that the murder of the two teenagers happened along C3 Road Dalagang Bukid and Tanigue streets, which falls under the territorial jurisdiction of Navotas and not Caloocan.
However, Judge Georgina Hidalgo said that the law does not permit the withdrawal of charges mid-trial. She said that the legal recourse would be the dropping of murder charges against the accused cops "without prejudice."
Justice Secretary Menardo Guevarra assured the public that a case transfer due to the technicality of court jurisdiction issues will not affect the merits of the case. He said that the re-filing of the case would be "without prejudice."
READ: Guevarra: Transfer of jurisdiction won't affect Carl, Kulot case vs cops
It was the Public Attorney's Office that led the filing of the case against Arquilita and Perez.
It was earlier reported that lawyers for the defense said that the jurisdictional mix up could have been avoided if the investigative arms of the government—the National Bureau of Investigation and the police's Criminal Investigation and Detection Group—took charge of building the case at the Department of Justice.
Murder case vs ex-Caloocan cops in Arnaiz-Kulot double slay have been refiled at the Navotas RTC. | @mjaysoncayabyab pic.twitter.com/X3iH8aCmZf

— The Philippine Star (@PhilippineStar) May 17, 2018
PAO Chief Persida Acosta however clarified that her office has taken its hands off the case because it has gone to trial. State prosecutors are now handling the charges.
READ: Acosta: State prosecutors, not PAO, handle Carl-Kulot slay case
Arnaiz and De Guzman went missing on the night of August 17, 2017.
Arnaiz's body was found 11 days later at a funeral home in Caloocan City. The 19-year-old former University of the Philippines student reportedly robbed a taxi driver and fired shots at responding policemen, prompting the authorities to shoot and kill him.
Almost a month later, De Guzman's parents were informed that their son's body was found floating in a creek in Gapan, Nueva Ecija.
Their killings were believed to be carried out under the government's war on drugs, an allegation that the government has denied.