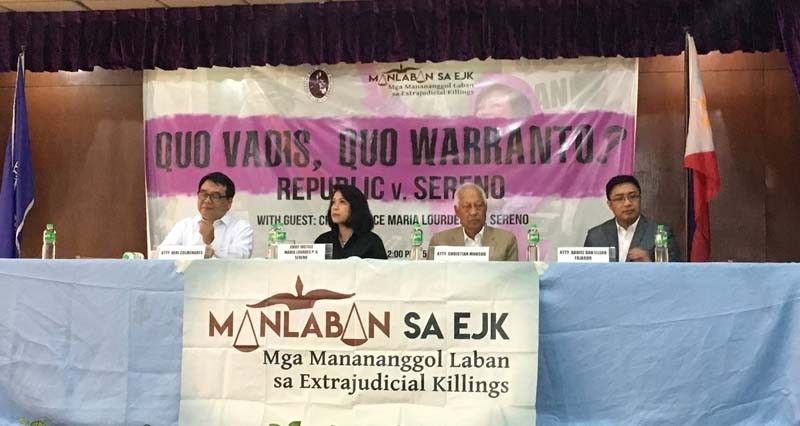 Sereno attends a forum held by the Integrated Bar of the Philippines
Philstar.com/Kristine Joy Patag
Sereno on Duterte vow to quit if proven he had hand in ouster: Resign
MANILA, Philippines — President Rodrigo Duterte should resign, ousted Chief Justice Maria Lourdes Sereno said, because it is clear that he had a hand in her ouster.
Speaking to the public days after her former colleagues voted to remove her from the Supreme Court, an unfazed Sereno challenged the president: "He said if it is proven that it was his act, he will resign? President, resign."
The ousted chief justice was reacting to Duterte's remarks on Wednesday night that "if there's one congresswoman or congressman or a single justice who will say I talked to them, I can guarantee you, I will resign."
Before Sereno was ousted, and in response to allegations that he was behind the move, the president declared himself the chief justice's "enemy." He also called on Congress to fast-track the impeachment case against her.
The Palace later explained that the order was meant for Duterte's PDP-Laban partymates in Congress.
Earlier Thursday, in a separate forum at the Ateneo de Manila University, Sereno chided Duterte on saying repeatedly that he will resign promises to resign before, but he has yet to step down.
"This is not the time for jokes," Sereno added.
'Duterte does not like dissent'
Speaking at the forum hosted by the Integrated Bar of the Philippines, Sereno pointed out that it was Duterte himself who said in a speech that the Congress should fast-track her impeachment. In the same speech, Duterte declared that Sereno is now his "enemy."
The ousted chief justice also stressed that it was executive department's solicitor general who initiated the quo warranto petition against her. Under the Rules of Court, quo warranto petitions can be initiated by the solicitor general or by a public prosecutor.
Sereno stressed that Duterte "does not like dissent."
"If he does not like you, you will be removed. Oppose or criticize, they will target you," she pointed out, adding: "The only way to fight a bully is to resist."
Sereno had caught Duterte's ire as early as August 2016, when she asserted the Judiciary's jurisdiction over its ranks after Duterte named several judgeswith alleged links to the illegal drug trade.
In a historic ruling on May 11, members of the SC voted 8-6 to oust their colleague and declare the position of chief justice vacant. The court granted Calida's petition, which argued that Sereno's appointment was invalid because she failed to fulfill the requirement to submit her Statements of Assets, Liabilities and Net Worth.
The decision reaped strong opposition from the legal profession, from lawmakers, and from human rights advocacy groups.
On Thursday, 14 senators signed a resolution question the tribunal's removal of Sereno.
READ: 13 senators back resolution questioning SC ruling on quo warranto