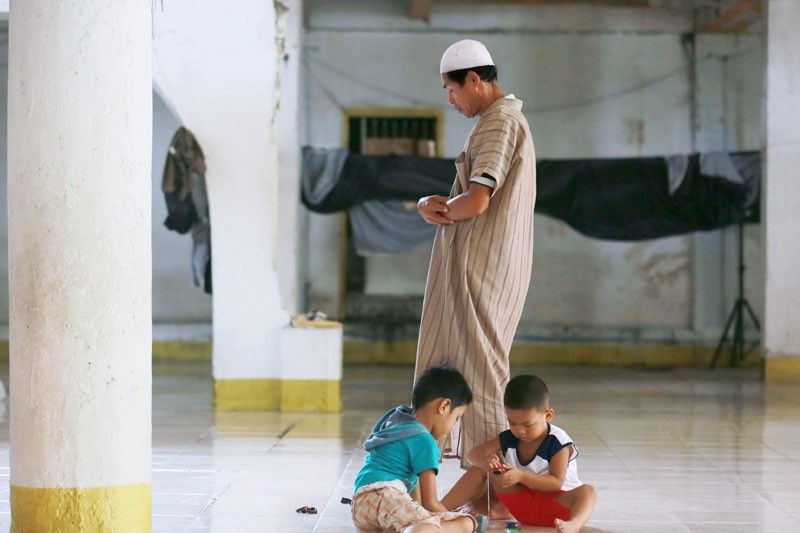 A man prays while his children play inside the Salam Mosque in Quezon City ahead of the Muslim fasting month of Ramadan yesterday.
Michael Varcas
Holy month of Ramadan begins today
John Unson
(The Philippine Star) - May 17, 2018 - 12:00am
COTABATO CITY, Philippines — Local clerics declared today as the first day of Ramadan, after failing to see the crescent moon last Tuesday night that would have signaled its start yesterday.
President Duterte yesterday urged Muslims to contribute to nation-building and do good deeds to the poor as they start observing Ramadan.
Duterte said Ramadan is a time for the Islamic faithful to reflect on the Koran and how this relates to their thoughts and actions.
"By demonstrating the noble teachings of Islam, it is my fervent hope that you continue to do good deeds for the poor and the marginalized members of society," the President said in his message for the start of Ramadan.
"I ask that you foster a sense of solidarity among all Filipinos by manifesting faith through action. Let us join hands in the shared task of nation-building as we make the Philippines a more inclusive, peaceful and united country in the years to come," he added.
Duterte also encouraged Muslims to make sacrifices "not only to overcome personal difficulties but also to create meaningful and lasting strides in our communities."
"Through fasting and prayer, this significant event reveals to them the will of Allah and reaffirms their resolve to achieve spiritual cleansing and growth," he said.
Ramadan, a holy month in Islam during which Muslims fast from dawn to dusk for one lunar cycle as a religious obligation and reparation for wrongdoing, would have started yesterday had they spotted the moon the night before.
The Darul Iftah (House of Opinions) of the Autonomous Region in Muslim Mindanao (ARMM) announced before midnight last Tuesday that Ramadan will commence today.
The group, comprised of moderate preachers who had studied Islamic theology in schools in the Middle East and North Africa, urged ARMM residents to get involved in domestic peace initiatives during Ramadan.
Shiek Abu Huraira Udasan, grand mufti (preacher) of the Bangsamoro Darul Iftah identified with the Moro Islamic Liberation Front, also declared today as the start of this year's Ramadan.
Fasting during the month of Ramadan is one of the five pillars of the Islamic faith, which include belief in Allah, praying five times daily, giving of zakat (alms) to the poor and performing the hajj (pilgrimage) to Makkah, Saudi Arabia at least once in a lifetime for those who can afford the cost of travel.
Ramadan is also a time when Muslims share food with needy neighbors regardless of their religion and race.
The ARMM government began distributing last Tuesday rice and other food rations to hundreds of Maranao families displaced by the May 23 to Oct. 16 siege of Marawi City last year by combined Maute and Abu Sayyaf terrorists, as part of its Ramadan outreach missions.
The program is facilitated by ARMM's Humanitarian Emergency Assistance and Response Team (HEART) whose personnel departed for Marawi last Tuesday, bringing with them more than 20 tons of relief goods.
HEART information officer Myrna Jocelyn Henry yesterday added that aside from rice and other provisions, they also supplied Marawi residents with fresh fish brought to relief sites in refrigerated trucks.
HEART, operating under the supervision of ARMM Gov. Mujiv Hataman, has been helping the local government of Marawi and the office of Lanao del Sur Gov. Soraya Bedjoria Alonto provide for the needs of thousands of displaced Maranaos since last year.
Mufti Aboulkahir Tarason, a senior cleric in Basilan, said he and other members of the regional Darul Iftah are grateful to the HEART for its series of relief missions for needy Muslims during the Ramadan.
"Just by giving even a single Maranao family food for even just a single day, it is as if the HEART group had fed the whole mankind for that day. That's the Islamic theory on acts of piety and charity," Tarason said.
He said their group will also embark on various religious activities meant to strengthen the solidarity of ARMM's Muslim, Christian and lumad residents during Ramadan.
The executive department of ARMM has issued a memorandum directing Muslim employees of different regional agencies to report for work early and perform their duties until 4 p.m. for them to have enough time to prepare for bukah, or first meal at sunset, after a day-long fast.
Muslims focus on good deeds and prayers during the Ramadan, where adversaries reconcile and rebuild ties severed by all kinds of disputes.
Muslims believe it was during Ramadan, which means scorching heat in Arabic, that Allah sent the Qur'an, via Archangel Gabriel, to Mohammad, who was to become the propagator of Islam.
The Qur'an has lengthy narrations on the life of Jesus Christ, known to Muslims as Nabih (prophet) Isah, and his mother, Mariam (Mary).
There is one chapter in the Qur'an which tells of the life, acts of piety and absolute subservience to the Allah of Mariam, the virgin mother of Nabi Isah.
One with the Muslim world in the month-long celebration of Ramadan, the Armed Forces of the Philippines (AFP) called for vigilance yesterday against any group that might take advantage of the yearly Islamic religious activity to sow chaos.
"The AFP is one with the Islamic faith in wishing that this month-long period of penance, prayer and reflection remind each one of us of the value of peace, love and sense of community," military spokesman Col. Edgard Arevalo said.
However, in several instances, Muslim extremists and fundamentalists with links to terrorist groups have taken advantage of Ramadan to launch mayhem on their "infidel" targets.
"Let us, together, prevent them from disrupting the solemn observance of the holy month of Ramadan," Arevalo said.
He proceeded to assure the public that the military will sustain its focused military operations necessary to safeguard the people and communities with soldiers under strict instruction to exercise caution and be mindful of the sensitivities required of them during Ramadan.
Meanwhile, a senior anti-terror official yesterday said the overall security situation in Metro Manila remains normal as government security forces have already neutralized key individuals with links to the Islamic State (IS)-inspired Maute terror group.
In all likelihood, if there would be a resurgence of terror activities in the country, he said, it would be in areas of Mindanao.
Earlier, President Duterte warned that IS terrorists from the Middle East, after losing much of their foothold in Iraq and Syria, are eyeing Southeast Asia as their next stop.
Joint Task Force Sulu has presented to AFP chief Gen. Carlito Galvez Jr., who was in Sulu, a cache of firearms of various calibers that soldiers seized from the Sulu-based Abu Sayyaf.
"These are firearms seized by the troops in Sulu for the month of May, including those recovered in the recent fighting," AFP Public Affairs Office chief, Lt. Gen. Emmanuel Garcia, said. – With Jaime Laude, Alexis Romero