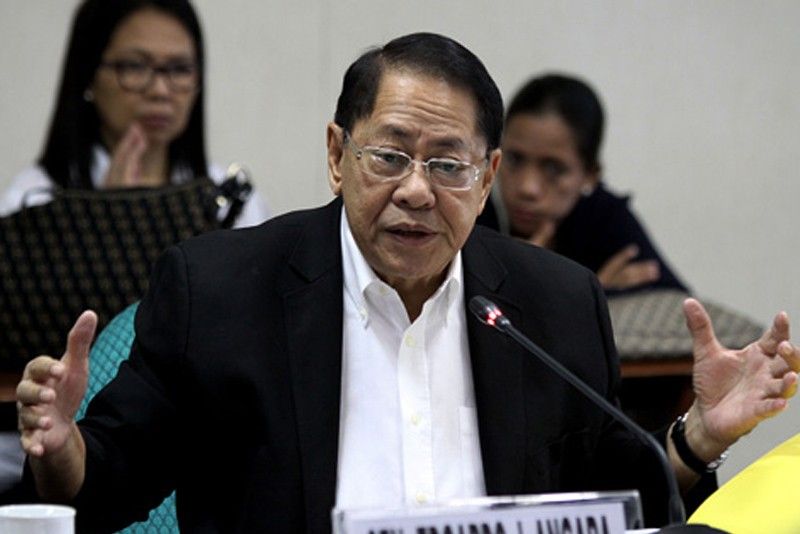 Angara died from an apparent heart attack last Sunday. He was 83.
File
State honors for Angara set
MANILA, Philippines — The Senate will hold a necrological service for the late Senate president Edgardo Angara tomorrow even as tributes continue to pour in for the former lawmaker and envoy.
Angara died from an apparent heart attack last Sunday. He was 83.
Relatives, friends and political supporters continued to flock to Heritage Park in Taguig City where Angara's remains were opened for public viewing yesterday.
Among the notable visitors at the wake were former president Fidel Ramos, former president and now Pampanga Rep. Gloria Macapagal-Arroyo, former president and now Manila Mayor Joseph Estrada, Senate Minority Leader Franklin Drilon, Sen. Loren Legarda, former speaker Jose de Venecia Jr. and Budget Secretary Benjamin Diokno.
Senate Majority Leader Vicente Sotto III said Arroyo and Estrada and former colleagues of the late senator will be among those who will deliver eulogies at the necrological service.
Angara's remains will be brought on Thursday to the University of the Philippines, where he once served as president.
His remains will then be brought to his home province of Aurora on Saturday. Interment will be on Sunday.
'Jovial mood'
The office of Sen. Sonny Angara, son of the late lawmaker, yesterday released a summary of events leading to his father's passing.
The elder Angara attended the anniversary of ACCRA Law Office, which he founded, at Tagaytay Highlands in the morning and returned to his rest house in Tagaytay City around 2:30 p.m. last Saturday.
Drilon and his wife Mila, along with former colleagues from ACCRA, followed Angara to the rest house, where he toured his guests before sending them off around 7 p.m. He then proceeded to his bedroom to sleep about 7:45 p.m.
"SEJA (Angara's initials) was in a jovial mood throughout the afternoon and evening. He even toured his guests around his Art House before sending them off," the summary stated.
According to his household staff, Angara usually wakes up between 2:30 a.m. to 3 a.m. to perform his morning routine but that morning he did not get up.
His caregiver went to his room to offer breakfast but Angara declined, saying he will sleep further.
At 8:30 a.m. Sunday, a flush of the toilet from his bathroom was heard by his caregiver and security aide. Thirty minutes later, a cough was heard from inside his room.
At 10:30 a.m., the caregiver again went into his room to check on him and noticed that he was not responsive anymore and she hurriedly tried to wake him up.
The caregiver applied CPR while emergency transport was being prepared.
Angara arrived at the Tagaytay Medical Center where the hospital's medical team tried to revive him. He was then declared dead.
'Big loss'
The country's leaders yesterday condoled with the family of Angara, saying his death is a big loss for the country.
Vice President Leni Robredo hailed Angara, whom she said had served the government for a long time.
"His death is not just a loss for his family but for the country as well," Robredo said. "In all the positions he held, he really served the people." – With Helen Flores, Janvic Mateo, Jose Rodel Clapano