Duterte to take private plane to ASEAN Summit in Singapore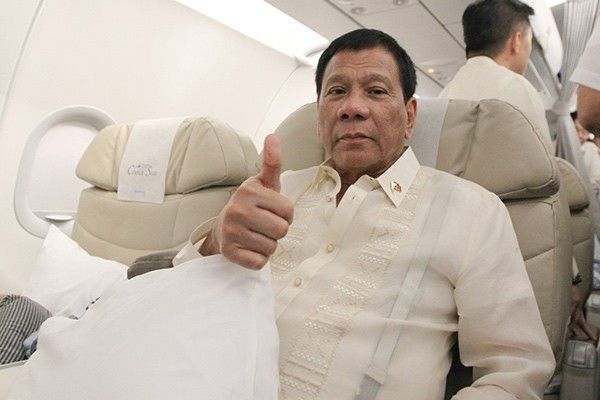 MANILA, Philippines — Instead of chartering an entire commercial plane for his next trip, President Rodrigo Duterte will be riding an eight-seater private plane to Singapore, according to presidential spokesperson Harry Roque.
Roque added that the president will be taking a smaller plane this time to "save money."
"It's expensive to charter a plane and a leaner delegation would mean lesser cost for the taxpayer," Roque said in a press briefing.
The Malacañang spokesman also noted that the flight from Duterte's home town Davao City to Singapore, where the ASEAN Summit will be held, would only take two hours.
"It's not a long flight but it's an eight-seater plane. I think aside from [Special Assistant to the President Bong Go] other people in the plane will be staff complement of the president, including a nurse," Roque said.
Duterte will be heading to Singapore to attend the 32nd ASEAN Summit, where he and other Southeast Asian leaders will discuss regional and international issues.
During the first few months of his term in 2016, Duterte ordered that the presidential plane converted into an air ambulance.
The president said that he would be comfortable taking commercial flights or a private jet sometimes.
The 250th Presidential Airlift Wing of the Philippine Air Force is usually in charge of providing transportation to the president. For international trips, Duterte can use a Bombardier Learjet 60, Challenger 850 or charter a Philippine Airlines aircraft. — Patricia Lourdes Viray