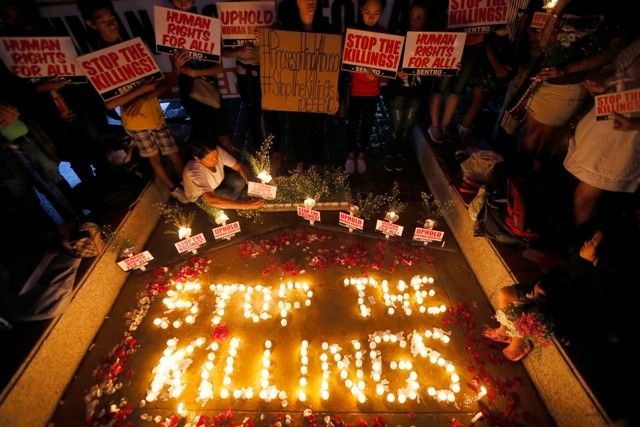 "The Senate has ruled that no extrajudicial killing has ever happened," PNP spokesman Chief Supt. John Bulalacao said. "The allegations that there are EJKs in the Philippines remain hearsay."
AP/Bullit Marquez
PNP describes US report on human rights as hearsay
MANILA, Philippines — The Philippine National Police (PNP) yesterday branded as hearsay allegations of extrajudicial killings (EJKs) in the government's war on drugs.
In response to a report from the US State Department that extrajudicial killings have been the major human rights concern in the Philippines, PNP spokesman Chief Supt. John Bulalacao cited a Senate committee report in 2016 which found no proof that there were state-sponsored killings in the country.
The Senate committee on justice and human rights chaired by Sen. Richard Gordon cleared President Duterte of alleged involvement in extrajudicial killings in relation to his bloody war on drugs.
"The Senate has ruled that no extrajudicial killing has ever happened," Bulalacao said. "The allegations that there are EJKs in the Philippines remain hearsay."
According to Bulalacao, cases of police involvement in questionable killings were isolated.
He cited the cases of South Korean businessman Jee Ick-joo and Kian Loyd delos Santos.
"These were isolated cases perpetrated by some rogue police officers who have been charged in court," he explained.
Bulalacao added the country's justice system remains functional.
Bulacan drug deaths
The simultaneous anti-drug operations in Bulacan that left 13 people dead on the first day in office of PNP chief Director Oscar Albayalde on Friday were just a coincidence.
"The police operations in Bulacan had long been planned. It just happened that these were carried out a day after I assumed the PNP post," Albayalde said in a radio interview yesterday.
Albayalde was sworn in as the 22nd PNP chief on Thursday.
The next day, the Bulacan police conducted simultaneous anti-drug operations in the towns of Bocaue, Pandi, Sta. Maria, Plaridel, Pulilan, Baliuag, San Rafael as well as Malolos and San Jose del Monte cities.
Bulacan police director Senior Supt. Romeo Caramat Jr. said another suspected drug pusher was killed on the same day in the municipality of Sta. Maria, bringing the number of slain drug suspects to 14.
Albayalde lauded police operatives in Bulacan for a "job well done."
"Talagang masigasig sa war on drugs 'yang Bulacan," he said.
The PNP chief ordered police station commanders to double their efforts as he vowed to sustain the drug war, particularly Oplan Double Barrel.
Sought for comment, Bulacan police spokesperson Senior Insp. Epamela Sarsaba said the anti-drug operations had been planned several weeks before Albayalde was sworn into office.
Sarsaba said surveillance against suspected drug offenders usually takes days and even weeks before actual operations are carried out.
She added obtaining a search warrant from the court takes a long time.
Sarsaba dismissed allegations that the police operations were conducted to impress Albayalde.
"All operations were conducted properly and in coordination with the Philippine Drug Enforcement Agency," Sarsaba said in a phone interview.
The PNP is set to receive in the second quarter of the year at least 11,000 body cameras it procured for policemen involved in the war on drugs, spokesman Bulalacao said.
The PNP has earmarked P334 million for the procurement of body cameras to ensure transparency in anti-drug operations.
The PNP is planning to buy at least 35,000 body cameras for its anti-narcotics operatives.
Aside from body cameras, Albayalde said they would also procure protective vests and drones for PNP special units to enhance police capability. – With Ramon Efren Lazaro