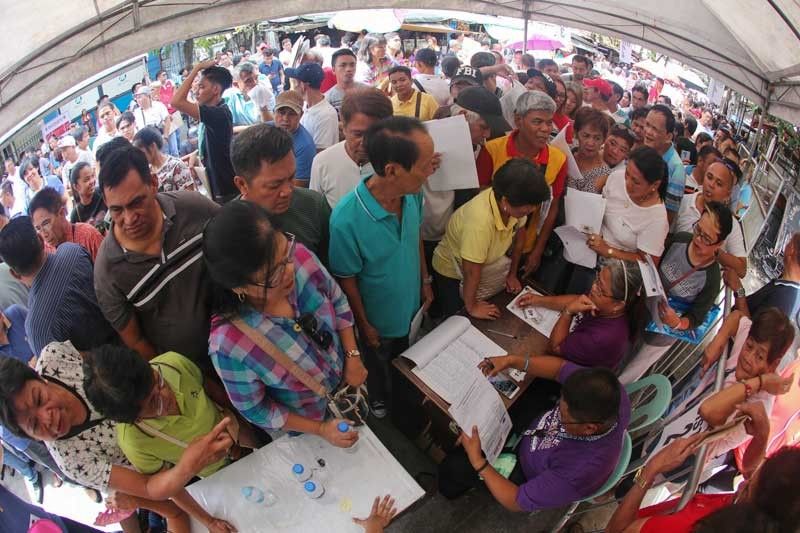 Acting interior department head Eduardo Año said they should be, but incoming national police chief Oscar Albayalde believes otherwise.
KJ Rosales
Release barangay drug list? Año, Albayalde disagree
(The Philippine Star) - April 17, 2018 - 12:00am
MANILA, Philippines — Should the names of barangay officials linked to the drug trade be made public in time for the elections?
Acting interior department head Eduardo Año said they should be, but incoming national police chief Oscar Albayalde believes otherwise.
Año said releasing the so-called narco list would help voters pick ideal barangay leaders.
"For me it's OK so that people would have the knowledge or basis on who to vote for," Año told reporters yesterday.
He said he would discuss the matter with the head of the Philippine Drug Enforcement Agency (PDEA).
"They said it's discriminatory, but the people are responsible enough to decide and think for themselves. I will talk to the director of PDEA," Año added.
President Duterte earlier said that he was "sleeping" on the proposal to release a list of barangay officials suspected of involvement in the drug trade.
But Albayalde said authorities should be "very careful" in dealing with the proposal as barangay officials suspected of drug links are still entitled to due process.
He noted that the list might be politicized and used by candidates to destroy their rivals.
The incoming PNP chief suggested that the list be kept within the DILG so that it could be thoroughly examined and validated.
"We need to validate and adjudicate, they should be given due process," Albayalde said.
"Because of political rivalry or envy, the list could include names – even those of the guiltless. What's important is a true and honest adjudication," he said.
Albayalde repeated his call for voters to shun officials or candidates with known links to drugs and other criminal activities.
PDEA director general Aaron Aquino earlier said he would only release the names of village leaders involved in drugs if ordered by the President.
To ensure peaceful synchronized barangay and Sangguniang Kabataan (SK) polls, Duterte signed memorandum order 21 directing the Philippine National Police and the Armed Forces to "coordinate and cooperate" with the Commission on Elections (Comelec) in the latter's performance of its duties on May 14. The order is dated April 13.
This developed as a barangay kagawad (councilman) was killed in an ambush in Pidigan town in Abra just hours after filing his certificate of candidacy (COC) on Sunday. The victim's wife and his sister were injured in the ambush reportedly carried out by two motorcycle riding men.
Victor dela Cruz Pisco died on arrival at the provincial hospital. Police said the Piscos were heading home when unidentified men on motorcycles overtook and fired at them.
The suspects reportedly fled toward the direction of the San Isidro-Villaviciosa town. Crime scene investigators found two spent shells from a cal. 45 pistol.
With the polls barely a month away, the Comelec has begun investigating reports that fees are being charged for filing COCs.
"The Comelec has been monitoring complaints by citizens about incidences of candidates being charged for filing COCs. Other reports indicate that the charges are allegedly for notarial services," Comelec spokesman James Jimenez said in a statement.
Jimenez reminded the public that filing of COCs is free. He cautioned that charging fees may constitute extortion.
"Filers should not – repeat, not – be charged any amount. The notarial service being rendered by Comelec field officials is likewise free of charge," he added.
The official also advised the public to report incidences of extortion to the Comelec through the following numbers: (02) 5270821 and (02) 5259296.
Citizens may also report irregularities through the Comelec's social media accounts @COMELEC on twitter and comelec.ph on Facebook.
Jimenez reported that as of 3:30 p.m. on April 15, a total of 60,992 COCs, including 8,202 for chairmen, have been filed with various local Comelec offices across the country.
The number of aspirants for SK posts is at 19,756, including 8,202 for chairmen. The filing of COC runs until April 20. – Rhodina Villanueva, Sheila Crisostomo, Artemio Dumlao, Christina Mendez