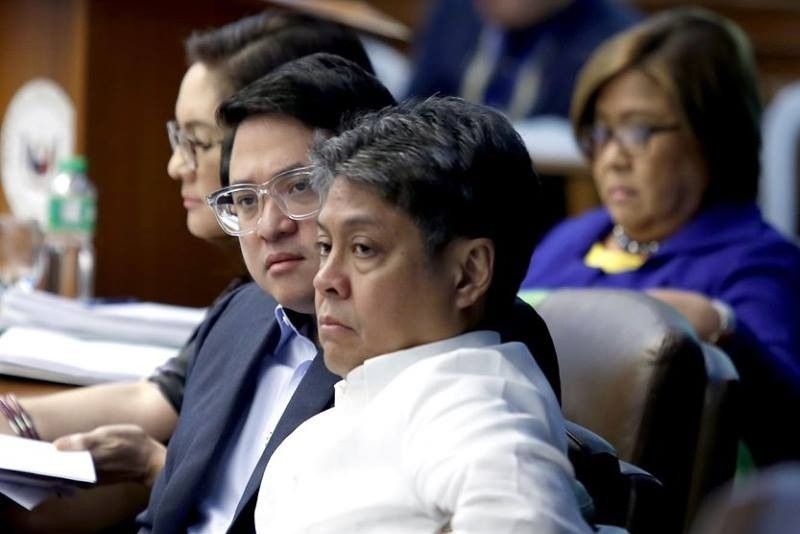 Officials of the former ruling Liberal Party urged authorities to hold those responsible in the multimillion-peso rice smuggling accountable.
Senate PRIB, File
Punish those behind multimillion-peso rice smuggling, LP urges gov't
MANILA, Philippines — The government should ensure that the individuals behind the smuggling of multimillion-peso worth of rice into the country are punished, according to officials of the former ruling Liberal party.
Erin Tañada, Liberal Party's vice president for external affairs, said that the government must hold those responsible accountable and guarantee that the issue would not meet the same fate as that of the smuggling of P6.4 billion worth of illegal drugs last year.
"What happened to the issue on the smuggling of P6.4 billion worth of shabu (crystal methamphetamine) where those responsible were not held accountable might transpire again in this case," Tañada said in Filipino.
Sen. Paolo Benigno "Bam" Aquino meanwhile surmised that those responsible in this latest episode of multimillion-peso rice smuggling might also be the same as those in the entry of illegal drugs and other illegal goods into the country.
"The government must identify the perpetrators behind this smuggling of rice. It's possible that the syndicates behind the smuggling of illegal drugs and other illegal goods are the same," he said in Filipino.
Presidential spokesperson Harry Roque on Monday said that the seized staple food could be sold as National Food Authority rice to increase the supply of the grain in the local market amid reports that the government's rice supply was at dangerously low levels.
On Sunday, military officials said that Naval forces on Saturday night seized a foreign cargo vessel carrying more than 1,350 metric tons of smuggled rice and arrested its 15 Chinese and Bangladeshi crew off the coast of Zamboanga Sibugay.
Fifty-one Filipino laborers on the cargo ship M/V Diamond 8 were also apprehended, according to Rear Admiral Rene Medina, commander of the Naval Forces Western Mindanao.
Medina said that the vessel tried to smuggle 27,180 sacks of Vietnamese rice weighing 1,359 metric tons which had an estimated market value of P67.970 million.
Officials, however, said that two vessels carrying 8,000 sacks of the staple grain managed to escape before the arrival of the Navy ship.
Sen. Francis "Kiko" Pangilinan meanwhile lauded the Naval forces for intercepting the rice shipment off Olutanga Island in Zamboangan Sibugay.
"We laud the Navy for doing its job of protecting our territorial waters from bad elements and from those who are trying to make quick money out of our countrymen," Pangilinan said.
The Philippines has been a lucrative market for smugglers of rice, the country's staple food, illegal drugs and other goods owing to its largely poorly guarded porous borders.
The Philippine military and Coast Guard are largely under-resourced to patrol the country's more than 7,000 islands although efforts to modernize their fleet have been underway in recent years.