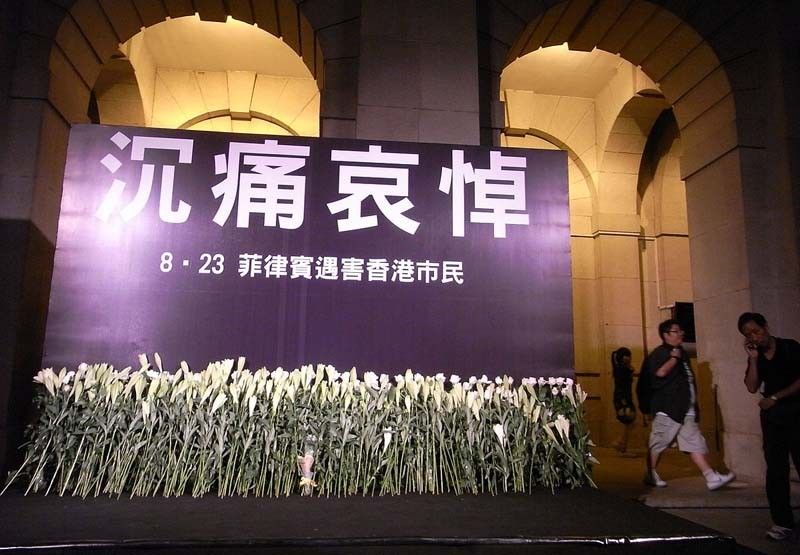 A memorial stage at Statue Square in Central, Hong Kong in August 2010.
edo-biscuit - Own work, CC BY-SA 3.0
Duterte apologizes for 2010 Manila Hostage Crisis
HONG KONG — President Rodrigo Duterte on Thursday apologized to China for the 2010 Manila hostage crisis that left eight tourists from this special administrative region dead.
The 11-hour crisis, which happened on Aug. 23, 2010, started after sacked Police Senior Inspector Rolando Mendoza hijacked a bus with 24 passengers at the Quirino Grandstand.
The hostage incident, the first major crisis that confronted the administration President Benigno Aquino III, ended after Mendoza was shot dead by a police sniper.
Eight Hong Kong tourists were killed during the crisis, which was blamed on the blunders and lack of training of Filipino policemen. The supposed lack of leadership of Aquino and the decision of media outlets to broadcast the incident live, were also blamed for the deaths of the hostages.
"There has been no official apologies for what happened during that incident...in August 2010. May I address myself to the Chinese people who are here: I apologize," Duterte said during his meeting with the Filipino community here.
Hong Kong is a special administrative region of China.
"From the bottom of my heart, as the President of the Philippines and in behalf of the Filipino people, may I formally apologize to you now. I guarantee you that this will never happen again," he added.
Duterte has vowed to invest on the equipment and training of government forces to improve their capabilities against security threats.
Aquino administration expressed 'regret, sympathy'
In 2014, Manila Mayor Joseph Estrada went to Hong Kong to apologize to Hong Kong officials over the incident.
"I am apologizing because it happened in Manila," Estrada said. "In behalf of the people of Manila, the city council and myself extend our apology for the unfortunate incident more than three years ago."
Secretary to the Cabinet Jose Rene Almendras and Philippine National Police Director General also flew to Hong Kong then.
In a joint statement during the trip, Philippine and Hong Kong officials said "the HKSAR Government and the Government of the Republic of the Philippines have agreed that the four demands made by the victims and their families on apology, compensation, sanctions against responsible officials and individuals, and tourist safety measures" had been resolved.
Almendras said that, although the Philippines expressed "sorrowful regret and sympathy" over the incident, he said "I have no authority to say: I am sorry in behalf of the Republic of the Philippines."
While Aquino had repeatedly offered the government's condolences, he said the act of one individual "should not be construed as the act of the entire country."