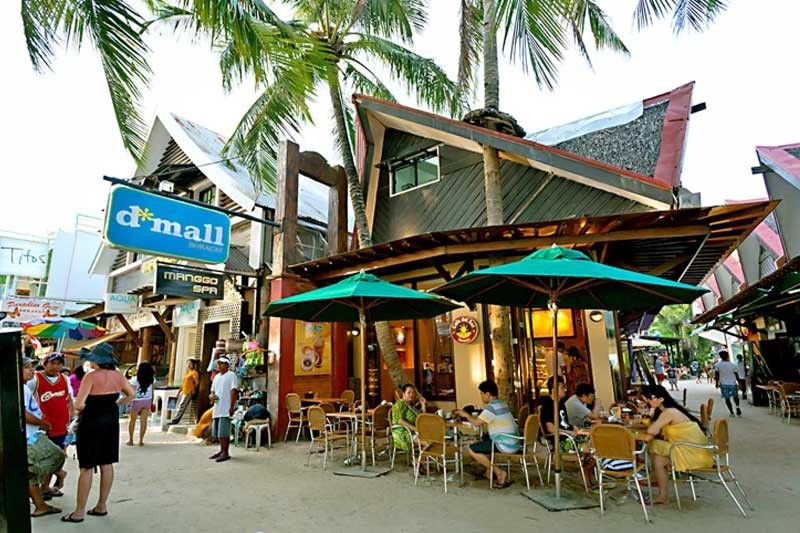 Promotional photo from hotels.com shows Boracay's D'Mall, an outdoor shopping area where restaurants, cafes, bars and souvenir shops are located. Around 100 establishments were issued warning notices for environmental violations by the DENR.
Boracay closed for 6 months effective April 26
MANILA, Philippines — Boracay will be closed for six months to allow the government to rehabilitate the world-famous tourist destination, Malacañang said yesterday.
"Boracay is closed for six months effective 26 April," Presidential spokesman Harry Roque said in a Twitter post.
Senior Deputy Executive Secretary Menardo Guevarra said the six-month closure was approved by President Duterte during yesterday's Cabinet meeting in Malacañang.
"DENR-DOT-DILG (Department of Environment and Natural Resources-Department of Tourism-Department of the Interior and Local Government) proposal approved after an exhaustive discussion," Guevarra said.
Last February, Duterte called Boracay a cesspool as he decried the lack of a sewerage system on the island.
He threatened to shut down the island and file charges against officials who did nothing to prevent its deterioration.
The environment, interior and tourism departments had proposed a six-month closure of the island to allow rehabilitation.
The trade department, however, said the closure should be done in phases to soften the impact on residents' livelihood on the island.
Hours before the meeting, Roque said he was expecting a "lively" discussion on Boracay's environmental woes because economic managers were expected to provide inputs on the matter.
Located in Aklan, Boracay attracts about two million tourists every year.
Warning notices issued to 100 establishments
Before the closure of Boracay, the government issued warning notices to around 100 establishments located mostly on White Beach and other parts of Boracay Island.
The establishments are allegedly encroaching on environmentally critical areas such as wetlands and forest areas, in violation of easement policies, according to Environment Undersecretary Jonas Leones.
Notices were sent to these establishments for them to demolish their structures, Leones said.
A notice was reportedly sent to D'Mall despite its management's claim that the shopping establishment is not built on reclaimed wetlands.
Along with the warning, Leones added that the DENR would look into the possible liability of government officials for the current situation in Boracay.
"Maybe it's the local government that issued business permits," Leones explained.
Leones added that administrative and criminal charges – including graft and corruption, depending on the gravity of the evidence – might be filed against government officials involved in any irregularity.
"It's not only cleansing Boracay Island, it's also the opportune time to look at our ranks," he said, adding that DENR policies needed to be strengthened further.
Meanwhile, other government agencies are setting up measures to aid workers in Boracay who would be displaced by the closure.
The Department of Labor and Employment is providing jobs to around 5,000, while the Technical Education and Skills Development Authority and the Department of Social Welfare and Development are conducting training seminars, according to Tourism assistant secretary Frederick Alegre.
For its part, the inter-agency task force in charge of the closure of Boracay would also hold multi-sectoral workshops on April 10 and 11, Leones added. These include tour operation, water safety, hazard response as well as improving reaction to emergency situations.
Despite the measures, business owners and employees were crying foul, maintaining that no communication had been properly extended to them.
"Sino yong sinasabi nilang kausap nilang tour operators and stakeholders na nag-agree about the total closure (Who are the tour operators and stakeholders who agreed to the total closure)? There's really none," an official of a resort based in Station 1 said.
Related video: