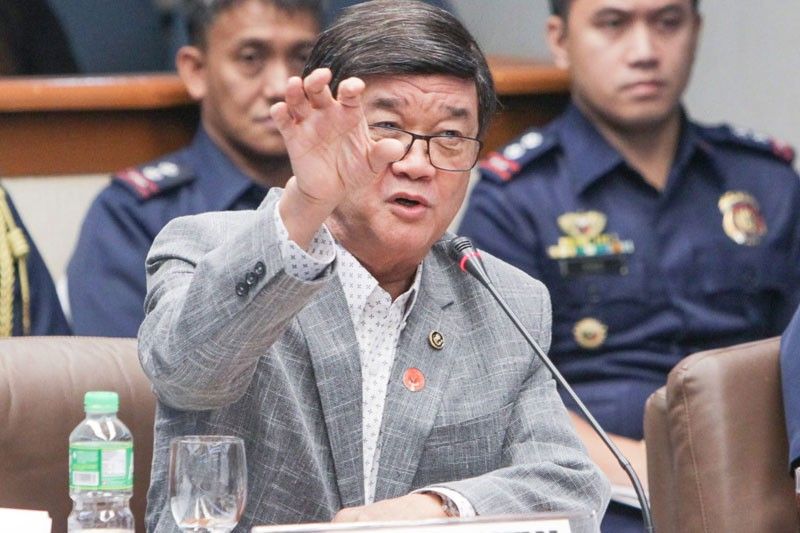 Aguirre yesterday hinted at the possibility of his joining the senatorial race in the midterm elections next year.
Geremy Pintolo
Aguirre leaving office, eyeing Senate run?
Edu Punay
(The Philippine Star) - March 28, 2018 - 12:00am
MANILA, Philippines — Will Vitaliano Aguirre II follow the footsteps of his predecessor, Leila de Lima, from being justice secretary to senator?
Aguirre yesterday hinted at the possibility of his joining the senatorial race in the midterm elections next year.
While he said he would prefer to continue with his duties as head of the Department of Justice (DOJ), he said he is not closing the door on running for senator under the administration slate.
"If the President and the party (PDP-Laban) would ask me to join the senatorial race, I would have to follow," Aguirre told The STAR.
Palace sources, however, said President Duterte is unhappy with Aguirre and wanted to replace the DOJ chief.
The justice chief stressed though that he would like to remain in his post.
"I don't want to run because there (is) so much to do in the DOJ," he said.
"But if they ask me to run, that would be a different story," he added, referring to President Duterte and PDP-Laban.
The ruling party has released several names being eyed in their senatorial lineup, including Philippine National Police chief Director General Ronald dela Rosa.
Aguirre revealed he was also being urged to run for governor of Quezon by representatives in three of four congressional districts in the province.
"They told me I should run for governor and they would unite behind me," he said.
Aguirre, however, said he is not interested to join the elections in the province and that his son Aris would instead run for congressman in the third district to challenge Rep. Danilo Suarez, who is also minority floor leader.
Aguirre said the Suarez family has established a political dynasty in the province in the past three decades.
The Suarez clan has several family members holding elected positions in Quezon including Gov. David Suarez, Third District Board Member Donaldo Suarez and Unisan Vice Mayor Danilo Suarez Jr.
Rep. Suarez's wife Aleta was also elected as representative in the same district twice in the past.
This, Aguirre said, is probably why he is being targeted by attacks over recent controversies in the DOJ, particularly the dismissal of drug charges against Cebuano businessman Peter Lim and self-confessed drug trader Kerwin Espinosa and the provisional acceptance of pork barrel scam queen Janet Lim-Napoles in the witness protection program.
"There is obviously political agenda in those attacks and calls for my resignation," he said.
Asked if he would also follow De Lima's fate in terms of facing criminal charges and being in jail after winning in the senatorial race, Aguirre responded with laughter.