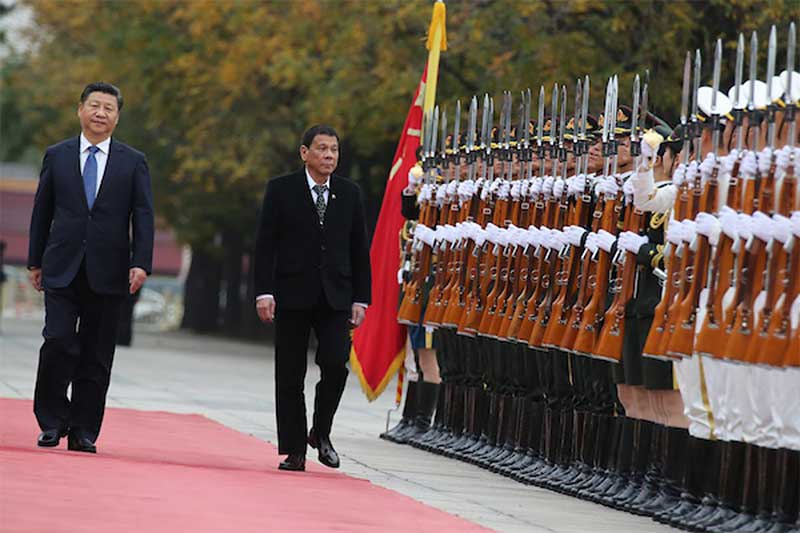 In this Oct. 20, 2016 photo, President Rodrigo Duterte and Chinese President Xi Jinping review the honor guards during the arrival ceremony at the Great Hall of the People in Beijing. File
China's Xi sends birthday greetings to Duterte
(Philstar.com) - March 27, 2018 - 4:47pm
MANILA, Philippines — Chinese President Xi Jinping has expressed his well wishes to President Rodrigo Duterte, who will be celebrating his birthday on Wednesday.
Xi, in a letter conveyed through the Chinese Embassy in the Philippines, emphasized the turnaround of the relationship between Manila and Beijing.
"Our bilateral relations have enjoyed ongoing betterment and improvement and reaped productive outcomes, which brought tangible benefits to our two peoples and promoted peace and stability of the region," Xi said in his letter.
The Chinese leader noted that he and his Philippine counterpart were able to reach consensus on advancing China-Philippines ties during their past meetings.
Duterte had met with Xi during his visit to Beijing in October 2016 and during the launch of the Belt and Road Forum in May 2017. The two leaders had also met at the sidelines of the 2016 APEC Summit in Peru.
Foreign Affairs Secretary Alan Peter Cayetano recently went to Beijing and met with Chinese Foreign Minister Wang Yi to discuss possible joint development projects in the South China Sea.
Cayetano described the current Philippines-China relations as a "golden period." Following their meeting, Wang said that the two countries will have more discussions on "offshore oil and gas exploration."
In his message to Duterte, Xi emphasized the importance that he gives to the relationship between the two countries.
"I attach great significance to the growth of China-Philippines relations, and stand ready to work with you to carry forward sustained and in-depth growth of China-Philippines relations and bring about more benefits to our countries and peoples," Xi said.
Duterte will spend his birthday in his hometown Davao City, where he will also stay for the entire Holy Week.
According to reports, there will be no party or fanfare as the president turns 73 on Wednesday. He is expected to return to Malacañang after the Holy Week. — Patricia Lourdes Viray