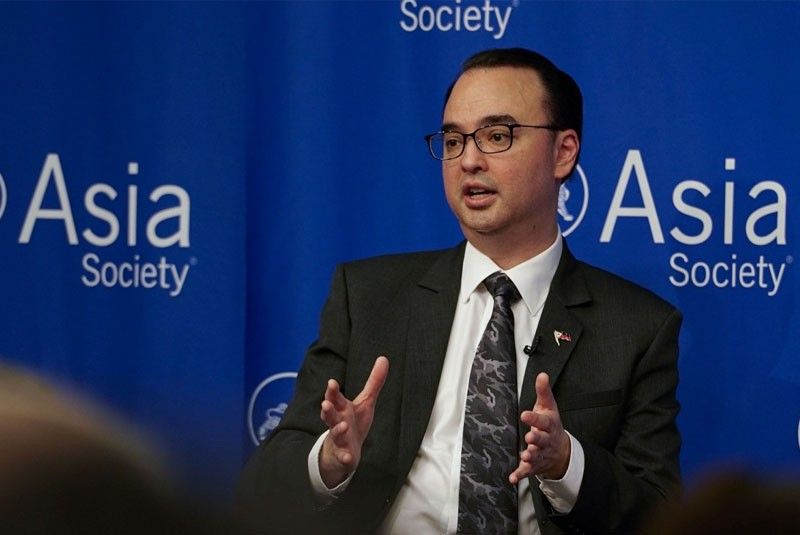 In this Sept. 21, 2017 photo, Foreign Affairs Secretary Alan Peter Cayetano speaks at an event by the Asia Society.
PPD/King Rodriguez
Cayetano to fly to China, setting aside sea row anew
MANILA, Philippines — Foreign Affairs Secretary Alan Peter Cayetano on Tuesday has announced that he will be heading to China for the main reason of "strengthening relations" between the two countries.
The Philippines' top diplomat said that the South China Sea dispute will be set aside during his trip to China while discussing broad areas of collaboration and cooperation.
"We agreed with them, we will put our dispute in one side and grow the relationship in all other aspects so whether we talk about our agricultural exports, whether we talk about the infrastructure, talk about counterterrorism, Marawi, we usually also discuss systems," Cayetano said at a press conference.
Cayetano's flight to China is scheduled on Tuesday evening as his first meeting is set on Wednesday.
The Foreign Affairs chief said that he will meet with a visiting group that develops "smart cities" or cities that incorporate information and communication technologies, which to help the Philippines.
Cayetano said they will be discussing a possible jail management system for the Philippines to counter the illegal drug trade in the country's prisons.
Last month, officials Philippines and China met in Manila for the second bilateral consultation meeting on the South China Sea.
The two countries had agreed to continue discussions on "confidence-building measures to increase mutual trust and confidence and to exercise self-restraint in the conduct of activities in the South China Sea that would complicate or escalate disputes and affect peace and stability."
Related video: