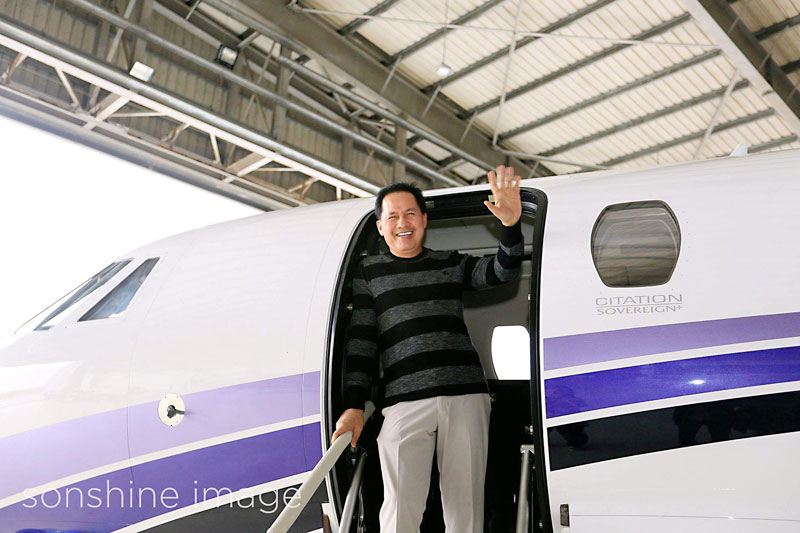 Facebook photo shows evangelist Apollo Quiboloy waving from his Cessna Citation Sovereign jet, which landed at his compound in Davao City yesterday. The private jet was held by US authorities in Hawaii last month
Pastor Quiboloy gets back jet
(The Philippine Star) - March 20, 2018 - 12:00am
DAVAO CITY, Philippines — Apollo Quiboloy, pastor of the Jesus Christ the Name Above Every Name, has his jet back.
The jet landed yesterday in his private hangar inside the Kingdom Central compound along Diversion Road, after it was held in Hawaii last month.
"We are free to fly again," Quiboloy was quoted as saying when his Cessna Citation Sovereign landed at past 1 p.m.
Last Feb. 13, United States federal agents allegedly found at least $350,000 in cash and gun parts inside Quiboloy's aircraft.
The pastor had to take a commercial flight from Hawaii to return to Manila where he was scheduled to hold a thanksgiving worship program.
Quiboloy's legal counsel Israelito Torreon had denied earlier that the preacher was "deported," since deportation, being a formal proceeding, could not be finished in a matter of six to eight hours in which time the pastor was allowed to take a commercial flight back to the country.
"All of those insinuations and speculations are not true, because had he been charged, he would (have) remained in the US and he would not have arrived in the Philippines as early as last night," Torreon said upon Quiboloy's arrival in the country last month.
With the return of his private plane, Quiboloy said he is poised to go around the world again.?"So we thank the Father for that and I am poised to travel again around the world with this airplane this 2018," Quiboloy said after inspecting the interior of his aircraft.
Quiboloy said that the private plane was allowed to come back to the Philippines after it was cleared by US Customs, adding that what happened in Hawaii was unfortunate.
"Finally, after the investigation in Hawaii, the Customs officials released the plane, and as you see, it is already in my hangar," he said.