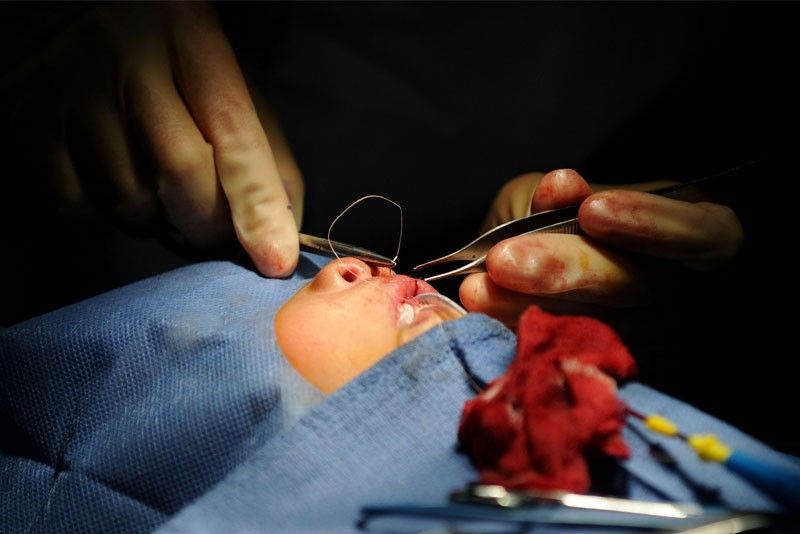 Julie Ann Macawili, 18, who had a cleft lip since birth, shared that she got used to being taunted as a child and at school due to her physical disability. AFP/File
Foreign doctors perform charity surgeries in Philippines
Ghio Ong
(The Philippine Star) - March 18, 2018 - 12:01am
MANILA, Philippines — Children born with cleft lip and palate can literally smile again after their physical disability was repaired – free of charge – by doctors from Germany, New Zealand and Australia over the past week.
Julie Ann Macawili, 18, who had a cleft lip since birth, shared that she got used to being taunted as a child and at school due to her physical disability.
"But in school, we have this anti-bullying law, so those who will bully students are sent to the guidance counselor. They are expelled if they keep on doing it," she said in Filipino while waiting for her turn at the Ospital ng Parañaque last Thursday.
The nasal sound of her voice was prominent, making her speech sometimes difficult to understand. Julie Ann's cleft lip had been stitched when she was an infant.
"We were told by the doctors that we should wait until she turns 17 or 18 before she undergoes such a procedure to fix her cleft palate because her body was weak," her father said.
Her parents saved up for the procedure, her mother even leaving to work overseas.But when they learned about a free medical procedure for people with cleft lip and palate from a bulletin in their barangay at Rosario, Cavite, Julie Ann's father knew they should not waste the opportunity.
"I'm happy, excited. People will soon treat me well," Julie Ann said, with a small yet hopeful smile.
Meanwhile, 38-year-old Luz Tenido, a market vendor who underwent the procedure on the same day, was teary-eyed as she approached the sponsors of the medical mission to thank them.
She had suffered all her life being taunted by people, crying every time.
"I am so happy, people will no longer make fun of me," Tenido whispered, wiping away a tear.
Rina Beron, 32, a public school teacher, hopes that her baby girl would grow up living a normal life after she underwent cleft-lip repair a year and five months ago.
A group of anesthesiologists, plastic surgeons, dentists and nurses, forming Operation Restore Hope, operated on 68 patients, mostly children, at the Ospital ng Parañaque from March 12 to 16.
There was a "very high level of need" for cleft palate procedures to be done in the Philippines, said craniofacial pediatric plastic surgeon Tristan de Chalain from New Zealand.
"There's a big need. We have the expertise, and we have a room, so we put it all together and came up with a solution to the problem," he said.
Despite the long trip, he said "it feels good" being a part of the medical mission, adding that "it's a family, every year we do this."
German anesthesiologist Christopher Wachsmuth admitted that the team encountered challenges during medical missions.
But more important "is to give every child a chance to get the most adequate therapy," he pointed out. They also make sure that parents trust them.
"We try to be correct and helpful and make them secure that we are treating their children in the most effective and reliable way," said Wachsmuth.
For 12 hours every day, the operations lasted from a short one-and-a-half hour to the longest of four hours, depending on the severity of the disability, related anesthesiologist Indu Kapoor.
Kapoor pointed out that the team was "pleased" that "there were no negative outcomes," and that they were "happily tired" to complete another mission.
Now on its 20th year of partnership with Operation Restore Hope, Alay sa Kinabukasan ng Kapwa Pilipino Foundation, Inc. (ASK) continues to take pride in shouldering pre- and post- operation care of the beneficiaries.
"What we do doesn't cost anything for the children," ASK director Via Hoffman said. "We go to remote areas of the country and we reach out to the poorest of poor communities."
Hoffman said ASK also pays for the medication of children who are afflicted with other diseases like tuberculosis and pneumonia or are malnourished, to make sure that they are healthy before undergoing cleft-lip repair.
With around 2,000 repairs done for free so far, Hoffman said Operation Restore Hope and ASK would continue to bring hope to Filipino children born with cleft lip and palate.